Epwin: Value or Value Trap in Housing?
I am pondering whether or not to invest in the construction-related small-cap Epwin (LON:EPWN), which has a market cap of £134m.

This manufacturer of PVC frames for doors, windows and fascia (including cladding, guttering and decking) fits my quantitative criteria for deep value, with a Stockopedia composite Value rank of 95 out of 100.

---
                                             Figure 1: Epwin high Stockopedia Rankings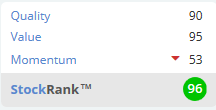 Value attractions: EV/EBITDA under 5x, P/FCF under 10x, 7.3% dividend yield
Most of the key valuation ratios are very cheap relative not only to the market, but also to Epwin's direct quoted competitors in the construction space such as Safestyle UK (LON:SFE) and Eurocell (LON:ECEL).

                                              Figure 2: Epwin valuation ratios look cheap



The high 7.3% dividend yield is backed by a free cash flow yield of over 10%, while one pays a EV (Enterprise value)/Sales multiple of 0.5x for an operating profit margin of over 8%.

The low EV/EBIT valuation is a strong contributor to Epwin's 97% Magic Formula score, giving it an A+ score. So far, so good then.

Quality also high: driven by strong return on capital and free cash flows
The 90 Quality rank is attractive too, with a relatively high Piotroski F-score of 7, high return on capital and solid free cash flow at c. 10% of market cap generated per year in 2014, 2015 and 2016.

There is still some net debt on the balance sheet of £21m, but this represents only a net gearing level of 23%, which is comfortable.

Broker view (Edison Research): internal improvements to fuel positive profitability trend
Edison Research (analysis paid for by the company) seems to give a cautiously positive outlook on Epwin (but should perhaps be taken with a large pinch of salt):

"Trading in the first four months of FY17 has been in line with management expectations and our estimates are unchanged. In flat RMI markets, Epwin is focusing on operational improvements (eg in fabrication) and marketing initiatives (eg branding and range development of window systems and canopy products, plus greater co-ordination across group companies). H117 will benefit from an extra five months of National Plastics trading…

Unlock the rest of this Article in 15 seconds
Already have an account?
Login here