Updated April 21, 2018 from April 16, 2018
The market will likely go up at least 4.6% between now and August[1]. Thus, this might be a good time to hitch a ride on stocks that will outperform. Market leaders usually wind up also leading the charge into the climax so let's see if any of the FAANG group are showing promising signs or giving us warning signals. I've already updated Facebook[2] so let's look at Amazon, Apple, Netflix, and Google/Alphabet.
Amazon
Amazon was tripped up the first two weeks of February along with the market. From an intraday high of 1498 February 2, it dropped 15.5% to an intraday low of 1265.93 February 9. The Crest chart rose above its long-term baseline back on January 16, warning investors that a top was near. It then shot higher February 1, the day before the top. The Dive chart had given a warning of its own three days earlier when it breached its lower channel January 29. The high that day was 1431. The expected low would have come at least 10% below that or 1288.
Thereafter, Amazon recovered even better than the market to its March 13 all-time high of 1617.54. It then floundered along with the market only to have a bout with the Trump-Twitter virus. The Crest chart warned on March 13 when it jumped above its long-term average. The Dive chart had yet to recover its lower channel at that time.
Today, Amazon's Crest chart indicates the crest is over – no surprise. Its Dive chart is also quite promising. It is well inside the lower channel, indicating better days ahead.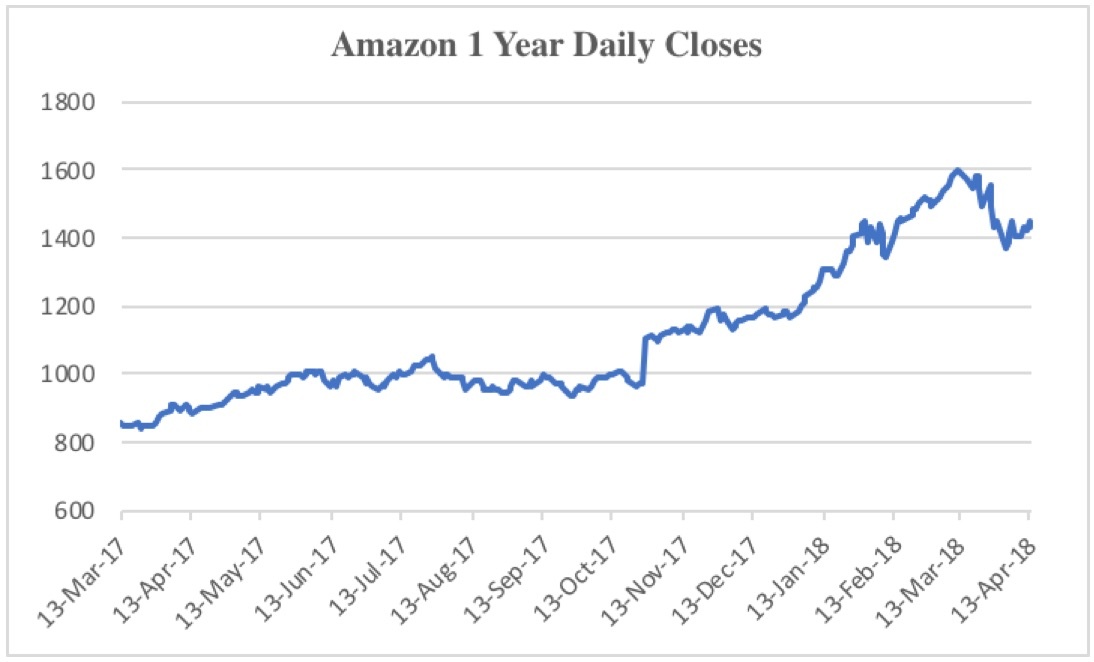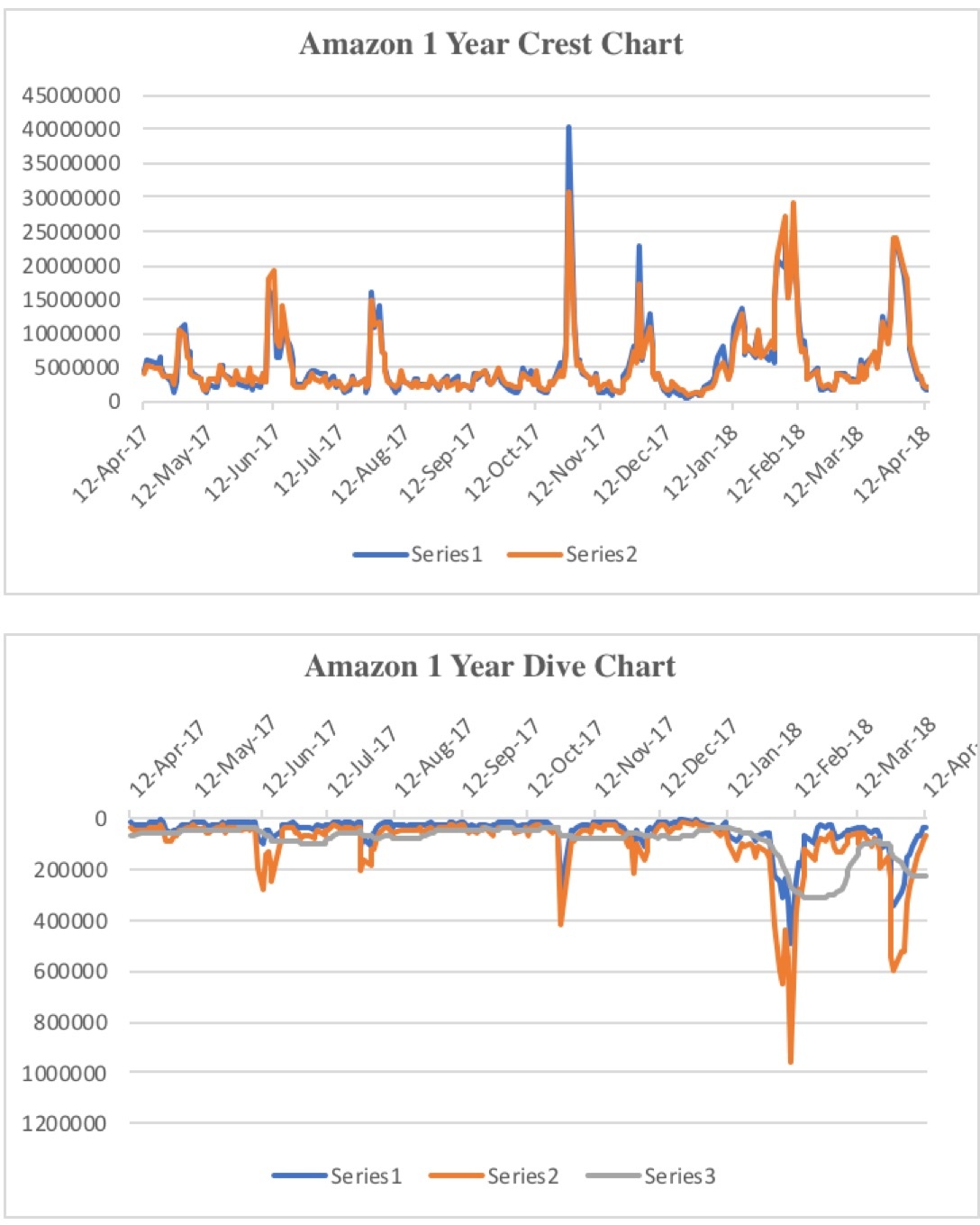 Apple

Apple roller-coasted its way to a 170's plateau in November. It eventually eked out a 180 high January 18. From there it dropped 16.6% to its 150.24 February 9 low, much as Amazon had done. Unlike Amazon, Apple was only able to ride along with the market to an eventual 183.5 high March 13.

Apple's Crest chart mirrored its roller coaster ride. On October 19 it warned of an approaching top when the chart rose above its long-term baseline. The chart jumped again October 27 and would continue nervously until January. By comparison, this was mostly a quiet period for the Dive chart. The Dive chart breached its lower channel January 17. The high that day was 179.25. A low of at least 161 was predicted. This was reached February 2 when the dive was still dropping in full force – a clear signal there was more downside. The stretching point would come February 9, the very day of Apple's low.

Today Apple's Crest chart is back to its baseline, while its Dive chart has regained its lower channel. These are both signaling Apple is once again on an uptrend.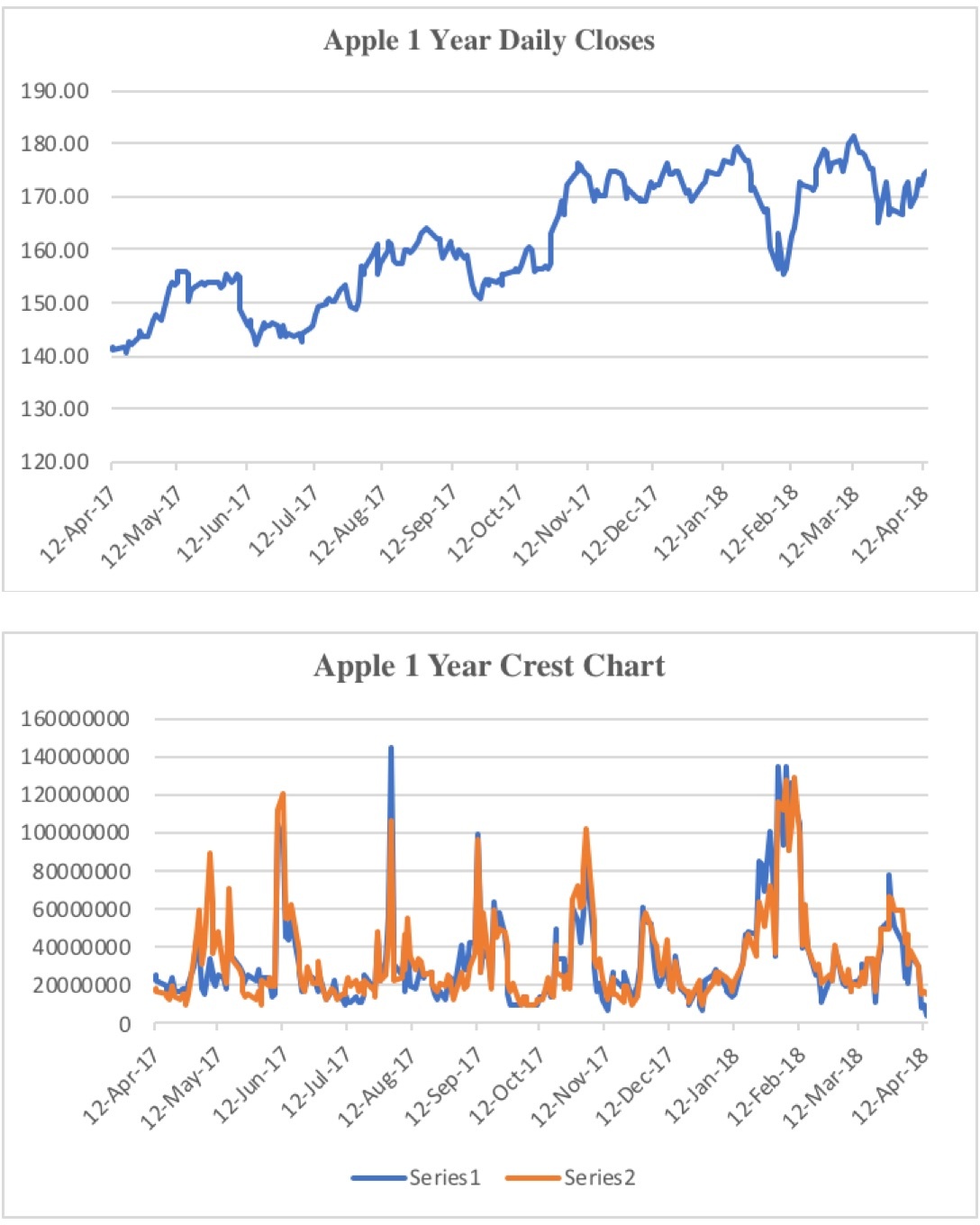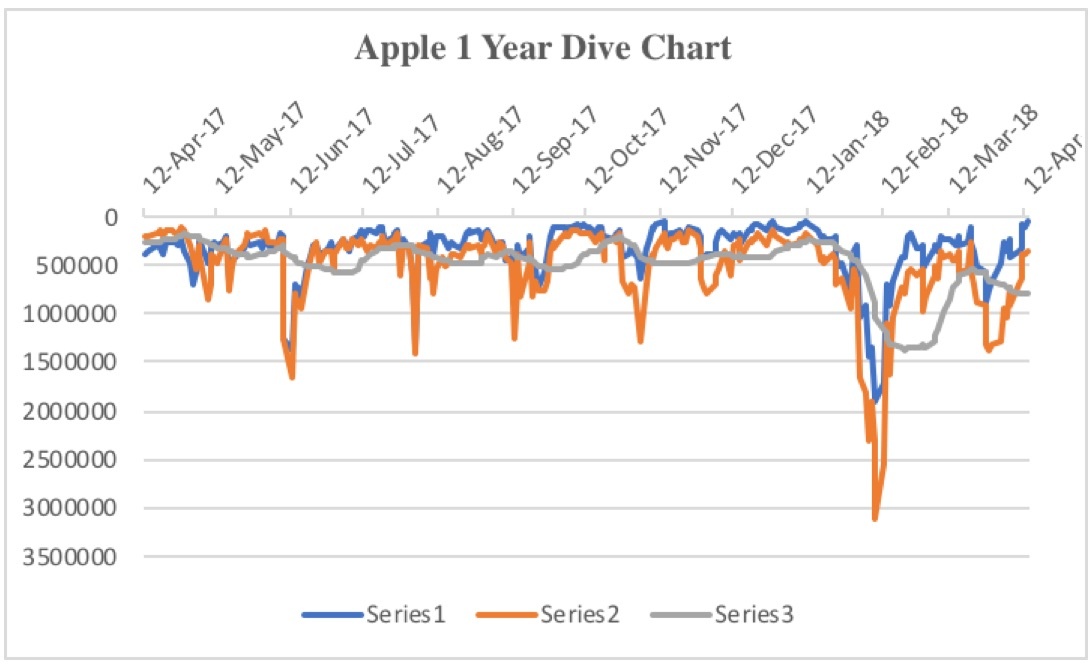 Netflix

Unlike the previous two, Netflix hardly flinched the first weeks of February. It continued unabated to its March 12 all-time top of 333.98. It has since dropped in sympathy with the market. Back on January 2, Netflix warned of a looming top when the Crest chart went above its long-term average. The Dive chart had given a similar signal when it breached its lower channel December 28. Both charts would develop very complicated patterns for the next month. Indeed, Netflix would follow Amazon and Apple down as the market entered a correction. From an intraday high of 286.81 January 29, it would drop as low as 245 February 6 – a 14.6% loss.

The Crest chart would again rise above its baseline March 1. The Dive chart would also signal an impending top two trading days later when it breached its lower channel. The high of that day, March 5, was 316.91. A 10% drop or more would place the floor below 285. Netflix went below that mark March 28 – a day the dive was still at maximum strength. This was a signal there was more pain to come. Netflix bottomed at 271.22 April 4.

Today the Crest chart has yet to settle back down to its baseline. Neither has the Dive chart regained its lower channel. Netflix, is therefore, much like Facebook, in no man's land. Shorts should be out of the stock by now and it is too risky for longs to go in.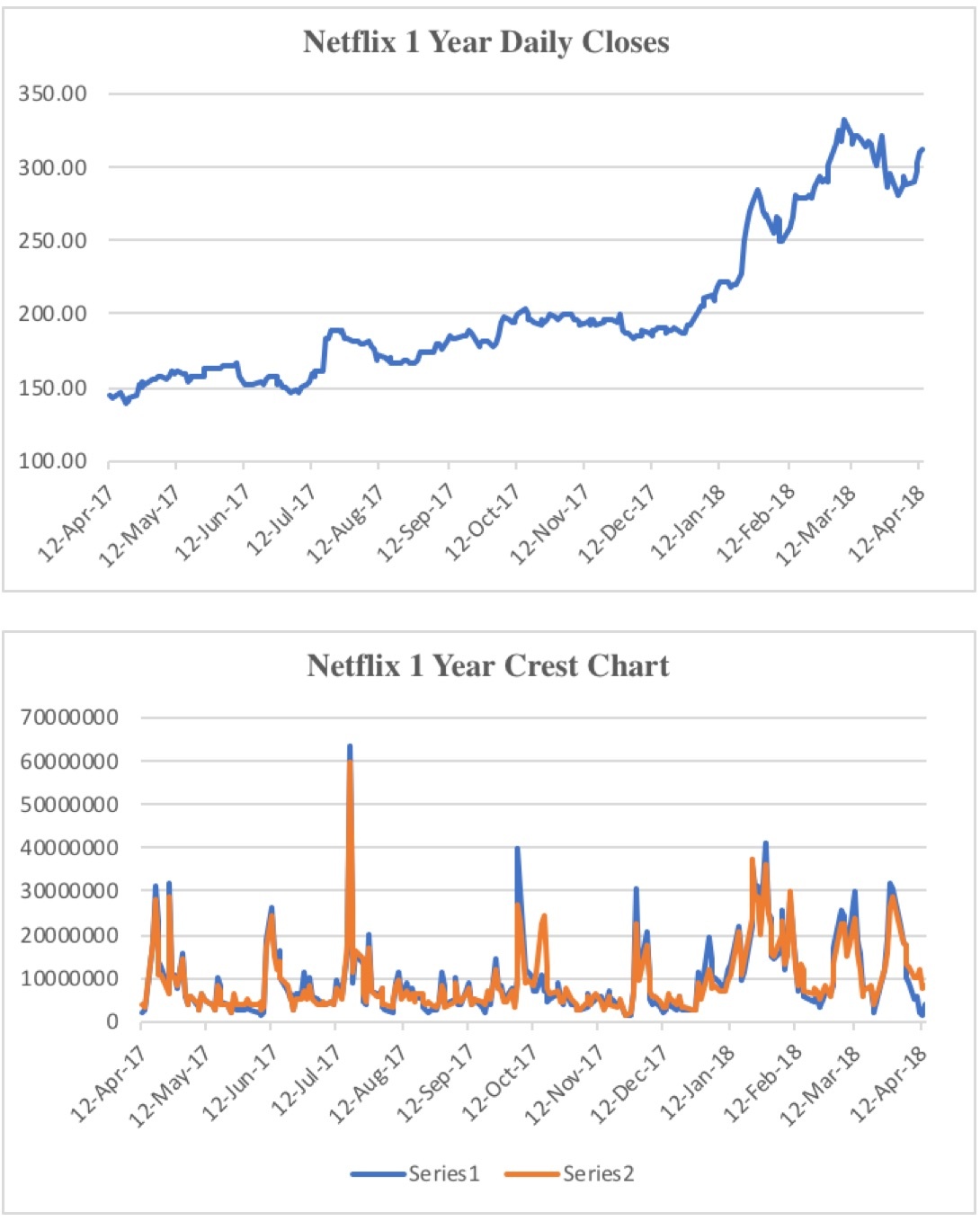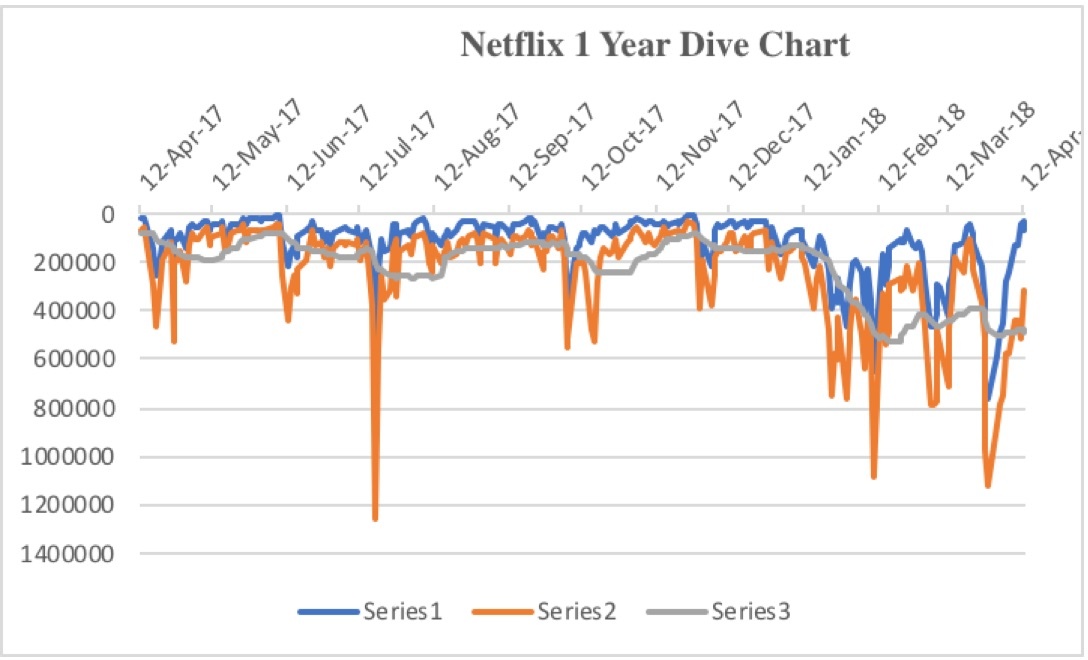 Google/Alphabet
Google had been on a roll since September when it hit the skids in early February along with the market. From an intraday high of 1186.89 January 29 it lost 16.4% to its 992.56 February 9 low. Google's Crest chart warned of an approaching top back on January 12 when it rose above its baseline. It's Dive chart gave confirmation January 19 when it breached its lower channel. The high on that day was 1137.86 indicating a low mark below 1024. That was reached February 2 when the Dive chart had reached it maximum depth to date, indicating the move down was not over. The chart would find its stretching point February 9.

Google would move in lockstep with the market thereafter. After recovering much of its losses, Google's Crest chart once again moved above its baseline March 16. The Dive chart also breached its lower channel that day. Google had gone up as high as 1177.05 March 12 and closed March 16 at 1135.73. The 1155.88 high March 16 was indicating a low south of 1040. That was reached March 23 with the Dive chart still in full dive mode. The stretching point was reached March 28 when Google bottomed at 980.64.

Today Google has recovered slightly and both the Crest and Dive charts look much healthier. Nevertheless, neither of them has reclaimed its Crest baseline or Dive lower channel so risks still remain.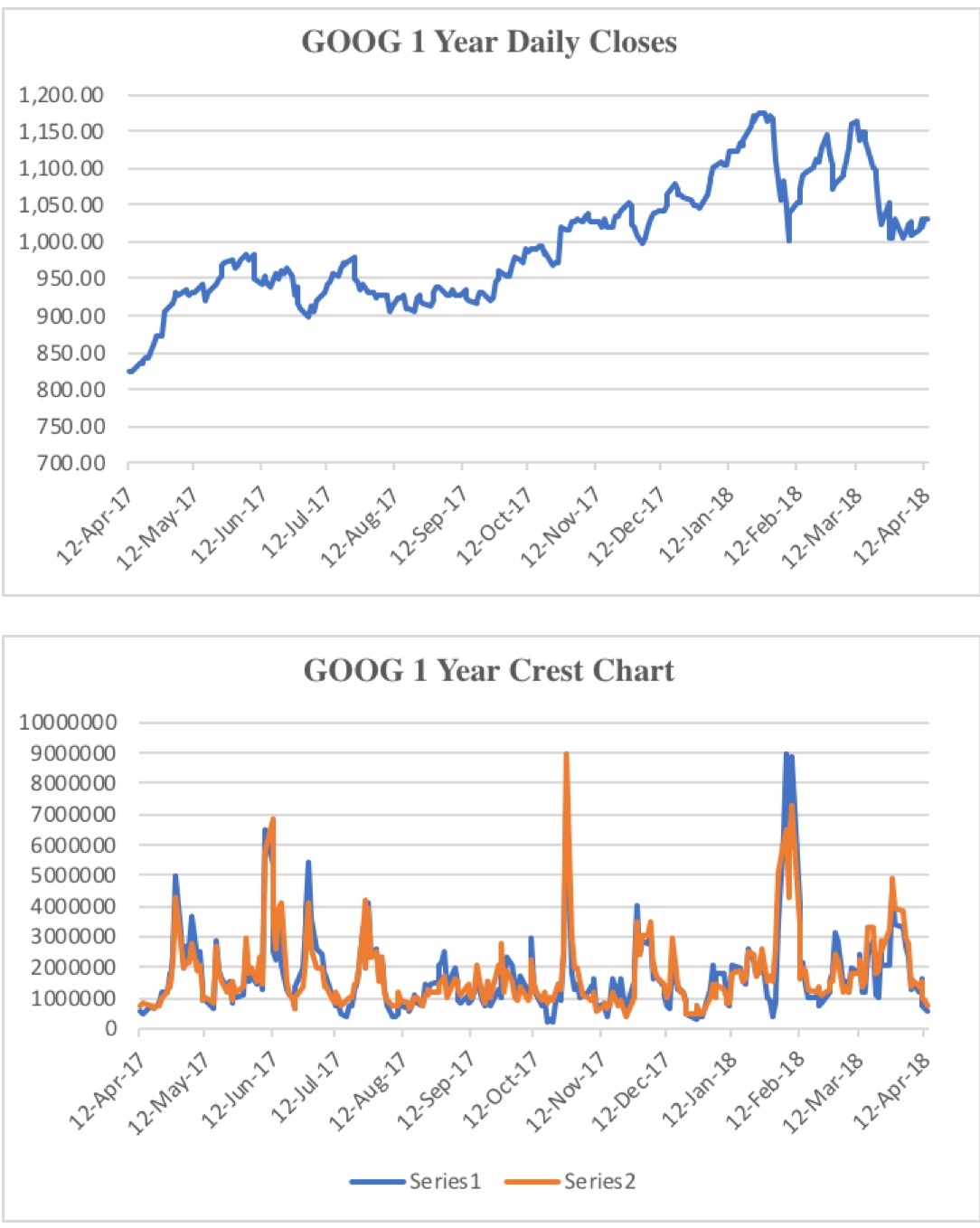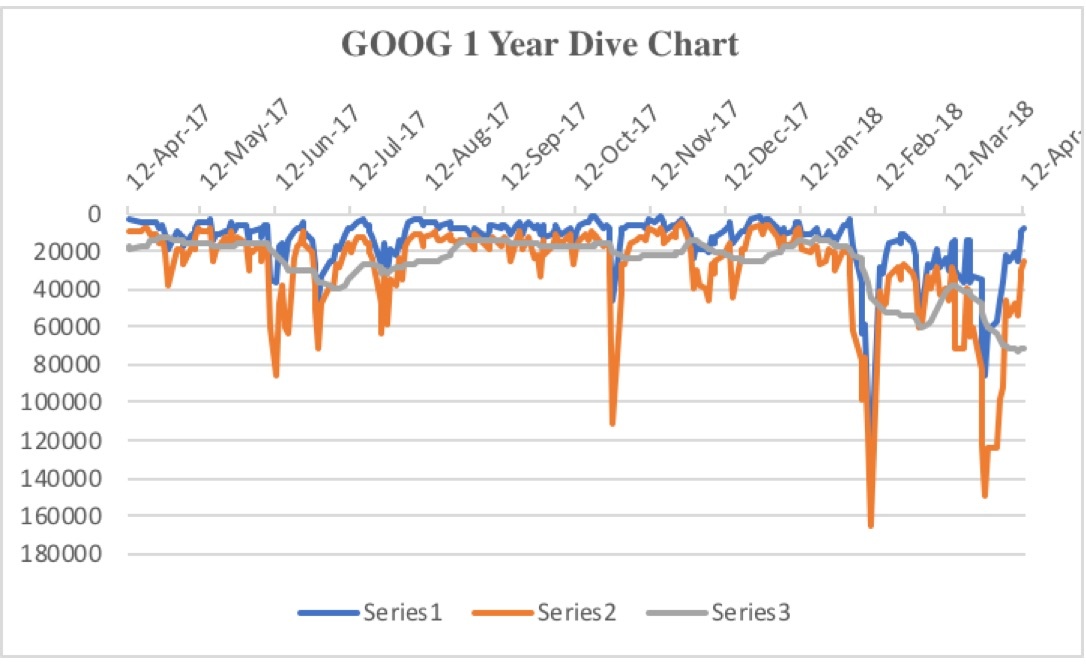 April 21, 2018 Update

Taiwan Semiconductor's full-year revenue target revision Thursday, April 19 took down some key tech stocks among them those of its key customer, Apple. The world's largest contract chipmaker blamed the lower guidance on softer smartphone demand and uncertainty over the cryptocurrency mining market but Wall Street focused on the smartphone portion. As a result, Apple lost 2.8% and 4.1% in 1.5 and 2.5 times average volume, respectively on Thursday and Friday. This caused a pronounced dip in Apple's Dive chart, warning investors to put a hold on buys for now. 

By contrast, Amazon's charts still look healthy with Friday's 1.9% loss coming in 15% lower volume.



Although the author has not opened positions at this time in any of the stocks mentioned in this article, he will likely have holdings in Amazon and Apple in the near future.

[1] The Coast Is Not Clear – Signs of an Impending Major Stock Market Crash, Karl De Jesus, Ezine Articles, February 20, 2018. Not Out of the Woods, Karl De Jesus, Stockopedia, April 4, 2018.

[2] Facebook Has More Downside to Come. How to Beat Buy and Hold Investors, Karl De Jesus, Stockopedia, March 30, 2018.

Disclaimer:
As per our Terms of Use, Stockopedia is a financial news & data site, discussion forum and content aggregator. Our site should be used for educational & informational purposes only. We do not provide investment advice, recommendations or views as to whether an investment or strategy is suited to the investment needs of a specific individual. You should make your own decisions and seek independent professional advice before doing so. The author may own shares in any companies discussed, all opinions are his/her own & are general/impersonal. Remember: Shares can go down as well as up. Past performance is not a guide to future performance & investors may not get back the amount invested.
---
---

Amazon.com, Inc. offers a range of products and services through its Websites. The Company operates through three segments: North America, International and Amazon Web Services (AWS). The Company's products include merchandise and content that it purchases for resale from vendors and those offered by third-party sellers. It also manufactures and sells electronic devices. The Company, through its subsidiary, Whole Foods Market, Inc., offers healthy and organic food and staples across its stores. The Company also offers a range of products like whole trade bananas, organic avocados, organic large brown eggs, organic responsibly-farmed salmon and tilapia, organic baby kale and baby lettuce, animal-welfare-rated 85% lean ground beef, creamy and crunchy almond butter, organic gala and fuji apples, organic rotisserie chicken. more »
NSQ Price

Apple Inc. designs, manufactures and markets mobile communication and media devices, personal computers and portable digital music players. The Company sells a range of related software, services, accessories, networking solutions, and third-party digital content and applications. The Company's segments include the Americas, Europe, Greater China, Japan and Rest of Asia Pacific. The Americas segment includes both North and South America. The Europe segment includes European countries, India, the Middle East and Africa. The Greater China segment includes China, Hong Kong and Taiwan. The Rest of Asia Pacific segment includes Australia and the Asian countries not included in the Company's other operating segments. Its products and services include iPhone, iPad, Mac, iPod, Apple Watch, Apple TV, a portfolio of consumer and professional software applications, iPhone OS (iOS), OS X and watchOS operating systems, iCloud, Apple Pay and a range of accessory, service and support offerings. more »
NSQ Price

Netflix, Inc. is a provider an Internet television network. The Company operates through three segments: Domestic streaming, International streaming and Domestic DVD. The Domestic streaming segment includes services that streams content to its members in the United States. The International streaming segment includes services that streams content to its members outside the United States. The Domestic DVD segment includes services, such as digital optical disc (DVD)-by-mail. The Company's members can watch original series, documentaries, feature films, as well as television shows and movies directly on their Internet-connected screen, televisions, computers and mobile devices. It offers its streaming services both domestically and internationally. In the United States, its members can receive DVDs delivered to their homes. The Company had members streaming in over 190 countries, as of December 31, 2016. more »
NSQ Price