Fever-Tree: Creating an iconic brand
For many years consumers were quite happy with their G&Ts. A shot of Beefeater gin with a hefty splash of Schweppes tonic and that was enough. Then thesmall-scale premium gins emerged to shake up the market and suddenly they were in every bar. However, the tonic market lagged this evolution until 2005 when Charles Rolls and Tim Warrillow launched their natural mixer range. Now Fever-Tree is well known, in certain circles, as the brand which kicked off the premium mixer market and converted a generation of discerning gin aficionados.
Riding on the back of this trend Fever-Tree, as a stock, has exploded upwards from its cautious IPO price of 134p back in November 2014. In just 2½ years the price has multiplied by over 12x, as profits have roughly quintupled, with investors ascribing an ever-increasing earnings multiple to the business - now at an eye-watering 60x or more. That said every trading statement since flotation has revised trading expectations upwards, often materially, and so the business is living up to the hype.
With such a fast-growing business there are real question marks over the sustainability of this growth, both qualitative and quantitative, and whether such a trajectory can be maintained. My plan is to take a look at both sides of the business to see where the weak points reside and to consider whether Fever-Tree is a flash-in-the-pan or an FMCG brand icon in the making.
Analysis
A notable feature of Fever-Tree is that it makes excellent profit margins and has managed to do so for the last five years despite sales multiplying almost 10 times. Specifically the gross margin has remained above 50% while the net margin has been improving for the last three years and is currently heading to the 30% level. I put these excellent characteristics down to the premium nature of the brand combined with excellent cost control as the business has scaled up: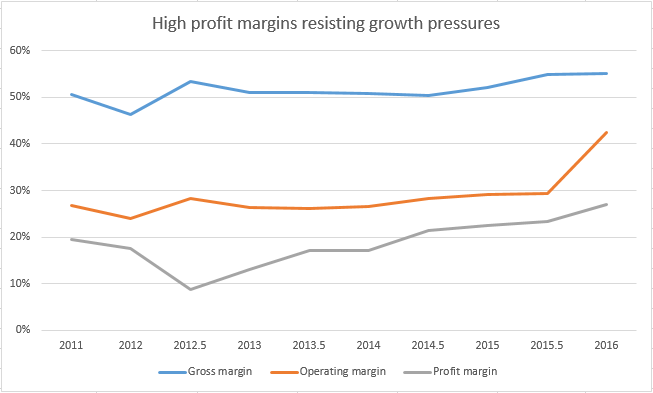 At the same time as profits have grown the return-on-capital of the business has improved and now stands at a remarkable 45% (compared to 12% in 2013). This is a recent high-water mark though and back in 2011 the ROCE hit 64% - although the capital base at the time was extremely small and this, in fact, acted as a brake on performance. In 2013 much-needed capital was injected into the…

Unlock the rest of this Article in 15 seconds
Already have an account?
Login here