Finance in sport: should we invest in football clubs?
Football and the first billion-pound player
Football is booming right now. You might have noticed. The amount of money being spent on young people that are good at kicking round things has grown exponentially over the past two decades.
The £12.5m paid for Gianluca Vialli in 1992 (the year the Premier League began) through to the £200m shelled out for Neymar in 2017 represents a compound annual growth rate of 20.3% in world record fees.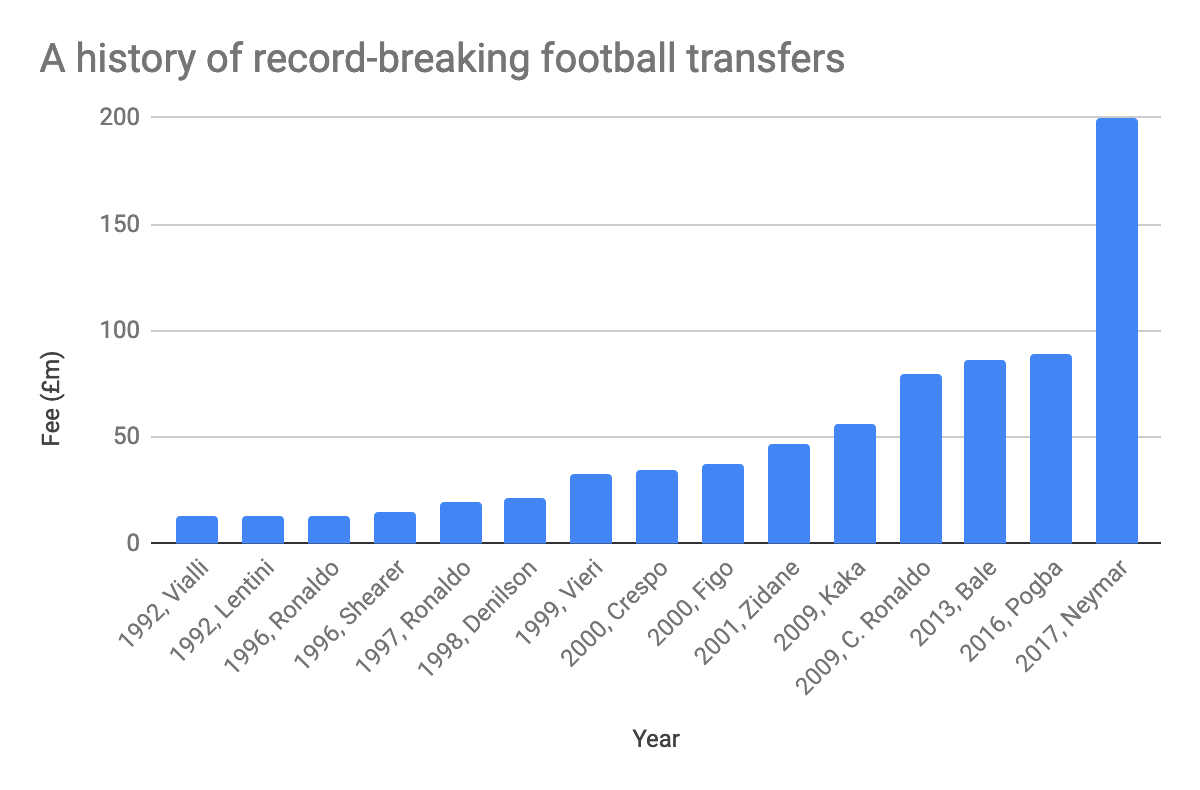 If this rate of growth is maintained, that means we are nine years away from a £1bn footballer. Even excluding Neymar's 2017 transfer fee, we get a compound annual growth rate of 15% between 1992-2016. That would give us a £1bn transfer in 11-12 years' time...

But football as a sector - is it really worthy of investment? Isn't it characterized by desperate swings in profitability and littered with bankruptcies? Doesn't most of the profit go straight to players and agents?
Tottenham Hotspur, Aston Villa, Birmingham City, Charlton Athletic and Newcastle United have all taken themselves off the stock market in the past.
The changing face of football finance
Established fund manager Nick Train holds shares in Manchester United, Juventus and Celtic across the Lindsell Train global and UK equity portfolios. He views the clubs he holds as 'national icons'. There is a case to be made for investing in unique assets - especially if they are increasing profit and revenue, as appears to be the case at these clubs.

Deloitte starts off its 2018 Annual Review of Football Finance by saying: "The financial results for the 2016/17 season may well be viewed in the future as the defining moment in the delivery of sustained profitability by football clubs competing in the Premier League." The game is evolving and so is the case for investment.
Gone are the days in which top clubs' main source of revenue came from filling up seats and selling pies. Broadcasters are flooding the game with cash as more established operators do battle with deep-pocketed new entrants such as Amazon. High-quality sports content is valuable.
The total value of the rights to show Premier League matches on television for 2019-2022 reached £4.55bn. In its recent second-quarter earnings update, Manchester United reported a 37.9% increase in broadcasting revenues for the three-month period and 26.3% for the six-month period.
Should…

Unlock this Article with a 14 day free trial
Already have an account?
Login here