Finsbury Food Group done a five-bagger and still presents compelling opportunities.
What is Finsbury Food Group?
The company is made up of five divisions, which includes:
1. Foodservices; - The brands involved are Kara and the newly acquired Johnstone's. Both make special treats and premium snacks for coffee chains, hotels, pubs and fast food outlets in the domestic and international market.
2. Licensed Brands (most significant segment); - Finsbury Food got licenses to manufacture cakes and bread for some of these well-known brands such as Disney, Weight Watchers, Vogel, Thornton, Village Bakery and Cranks.
3. International; - It owns 50% of Lightbody Stetz, which helps distribute its manufactured products, particularly in France.
However, in 2014 it acquired Fletchers Group (a rival bakery business) for £56m that would double the size of Finsbury. This is paid for by raising £35m in equity.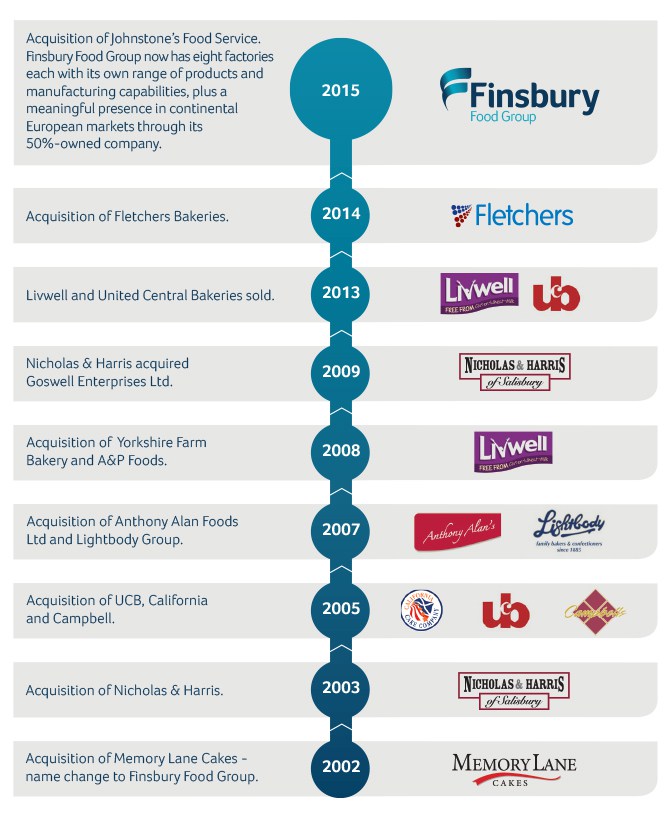 By the time Finsbury report its result on 19th September, revenue (as mentioned in a trading update) would exceed £300m.
The question is how much it will make in earnings?
Given the significant changes taking place for Finsbury Food it is wise not to go into depth on the fundamentals but make observations.
The following are facts and figures on Finsbury Food:
Fact 1: - Revenue to reach £300m in annual turnover following the acquisition of Fletcher Group, compared to £110m in 2007.
Fact 2: - Current market capitalisation is £171m at £1.31/share; this grew from £0.25/share in the past five years.
The market likes the acquisitions and the objectives of management.
Fact 3: - Finsbury is now the second largest manufacturer in Morning Foods.
The company makes famous cakes like The Simpsons, Hello Kitty, Peppa Pig and Me to You.
Fact 4: - Finsbury made annual operating profits of £9.5m in 2015, but its interim results in 2016 jumped to £8m.
Also, operating margins increased to 5.1% in H1 2016, up from 4.2% in the previous period.
Extrapolating 5.1% on revenue of £315m would give predicted full-year earnings of £15.5m-£17m.
Net margin is 3.7% giving it projected earnings of £11.7m giving a PE of 14.
Fact 5: - Here is the history of its valuation is displayed as follows: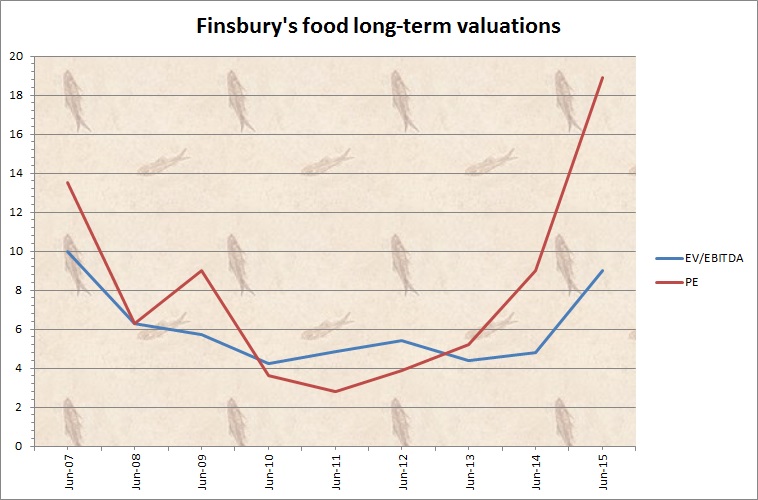 Source: Finsbury Food Group annual reports (Created by the writer).
The high valuations of both graphs are lifting off at record highs.
But as I explain later, this is somewhat misleading.
Now, for my…..
Final thoughts
Despite, the five-bagger you got for capital gains, there is more to come as it fully integrates the newly-acquired businesses.
The reasons are as follows:
- As mentioned, projected net profits of £10m-£12m giving it a PE of 14 to 15 times.
- The company net interest costs have been brought down to £1m making interest cover of 10 times, whereas in the past net interest of £2m-£3m helped to depress net income.
-With a larger slice of the action, it can reduce costs further from bulk buying raw materials.
-Net debt of £22m is half the size it was four years, despite the firm doubling in size.
-Dividends are likely to increase to £4m-£5m in the near future giving it a yield of 3%-4%.
-Net cash earnings are likely to exceed accounting profits meaning it will come in closer to £25m-£30m.
It would easily fund Cap Ex and payback loans.
-Finsbury Food could win further licenses to manufacturer other famous brands given the business size and reputation.
Verdict: The Company saw its shares recovered by 500%+, but with improving fundamentals and future earnings growth, the likelihood is the shares are travelling higher.
For the next year or two, shares in Finsbury Food could be higher by 50%-70% to current share price as of 16/09/16.
So, do you agree or disagree with my assessment?
Disclosure
I wrote this article myself, and it expresses my opinions. I am not receiving compensation for it. I have no business relationship with any company whose stock is mentioned in this article.
Plus, I do not own the stock of the company mentioned, unless stated.

Disclaimer:
By reading my articles and newsletters, you agree to use the research of Walbrockresearch.com at your risk. The purpose of this site is to educate and entertain readers. In no way, we are giving investment advice though the information provided is to my knowledge accurate at the time of the report. You should do your research, or seek advice from qualified professional investment advisors.
---
---

Finsbury Food Group Plc is a United Kingdom-based bakery manufacturer. The Company is engaged in producing a range of cakes, bread and bakery snack products for retailers and the foodservice channel. The Company's segments include UK bakery, Overseas and Group Operations. The Company's UK Bakery segment manufactures and sells bakery products to the United Kingdom's multiple grocers and foodservice sectors. The UK bakery segment primarily includes the operations of Memory Lane Cakes Ltd, Lightbody Group Ltd, Campbells Cake Company Ltd, Johnstone's Food Service Ltd, Fletchers Bakeries Ltd and Nicholas & Harris Ltd. The Overseas segment is engaged in the distribution of the Company's product manufactured in the United Kingdom along with the sale of third party products primarily to Europe. Kara is the Company's foodservice brand. Its licensed brands include Disney, Thorntons, Weight Watchers, Vogel's, Village Bakery and Cranks. more »

LSE Price