Four reasons (or more) why you should own Anglo American
Mining behemoth Anglo American (AAL) is suffering a crisis of confidence as its market capitalisation slip from being a $47.6bn business and heading towards £6bn!
In share price terms, the company was once valued at £35/share, now at a depressed £4.40/share, as we speak.
I feel this company is oversold, and you should own some in your portfolio.
Let's begin:
1. Better asset quality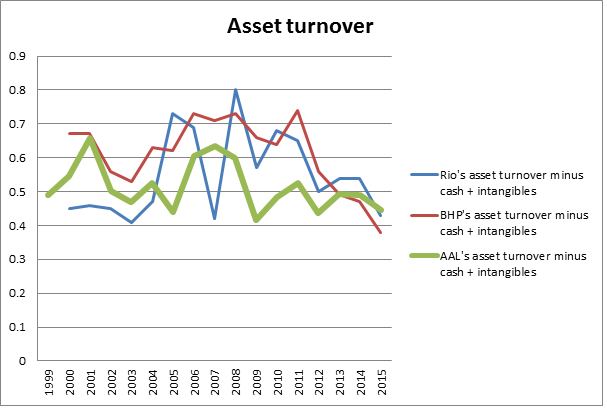 Source: Annual reports of BHP, RIO + AAL.
When compared to bigger rivals like BHP and Rio Tinto, Anglo American asset turnover is no worse than the two biggest miners in the world, if not slightly better.
It's important to have a higher asset turnover because it means these assets are generating sales relative to the value on its assets in its books.
Right now, Anglo American's asset turnover is stabilising because the company wrote off its assets value. That means the company has 'asset stability' unless commodities prices decline further.
As investors, we need to see stability in businesses that we invest and not continuing deterioration in a company's assets base.
2. Superior short-term cash vs. non-liquid assets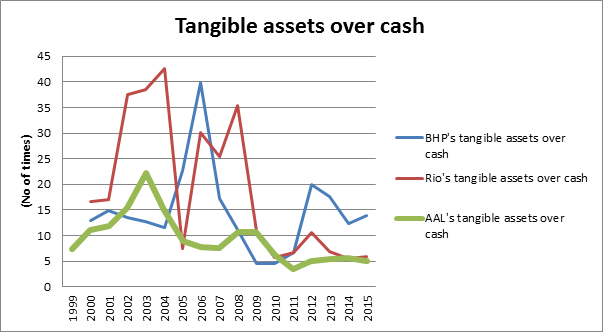 Source: Annual reports of BHP, RIO + AAL.
Imagine owning a barber shop and you borrowed money to renovate the place to make it assessable and comfortable for your customers. For a while, you were earning money to pay off your loan.
Then two months later, a well-known barber shop is set up near your street. People start choosing to get a haircut there instead of your place. Now you start losing your cash inflow to pay off your loan.   
The same thing is happening to the miners but in different circumstances. Instead of a steady increase in supply it became a rapid increase in supply and production.
Why?
Because most (if not all) miners bought into the 'China will grow forever' story. Now, China is slowing dramatically it caught the miners out as supply outstrips demand, meaning collapsing commodities prices.
One way to measure a miner's liquidity is to divide its most illiquid assets or tangibles against its most liquid asset, cash!
The lower the multiple, the more conservative the miner is and ready to meet any short-term challenges. Anglo American is the more 'cash conservative' miner (see above chart).
Sometimes miners go on an acquisition spree buying overvalued assets; this creates a lot of intangibles like goodwill. But all three miners have…

Unlock this article instantly by logging into your account
Don't have an account? Register for free and we'll get out your way
Disclaimer:
By reading my articles and newsletters, you agree to use the research of Walbrockresearch.com at your risk. The purpose of this site is to educate and entertain readers. In no way, we are giving investment advice though the information provided is to my knowledge accurate at the time of the report. You should do your research, or seek advice from qualified professional investment advisors.
---
---

BHP Group PLC, formerly BHP Billiton Plc, is a global resources company. The Company is a producer of various commodities, including iron ore, metallurgical coal, copper and uranium. Its segments include Petroleum, Copper, Iron Ore and Coal. The Petroleum segment is engaged in the exploration, development and production of oil and gas. The Copper segment is engaged in mining of copper, silver, lead, zinc, molybdenum, uranium and gold. The Iron Ore segment is engaged in mining of iron ore. The Coal segment is engaged in mining of metallurgical coal and thermal (energy) coal. Its businesses include Minerals Australia, Minerals Americas, Petroleum and Marketing. It extracts and processes minerals, oil and gas from its production operations located primarily in Australia and the Americas. It manages product distribution through its global logistics chain, including freight and pipeline transportation. more »

LSE Price

Rio Tinto plc is a mining and metals company. The Company's business is finding, mining and processing mineral resources. The Company's segments include Iron Ore, Aluminium, Copper & Diamonds, Energy & Minerals and Other Operations. The Company operates an iron ore business, supplying the global seaborne iron ore trade. Its Iron Ore product operations are located in the Pilbara region of Western Australia. The Aluminium business includes bauxite mines, alumina refineries and aluminum smelters. Its bauxite mines are located in Australia, Brazil and Guinea. The Copper & Diamonds segment has managed operations in Australia, Canada, Mongolia and the United States, and non-managed operations in Chile and Indonesia. The Energy & Minerals segment consists of mining, refining and marketing operations in over 10 countries, across six sectors: borates, coal, iron ore concentrate and pellets, salt, titanium dioxide and uranium. more »

LSE Price

Anglo American PLC is a mining company. The Company has a portfolio of mining operations and undeveloped resources with a focus on diamonds, copper, platinum group metals (PGMs), and bulk commodities. Its segments include De Beers, Platinum Group Metals, Copper, Iron Ore, Nickel and Manganese, Coal, and Corporate and other. De Beers segment is engaged in the diamond business. Within the Platinum Group Metals segment, it has operations principally located in the Bushveld Complex in South Africa. It holds interests in two copper mines: Los Bronces and Collahuasi in Chile and is developing the Quellaveco mine in Peru. Its iron ore operations provide customers with iron content ore through assets in Brazil and South Africa. It has metallurgical coal assets in Australia, and thermal coal assets in Colombia and South Africa. more »

LSE Price