GAME Digital: experiential bets and existential threats
A couple of days ago, GAME Digital popped up on the StockRanks Movers page:
This one's an interesting candidate to look into as it's been covered in depth by both Paul and Graham in the small-cap report. The story is certainly intriguing: a cash-backed, deep-value play that is quickly reducing operating costs and rolling out a high-growth Esports division.

In the group's own words: 'Our focus remains on our transformational strategy to move from a seller of physical products to a provider of gaming experiences and services.'
Is this strategy working? Sometimes with a good turnaround story, the facts don't quite match the narrative.
A preliminary look at the group's financial summary does suggest signs of progress. The group is forecast to return to net profit by FY2020 after what will have been, by that point, three years of losses.

In Graham's recent SCVR, however, he notes that a broker on Research Tree has pushed back breakeven to FY21 - so make that (possibly) four years of losses. We might also take this revision as an implicit reminder that turnarounds can be messier and take longer than initially planned.

Profile and valuation
At 26.8p a share, GAME Digital has a market cap of £46.7m and a negative enterprise value of -£47.4m due to a seasonal high of £94m of net cash on its balance sheet. The group has a 68.4% free float and a lively mix of major shareholders: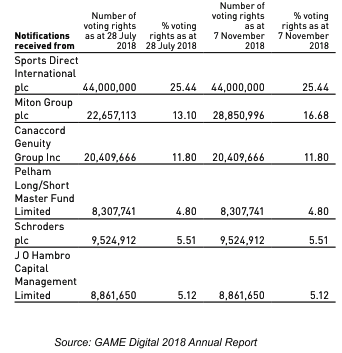 Sports Direct sticks out here - at the time of writing, it has upped its stake to 29.89% - while Miton and Canaccord are fairly active investors. It's not hard to surmise from the c5 year share price chart that these managers spy a favourable risk-reward tradeoff: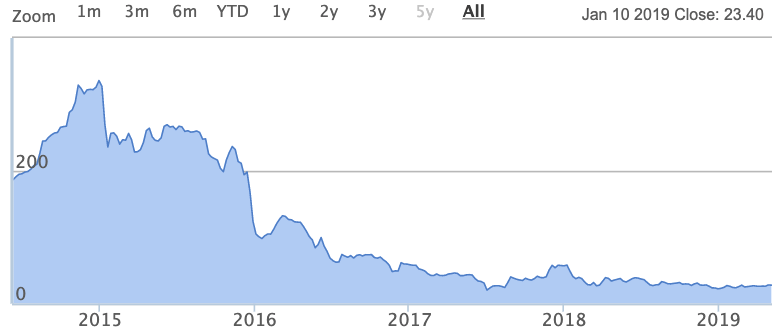 This is what the StockRanks currently think of GAME: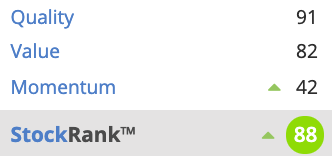 A loss-making retailer with low operating margins at the best of times is not an obvious 90+ Quality Rank company. What GAME does have, though, is a strong F-Score of 7 (which is heavily weighted in the Quality Rank) and a net cash position £94.1m.
Game's high Value Rank is more obvious as we can see from its Growth and Value box:

…

Unlock this Article with a 14 day free trial
Already have an account?
Login here