Games Workshop (LON:GAW): too good to ignore?
Wargaming and fantasy miniature maker Games Workshop (LON:GAW) has seen its stock market star decline over the last year, despite continuing to report record financial results.
With the shares now nearly 40% below their pandemic peak of £12 £120, this distinctive business has come onto my radar as a potential buy.
Games Workshop's results for the year to 29 May revealed another year of record results. Total revenue climbed 12% to £415m, while pre-tax profit rose by 3.7% to £156.5m.
In addition to solid trading from its core fantasy miniatures business, the company is expanding the licensing of its intellectual property for use in video games and television. This has the potential to provide incremental profit at minimal cost – (almost) free cash, in other words.
Last year's performance demonstrates how this could work. Games Workshop's licensing revenue rose by 71% to £28m last year. According to the company, this converted to an licensing operating profit of £25.4m – a margin of almost 91%!
There's no guarantee that Games Workshop's IP will translate into durable digital media franchises, but the indications so far do seem to be positive. This licensing income has the potential to provide a serious boost to profit margins and free cash generation.
The company's long-term growth potential has drawn a number of noted long-term institutional investors onto the shareholder register:
Stockopedia's algorithms continue to view Games Workshop as a High Flyer, suggesting – if correct – that the company's track record of outperformance could be maintained.
Games Workshop scores poorly on traditional measures of value, but boasts exceptional quality metrics. As a value investor by nature, I'm wary of buying High Flyers. As I discussed last week, they can sometimes turn into Falling Stars.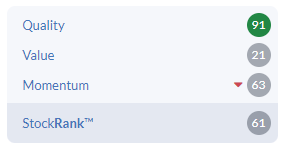 However, I respect the track record of this business and I think it's possible that it could outperform expectations once again over the coming year. Is now the right time to be buying Games Workshop? I've been taking a closer look.
Value: cheaper than it looks?
A ValueRank of 21 suggests an expensive stock. In reality, I think Games Workshop is probably more affordable than it appears. The group's high profit margins and strong balance sheet mean that strong valuation multiples…

Unlock the rest of this article with a 14 day trial
Already have an account?
Login here