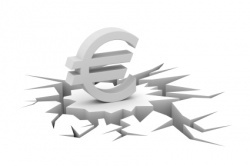 Much of the way this financial crisis has spun out has been as if it has snuck up on everyone, who before had been blissfully unaware of the risks in our financial system. The author below suggests that the next thing which may just sneak up on us may be Germany's exit from the euro, a currency which may soon become 'intolerable' to them.
The stock market will not remain in its current tranquil state. Investors will soon be roused from their blissful trance.
This trance traces its origins back to the mass self-delusion that central banks can revitalize multi-trillion-dollar economies, simply by prodding investors into stocks and other "risk assets." Investing is not that simple. The comparison between bond yields and stock yields — two completely different investments — has become absurd.
Bonds are contracts involving a fixed stream of cash flows and a predetermined maturity date. Stocks are claims on highly uncertain streams of future free cash flows that often stretch out for decades. Many risks can enter the picture and alter the trajectory of free cash flow — and investors' expectations of them.
Risks tend to appear out of the blue and smack investors out of their blissful trance — a trance created by central banks that have shifted far too much attention on the returns of stocks versus bonds…
Here is just one negative catalyst growing closer as the weeks and months pass: Germany could exit from the euro and return to the deutsche mark. While a German exit would offer long-awaited clarity about the future of Europe, it would also spark a mad scramble to adjust to a new reality.
A German exit would trash the euro's value against the currency that's steadily becoming the reserve of choice: gold. Only weak economies with bankrupt governments would be left standing behind the euro. The European Central Bank (ECB) would be free to monetize as much Italian and Spanish debt as it wished (i.e., print euros to buy the government bonds of Italy and Spain). The economists calling for a weaker currency to restore prosperity to the PIIGS countries would get to see their prescription play out in a real-world laboratory. Results would show that currency debasement does not create stronger, more competitive economies. Countries left in the euro would see collapsing living standards: import prices would rise and capital investment would fall amid a…

Unlock this article instantly by logging into your account
Don't have an account? Register for free and we'll get out your way
Disclaimer:
All articles and information published by executives of The Real Asset Company are to inform and aid your thinking and investment decisions, not lead them. Information or data included here within may already be out of date or touch, and must be verified by you elsewhere, should you choose to act on it. 
---
---