Getech: Signs of life from a multi-year depression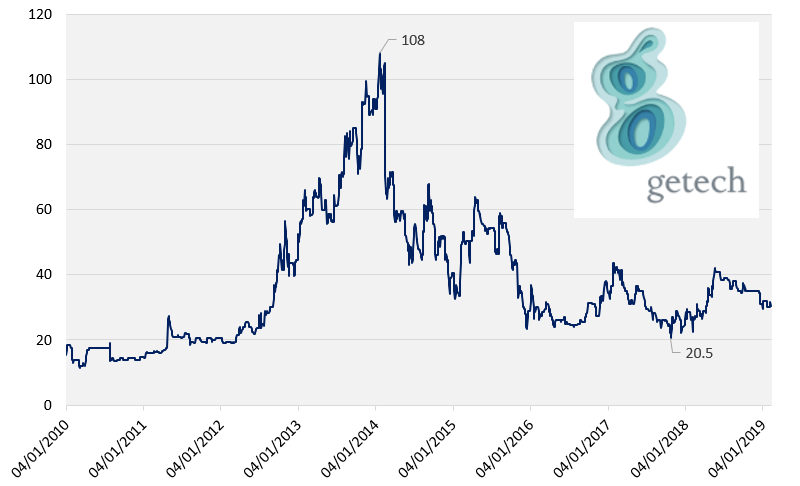 Before I get into what I see as a very interesting investment play, I will caveat up front that Getech is not a business you can trade in and out of. Its really very illiquid, with a spread often of over 5% so bear this in mind. Regardless, with an ask price of 31.6p, if Getech plays out as I expect over the coming 12 months, then I do not believe it unrealistic to see this trade 50%+ higher. The market capitalisation at the ask price is approx £11.8m, a true micro cap. I will try to keep the investment thesis brief.

What does Getech do in as short as possible? Products (Data oriented) = 70% of revenues. Services (consultancy) = 30% of revenues. The products side is truly differentiated. Getech has Gravity and Magnetic data of global coverage "which is multiple times larger than our closest peer." And for example, Getech's Globe software has a retention rate over 95%, and saw a 23% increase in the customer list in 2017. The product quality sees Getech catering to some of the largest oil and gas companies and related businesses in the world, including  (to just name a few)..... Shell, Maersk, Eni, Cairn, Total, Glencore, Anadarko, the UK Oil & Gas Authority, ExxonMobil, Statoil, BP, and BHP Billiton. Other sectors include mining. The new strategy over the past 12 to 18 months has been to "place data, software and information products at the heart of our business", driving recurring revenues and reducing lumpiness of growth.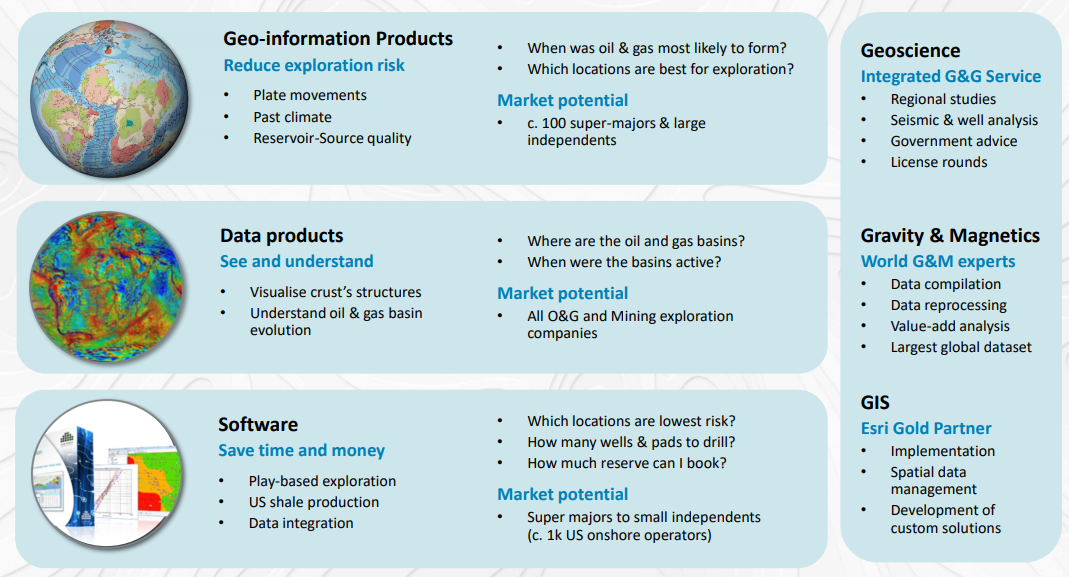 Being conservative, +10% off £7.2m = £7.9m. Say half drops through to adjusted ebit (there is £200k of relocation costs, genuinely exceptional), and that's an operating profit of somewhere around £400k - £450k with similar free cash flow, a far cry from the £500k operating loss in the first half of the year. Financing costs should be minimal. But the first half operating loss was a red herring. In driving recurring revenues, Getech is basically moving revenues out of the current period and into future periods. Total sales closed (i.e. revenues for all periods) were actually +39% in first half, and that was before a large $0.9m data sale which narrowly missed the period end. Anyway, the full year should show both an operating profit and free cash flow and…

Unlock this Article with a 14 day free trial
Already have an account?
Login here