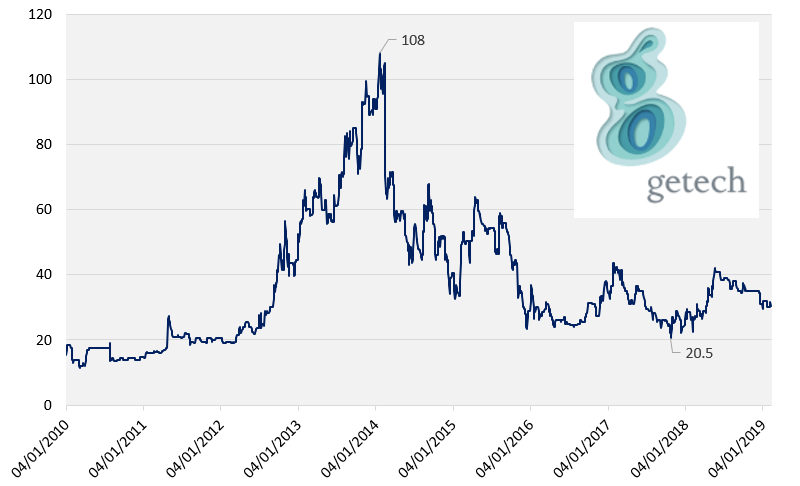 Before I get into what I see as a very interesting investment play, I will caveat up front that Getech is not a business you can trade in and out of. Its really very illiquid, with a spread often of over 5% so bear this in mind. Regardless, with an ask price of 31.6p, if Getech plays out as I expect over the coming 12 months, then I do not believe it unrealistic to see this trade 50%+ higher. The market capitalisation at the ask price is approx £11.8m, a true micro cap. I will try to keep the investment thesis brief.

What does Getech do in as short as possible? Products (Data oriented) = 70% of revenues. Services (consultancy) = 30% of revenues. The products side is truly differentiated. Getech has Gravity and Magnetic data of global coverage "which is multiple times larger than our closest peer." And for example, Getech's Globe software has a retention rate over 95%, and saw a 23% increase in the customer list in 2017. The product quality sees Getech catering to some of the largest oil and gas companies and related businesses in the world, including  (to just name a few)..... Shell, Maersk, Eni, Cairn, Total, Glencore, Anadarko, the UK Oil & Gas Authority, ExxonMobil, Statoil, BP, and BHP Billiton. Other sectors include mining. The new strategy over the past 12 to 18 months has been to "place data, software and information products at the heart of our business", driving recurring revenues and reducing lumpiness of growth.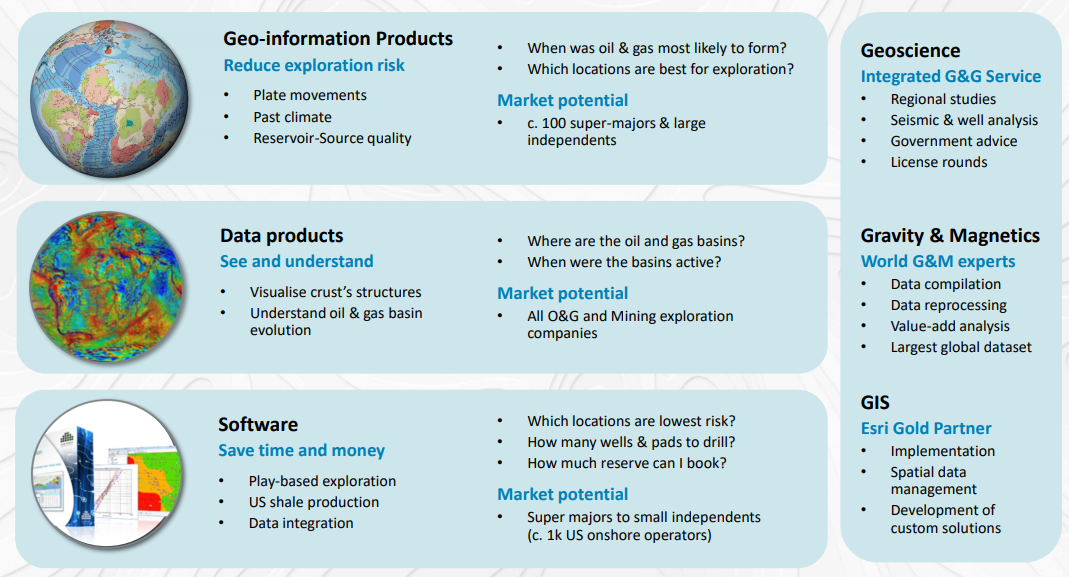 Being conservative, +10% off £7.2m = £7.9m. Say half drops through to adjusted ebit (there is £200k of relocation costs, genuinely exceptional), and that's an operating profit of somewhere around £400k - £450k with similar free cash flow, a far cry from the £500k operating loss in the first half of the year. Financing costs should be minimal. But the first half operating loss was a red herring. In driving recurring revenues, Getech is basically moving revenues out of the current period and into future periods. Total sales closed (i.e. revenues for all periods) were actually +39% in first half, and that was before a large $0.9m data sale which narrowly missed the period end. Anyway, the full year should show both an operating profit and free cash flow and I doubt the market is really in tune with that. There will be a £200k exceptional restructuring charge in the second half, but this is genuine with Getech consolidating their Henley office into their London base.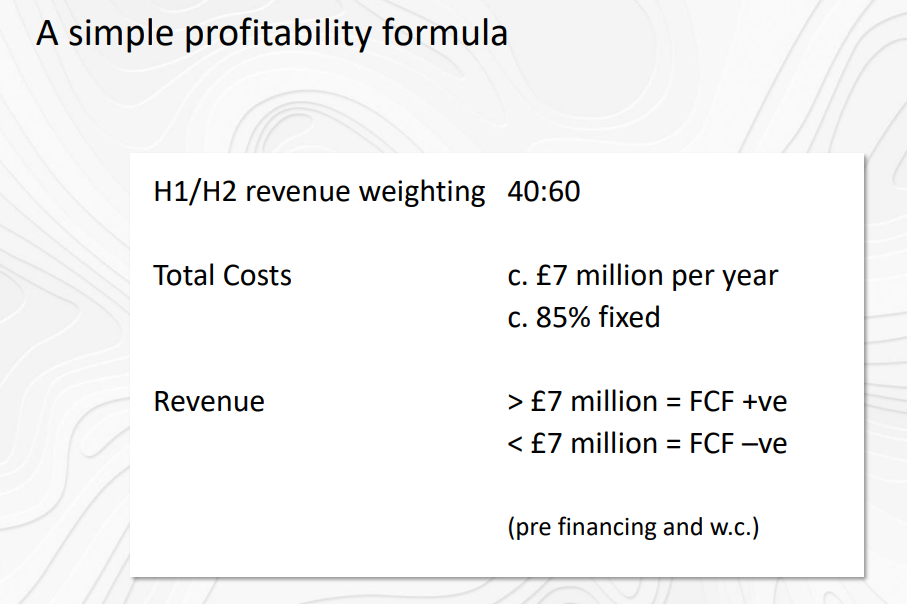 And this is Getech emerging off a multi year trough. Between 2011 and 2015, Getech averaged £1.42m of EBIT and has engaged in counter cyclical M&A since, buying ERCL (a specialist upstream o&g consultancy) and Exprodat (GIS software business) which together were likely >£6m of normalised revenues. So nearly £8m this year is a good improvement, but for the original Getech business it's a far cry from the days before the oil price collapsed. To get back there, Getech need to start selling more product back into O&G and new adjacencies but also see the cyclical improvement in services, which is running at very low gross margins because of the demand equation.

A red herring but potential longer term catalyst is a return of a dividend with Getech in the first half 2018 results saying "we understand the value to shareholders of reinstating a dividend". But, I'd expect them to need to be confident in generating sustainable free cash flow before this occurs.
2. Emerging off a cyclical downtrend. Getech is slowly emerging from a downturn in its main end market, oil and gas. Getech is not an oil and gas explorer, or even a traditional services company. It's a provider of data, geospatial products, and software to the sector, alongside a services/consultancy arm. With exploration budgets tight after the massive oil price drop in 2015, Getech has suffered from sluggish customer spending with spend levels close to troughs. 2019 is unlikely to show a big upswing because the oil price is volatile, but green shoots should appear. General oil and gas capital expenditure could well have troughed,but technology spend has also moved right to the top of the agenda, leaving Getech in a stronger position I think then in the last few years.  So Getech offers a potential cyclical and structural rebound. Cyclical recovery in oil and gas spend. And the structural increase in technology within the energy sector.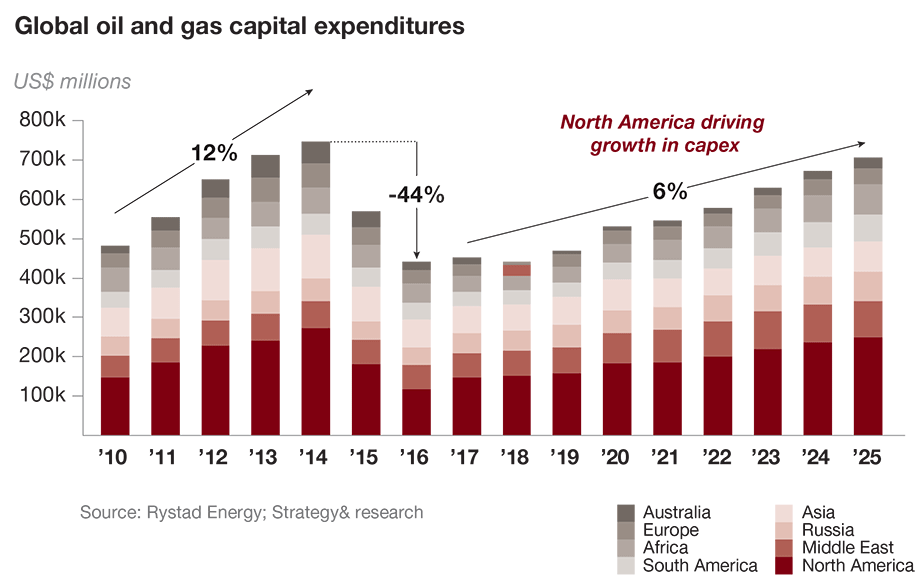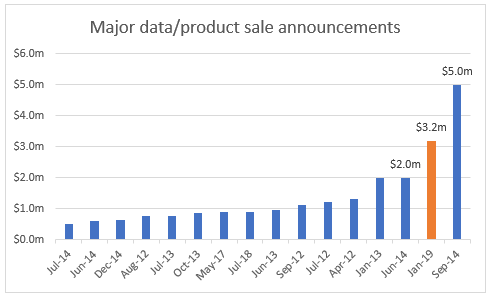 Over time, Getech has started to make initial inroads into non O&G industries, leveraging the expertise they have.  For example, Geospatial services has diversified into the environmental, utilities and maritime sectors. Given the wealth of data Getech holds, if anything, I feel like they have been underutilising their most valuable assets.

4. The market is not valuing the underlying quality of Getech's assets. I believe that the true value of Getech is comfortably higher than what the market capitalisation implies. Taking a look at their balance sheet, and ignoring goodwill, Getech has total assets minus total liabilities of £8.51m, >70% of the market capitalisation.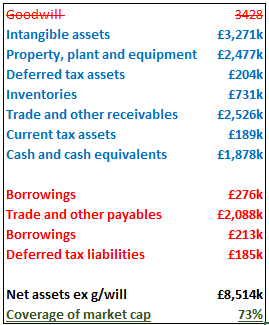 Moreover, if anything I believe this understates Getech's value given most of the value is in product sales (which they have evidenced as being able to sell at $Ms at a time. A potential catalyst that I would discount for now is that Getech has a big office in Leeds, Elmete Hall, that they part own and have been marketing for sale for the best part of a year https://www.lsh.co.uk/find/pro... It's held on the books for comfortably over £2m; an eventual sale would I think be positive for investors if close to book value. The balance sheet as a whole is solid with current assets minus total liabilities of >£2.5m. Scanning the rest of the sub £20m market cap spectrum, of companies which generate >£1m of revenues and positive EBIT, very few other strike me as having a truly differentiated offering (Haynes and Arcontech would be two which also do).

5. New institutional shareholders have appeared... and a couple of director buys. While the market has been less than interested in Getech, the same cannot be said of two new institutional shareholders, the British Growth Fund, and Alto Invest. BGF bought a 10% stake off IP Group midway through last year, while Alto Invest (a French active investor fund) rapidly bought a 9.3% stake from scratch, in stages, over the last 6 months or so. EDIT: Now up to >10%. Alto "specialise in investing in listed and unlisted companies, seeking growth through innovation". "BGF (Business Growth Fund) is the UK and Ireland's most active investor in growing businesses"
While shareholder movements should always be taken with a dose of salt, and DYOR as always applies, these movements are both positive in my view and reflect the group's bigger ambitions. Most funds would not even glance twice at such an illiquid micro cap.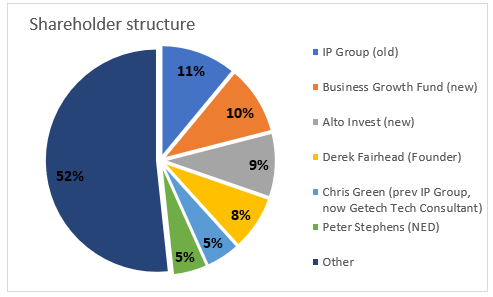 Two directors have combined bought around £27.5k of stock in recent months. Not really move the needle amounts, but a small good news nonetheless. £17.5k of that was bought at 31.75p shortly after the January data sale announcement a month ago.

All said and done, I think the risk reward here is potentially excellent. Relatively limited downside given the assets Getech holds (in my view), a news event in turning operating profit positive coming in the very short term, a couple of interesting new institutional shareholders, and a probable eventual upswing in oil and gas spend.
Disclaimer:
As per our Terms of Use, Stockopedia is a financial news & data site, discussion forum and content aggregator. Our site should be used for educational & informational purposes only. We do not provide investment advice, recommendations or views as to whether an investment or strategy is suited to the investment needs of a specific individual. You should make your own decisions and seek independent professional advice before doing so. The author may own shares in any companies discussed, all opinions are his/her own & are general/impersonal. Remember: Shares can go down as well as up. Past performance is not a guide to future performance & investors may not get back the amount invested.
---
---

Getech Group Plc is a United Kingdom-based company, which provides geological services, reports and data to the petroleum and mining industries to assist in their exploration activities. The Company's segments include Multiclient products and services, Consultancy projects and All other segments. Its Multiclient products and services segment includes Globe, which is its live Geographic Information Systems (GIS) Earth platform; Gravity and magnetics, which offers global databases; Multiclient regional reports, which include reports on various exploration areas, and Multi-Satellite Altimeter Gravity Programme, which is a three-year study covering gravity data for the continental margins of the world. Its Consultancy projects include Consultancy and licensing rounds, under which the Company provides technical support and advice to the Mozambique government, and GIS software and services, under which, the Company, through Exprodat Consulting Limited, offers Exploration Analyst Online. more »

LSE Price