GlaxoSmithKline (LON:GSK): Why dividend growth stalls and falters
The idea that a dividend aristocrat like GlaxoSmithKline (LON:GSK) would ever cut its dividend may be unthinkable to many investors. The pharmaceutical giant has consistently paid dividends since the 1980s and dividend ETFs like S&P UK Dividend Aristocrats have invested huge chunks of money in Glaxo. Nevertheless, recent years have seen a number of blue chip companies, including Tesco, Rolls Royce and Rio Tinto reduce their dividend.

Although Glaxo has not cut its dividend, the rate of dividend growth has already slowed considerably. Cash payouts have remained static at 80p per share since 2014. Dividend hunters may find this frustrating, but there are a number of metrics that investors can use to understand why dividend growth slowed in the past, and assess whether dividends could rise or fall in the future. I will use this article to discuss these metrics, paying particular attention to GlaxoSmithKline.
Why hasn't Glaxo increased its dividend?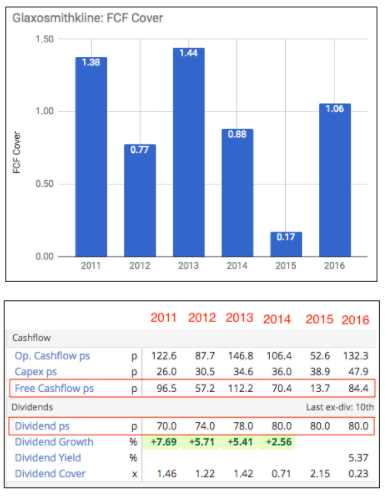 In order to assess dividend safety, it is important to check company cashflows. Whenever a company pays a dividend, investors receive a cash payment, so dividend growth may stall if a company doesn't have much cash. This is exactly what has been happening with GlaxoSmithKline.
The latest interim results explained that the firm 'intends to build free cash flow cover of the annual dividend to a target range of 1.25-1.50x, before returning the dividend to growth.' The cashflow cover is calculated by dividing free cashflows (FCF PS) by the dividend (DPS). A firm with a higher cashflow cover is deemed to have a safer dividend.
We can see from the above graph that GlaxoSmithKline's cashflow cover has been lower than 1.5 every year since 2011. Furthermore, the cover has been below 1.25 each year since 2013. Glaxo had a FCF PS figure of 84.4p for the year ending December 2016. A 1.25 cover ratio would mean that Glaxo will need to have 100p in FCF PS by the end of the year (ie. 100p = 1.25 times 80p). As such, the FCF PS figure would need to grow by 18% this year in order to reach the 1.25 target.

In essence then, recent cashflows haven't been strong enough to support a higher dividend. So let's explore why free cashflows have been low.
Glaxo's cashflow problem
It would be helpful to pause for a…

Unlock the rest of this Article in 15 seconds
Already have an account?
Login here