Globaltrans Investment - Riding the Gondala

Market Cap $3.2 billion      No of Shares  259.4 million        Normal Market Size 3,000
Share Price $12.36
Bid/Offer $12.34/$12.38  (+2c)
The shares are listed in London as global depositary receipts (GDR) with a share price quoted in dollars. Dealing costs may or may not be more expensive with your broker.  Share dealing in the stock from observation finishes one hour before London closes.
About the Company
Globaltrans provides freight rail transportation, railcar leasing and ancillary services to clients in Russia, the CIS countries and the Baltics.
The hub of the Group's centralized logistics system is a single dispatching centre, which works 24 hours a day, seven days a week. It monitors every aspect of Globaltrans' fleet of more than 40,000 gondola cars, managing shipments and routes to maximise efficiency, productivity and service quality.
Operates in key industrial segments including metals (55%), coal (21%), oil products and oil (13%) and construction materials (5%).  Has a large modern fleet of 67,000 units with 92% in ownership, average age 11 years. The core of the fleet consists of universal gondola cars (65%) and rail tank cars (30%). 55% of Net Revenue from Operation of Rolling Stock covered by long-term service contracts3
Major Customers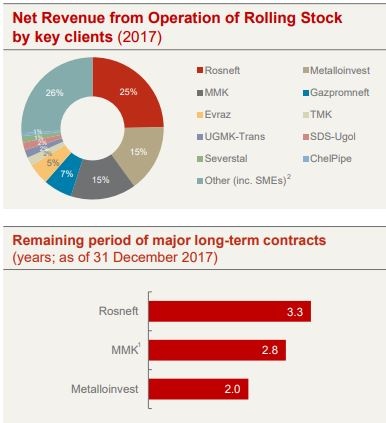 Full Year Results
Link to Financial and operational results for the year ended 31 December 2017.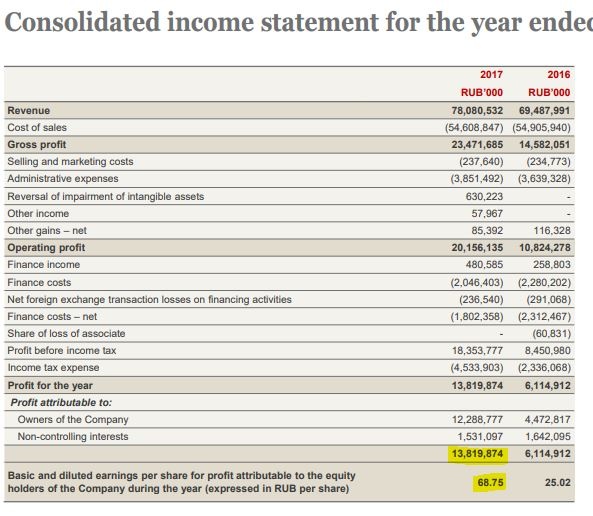 Profits for the year exceeded forecasts of 11.65 billion and earnings per share of 66.5.  Figures expressed in roubles. The old forecasts even for next year 2018 have been surpassed. Some tweaking of forecasts up a little very likely.
                     Exchange Rate 1 Russian Rouble equals 0.018 USA Dollar

Some Highlights
The Group's Freight Rail Turnover and Transportation Volumes stood broadly flat year on year
High fleet efficiency with further improved Empty Run Ratio resulting in reduced Empty Run Cost that would return journeys with no return cargo circa 37%.
Average Price per Trip up 20% year on year to RUB 34,790, reflecting the steady recovery in the gondola segment. Price increase of this magnitude, unlikely to be repeated.
Dividend Friendly Share
·    Final dividend of RUB 4.2 billion or RUB 23.25 per ordinary share/GDR

…

Finish reading with a 14 day trial
Already have an account?
Login here