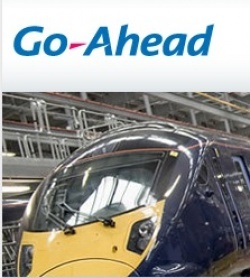 I know that some of my best investment returns have come about not from some amazing insight into what the company was going to do, or what the economy was going to do.  Instead, they've come from combining solid and stable companies, with an attractive starting valuation and a healthy dose of patience.
I think the best way to invest is to look for companies where their earnings power and underlying value is following a relatively stable upward trend.  All you have to do then, more or less, is buy them when they're cheap, and sell them when they're dear (if only it were that simple).
Enter Go-Ahead Group
Go-Ahead is one of the largest public transport groups in the UK.  They're split fairly evenly between buses and trains, with over a million passengers a day travelling on their rail services and almost two million on the buses.
As a public transport company they're fairly well insulated from economic ups and downs, as people have to get to work and travel around no matter what.
Step 1 – Find a company with a stable intrinsic value
You can see Go-Ahead's results over the last decade below.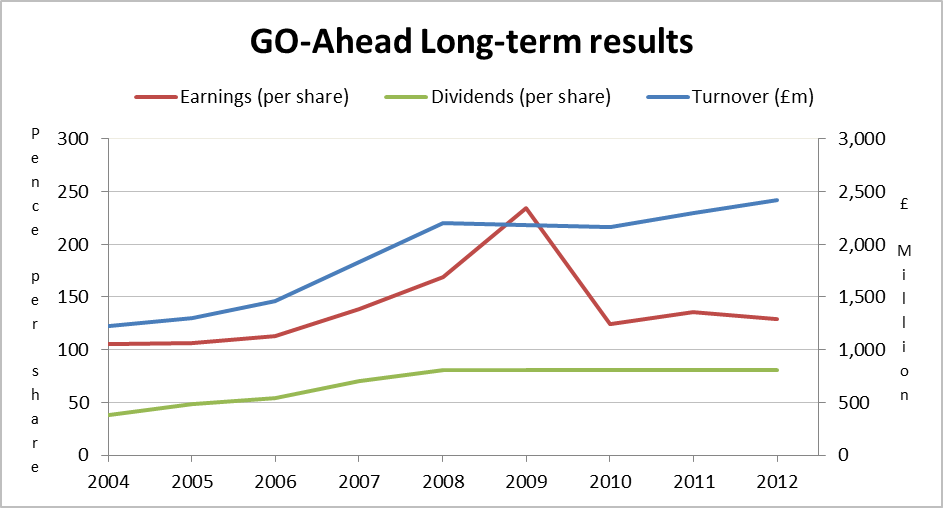 Even though Go-Ahead is a defensive company, its earnings have still been affected by this long recession.  However, even though earnings show a boom and bust peak between 2006 and 2008, the general picture is one of relative stability with a long-term upward trend.
Sales are up, the dividend has been maintained and even in the depths of a recession, earnings are above where they were 10 years ago.  I think the future for Go-Ahead is likely to be  much the same – stability, profit, dividends, and some mild growth.
What does that have to do with intrinsic value?  Although intrinsic value isn't something which we can actually calculate, it is based on sales, profits, cash flows and dividends.  If these things are broadly stable, predictable and dependable, then so is the company's intrinsic value.  This means that it will be easier to work out when the share price is high or low in relation to that intrinsic value.
Step 2: Buy when the price is low relative to value
Buying low means buying low relative to the intrinsic value.  Since we cannot know the intrinsic value we have to use…

Unlock this article instantly by logging into your account
Don't have an account? Register for free and we'll get out your way
Disclaimer:
This article is for information and discussion purposes only and nothing in it should be construed as a recommendation to invest or otherwise. The value of an investment may fall and an investor may lose all their money. Any investments referred to in this article may not be suitable for all investors.  Investors should always seek advice from a qualified investment adviser.
---
---

The Go-Ahead Group plc is a United Kingdom-based public passenger transport company for bus and rail services. The Group operates through three segments: regional bus, London bus and rail. The regional bus segment comprises commercial bus businesses outside of London. The London bus segment comprises tendered bus operations under control of Transport for London (TfL). Train operations are run through rail franchises through contracts tendered by the Department for Transport (DfT). Outside of the UK, the Group mobilizing three rail contracts in Germany and also run bus services in Singapore. more »

LSE Price