Going Broke in 2018
Performance review for hedged "Brokefolios" 2018
Last year I set out on an experiment to create "market neutral" portfolios by hedging Ed Crofts NAPS (&SNAPS) portfolio with a diversified portfolio of short positions selected using the NAPS methodology "in reverse".

With a rather weak pun on SNAPS I named these the Brokefolios.
In this piece I'll lay out the results and some of the learning picked up along the way.

You can read more about the original idea (as well as the half year review) here 

At the outset I derived two separate Brokefolios; firstly the "Man for Man marking" folio (M4M), which selected a stock in each industry group within the NAPS portfolio and secondly the "Zonal defence" using the standard diversification rules I had set out.
I also chose to compare half year rebalancing with the full year view. With the benefit of hindsight, that's just too complex – I am now tracking four different short portfolios and theoretically eight different hedged portfolios. I will therefore keep these results quite condensed.

Anyway ,moving on.
High Level Results
Just in the first table I am showing the results of being "long" each of the portfolios in question. The second table shows the results of the composite Long/Short folios.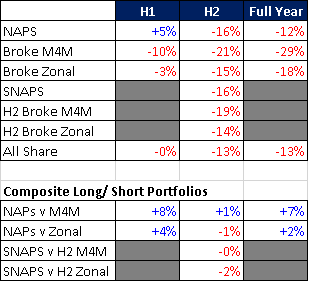 The main observation here is that there is not a great deal of difference between performance of the short or long portfolios in the second half of the year. (The original M4M was down more steeply than the others in the second half, by virtue of not having any outlying stocks that rose significantly.)
This is mildly disappointing.
The balanced portfolios mostly made a small loss in the second half, compared with the horrible performance of the long portfolios and even after considering the extra costs involved in running the hedge performance would still be nicely ahead. (Or should I say less behind?)
But is that outperformance sufficient to compensate for the inevitable underperformance when NAPS is roaring ahead in a bull market?
It looks like case unproven, although I am still positive about this approach. I'll leave my reasoning on that to the end as some of the following points have bearing.

The Bad and the Good
 Although the idea here is really about a diversified portfolio and strategic ignorance (it's difficult…

Unlock the rest of this Article in 15 seconds
Already have an account?
Login here