Gold
Gold continuing its march higher... with a lot more to come IMO.
Is benefiting from being the ultimate safe haven in a time when...
The global economy is slowing
The value of USD is set to drop as US enter rate-cutting cycle
Stock markets are looking toppy
Long term government bonds are paying negative yields
Many nation states (led by China) are buying/stockpiling gold at the moment
All in all i see it not only is a great hedge against a stock market correction, but as a great investment in its own right at the moment. 
As you can see from the 15year chart the trends, once established, tend to last years...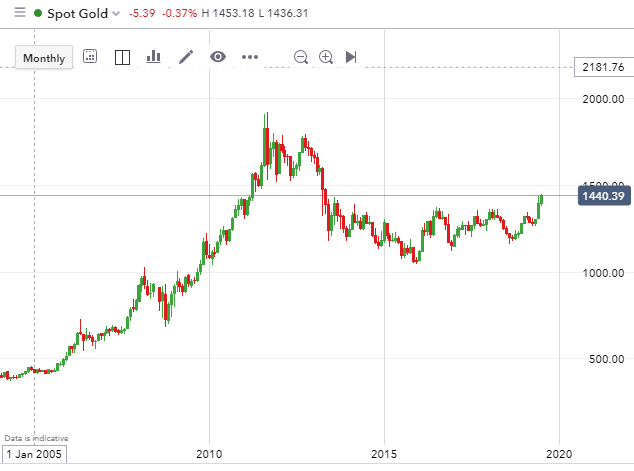 My portfolio is currently 50% long, 10% short, 40% gold
Below are some of the gold funds/stocks i've got at the moment. The individual stocks could in theory produce better returns than purely betting on the the price of gold, but obviously carries greater risk - hence i prefer buying leveraged ETF's rather than individual stocks
SG Gold Daily x5 Leveraged
Boost x3 Gold Daily Leveraged, choice of USD or GBP
Direxion Daily Gold Miners x3 (also offer a Junior Miners)
VanEck Gold Miners ETF (also offer a Junior Miners)
Acacia Mining (note: just received a takeover offer from Barrick this morning)
Barrick Gold
Trans Siberian Gold
Anyone else buying/accumulating gold at the moment or have any views?

Unlock this Article with a 14 day free trial
Already have an account?
Login here