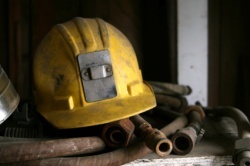 On 6th September Goldstone Resources (LON:GRL) announced that it has received positive results from its recent VTEM (Versatile Time-Domain Electromagnetic) geophysical survey over sections of the Homase Licence in Ghana. As per their announcement to Market, the VTEM survey was conducted by Geotech Airborne Limited and was mainly carried out over the southern part of the Homase Licence in Ghana, in particular over the previously mined Homase pits area.
The company also announced that it had received confirmation from the Minerals Commission of Ghana that the prospecting licence at Homase, in which GoldStone currently holds a 51% interest, has been extended for a further 12 months.
Full details of the VTEM survey results can be seen on the Company website here
We took this opportunity to put a few questions to CEO Jurie Wessels and exploration director Hendrik Schloemann to give them the opportunity to expand on this news. Here is what they had to say.
MM:  What is the significance of the VTEM survey results and, in particular, how has the news reinforced your confidence of the resource potential at Homase?
GR:  The VTEM survey was important to us because it not only confirmed the existence of the gold bearing structure but also that the structure extends beyond its previously known extent, to depth and along strike of the pits.  In practical terms this means that we now know that mineralisation may also extend to depth, like it does 15 km to the south at the Obuasi gold mine. We will certainly be able to upgrade our resource if the mineralisation is to extend to depth, as it was found on surface.
We are also very encouraged by the fact that the survey considerably upgraded the Adubrim exploration target.  The geophysical signatures of the Homase and Adubrim areas are very similar and both areas are marked by a clear gold in soil anomaly.  We are therefore very hopeful that further exploration at Adubrim will result in the discovery of a new gold zone.  Similar discoveries on parallel gold zones at Ayanfuri, Obotan and Chirano contributed significantly to the resources of these gold deposits.
MM:  How important is the finding that the gold bearing structure continues for considerable depth and potentially below 600 metres?  How will the potential below 600 metres be tested, given the depth limitations of VTEM?
GR: At Obuasi mining extends…

Unlock this article instantly by logging into your account
Don't have an account? Register for free and we'll get out your way
Disclaimer:
This summary represents the views and opinions of Miningmaven, has been prepared for information and educational purposes only and should not be considered as investment advice or a recommendation. All opinions expressed are those of the author and should not be construed as being made on behalf of any featured Company. Readers are advised to do their own extensive research before buying shares which, as with all small cap exploration stocks, should be viewed as high risk. Investors should also seek the advice of their investment adviser or stockbroker, as they deem appropriate. All rights reserved. Users may print extracts of content from this blog for their own personal and non-commercial use only. Republication or redistribution of Miningmaven content, is expressly prohibited without the prior written consent of miningmaven. However, linking directly to the Miningmaven blog is permitted and encouraged.
---
---

Goldstone Resources Limited is engaged in the exploration and mining of gold and associated elements. The Company operates through two segments: exploration and corporate. Its exploration segment includes Homase and Akrokerri licenses (Ghana), the Manso Amenfi license (Ghana), the Sangola license (Senegal), the Oyem license (Gabon) and the Ngoutou license (Gabon). The Company's Homase/Akrokerri project is located within the defined Ashanti Gold Belt and abuts Anglo Gold Ashanti's Obuasi tenements. The Company holds the Homase license and the Akrokerri license, through its subsidiary, Goldstone Akrokerri (Ghana) Limited. The Manso Amenfi License is located in the Wasa Amenfi West District of the Western Region in Ghana. Its subsidiary, Goldstone Resources Limited Gabon S.A.R.L., is the holder of the Oyem and Ngoutou Licenses. The Oyem and Ngoutou permits both contain gold in soil anomalies in over 10 kilometers length. The Company has not generated revenues. more »

LSE Price