GuruScreen Movers - May 5th: Focus on IPOs
Can investors take advantage of an IPO? IPOs only happen once for each company, so we may feel that they are 'once in a lifetime opportunities'. Some IPOs rocket and their share prices just keep rising. However, others enjoy an initial pop but then go on to massively underperform the market. How can investors separate the wheat from the chaff? Let's take a look at Stockopedia's GuruScreens to find out.
Do IPOs underperform?
Research by a number academics shows that companies which have recently IPO'd tend to underperform the market. One study by US professors Tim Loughran and Jay Ritter found that:
In the five years after an IPO, the newly listed companies returned an average of 15% whereas matching (non-issuing) firms returned 66%. Furthermore:
In the three years after an IPO, the average buy-and-hold return on newly listed firms was 8%, while the return on non-issuing firms was 35% (see table below).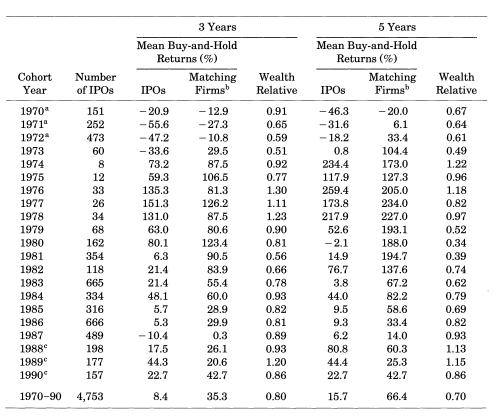 Analysts have put forward numerous suggestions for why recent IPOs tend to underperform, including:

Poor Value: Research shows that cheap stocks tend to outperform expensive stocks on average. However, company managers have the advantage of timing an IPO at a moment that will net them the highest return. Indeed, Spiess and Affleck-Graves (1995) insist that 'managers are able to determine when the market is willing to overpay for their stock, and take advantage of these opportunities to issue equity', and thereby raise more cash.
Poor Quality: Profitable companies ought to be better investments than companies that are constantly loss making and may even be cooking the books. However, Rangan (1998) and Chen (2007) argue that firms may manage earnings aggressively in order to justify a higher share price and thereby raise more cash during an IPO.
BooHoo (BOO) and AO World (AO.)
Online retailers BooHoo (BOO) and AO World (AO.) both IPO'd in early 2014. It is impossible to tell whether these companies decided to issue shares when they judged that the market was willing to overpay for their stock. However, when AO World first went public, it was one of the most expensive companies in the market, with an overall ValueRank of just 2. The Stockopedia ValueRank is a blend of several of the most important value ratios. Similarly,

Unlock the rest of this Article in 15 seconds
Already have an account?
Login here