Here are the real reasons why UK Home prices are expensive
Introduction
They say Britain is a nation of shopkeepers; now it is turning into a nation of property owners.
The shopkeeping part is being weaned down resulting in massive publicity on bankruptcies like Woolworths and BHS.
So, what makes property in the UK so treasured?
Let's find out.
The most famous housing chart
When the media talks about property prices they are very likely related to this graph: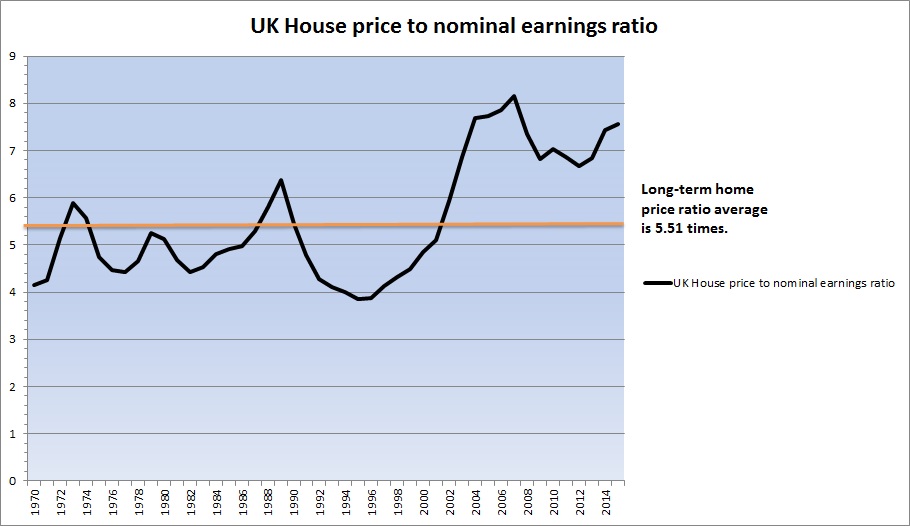 Source: MeasuringWorth.com and Nationwide.co.uk.
These measures are on average home prices and average salary meaning it includes earnings of the very rich; this distorts the averages.
For example, the top ten best-paid CEOs have a collective salary of £156m and the UK average salary is £27,195, therefore it's the equivalent salary for 5,736 people.
A more accurate measure is the median disposable income because if the UK has a total of 30m workers, the data will give you the earnings from the person in the middle or 15 th millionth.
Also, it's income after tax data, which helps to avoid any distortion if one is paying high taxes. 
And this chart tells you a different story: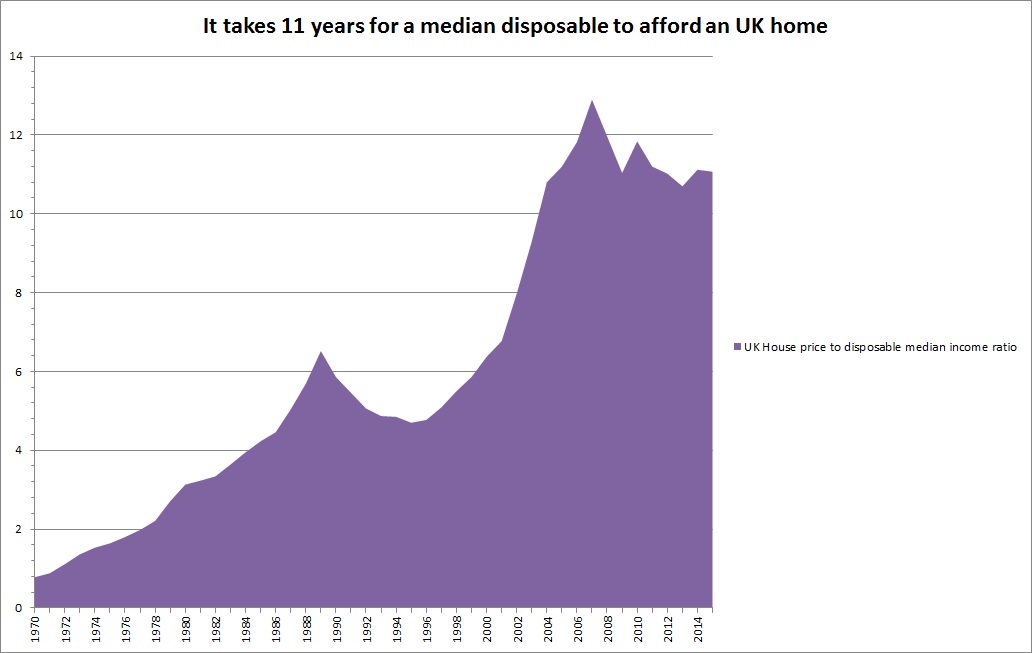 Source: Nationwide.co.uk and Telegraph.co.uk.
First it is much more volatile, and second, it presents some interesting findings.
Back in 1970, you can afford a house for working less than one year and its salary after tax!
Now, it's over 11 times' your disposable income, though it varies from regions to regions, on average home prices have risen 13 times faster than median disposable income.
Who or what is to blame for this property price bonanza?
1. Population and Migration
The raw way of looking at it is to compare the number of homes against change in UK population: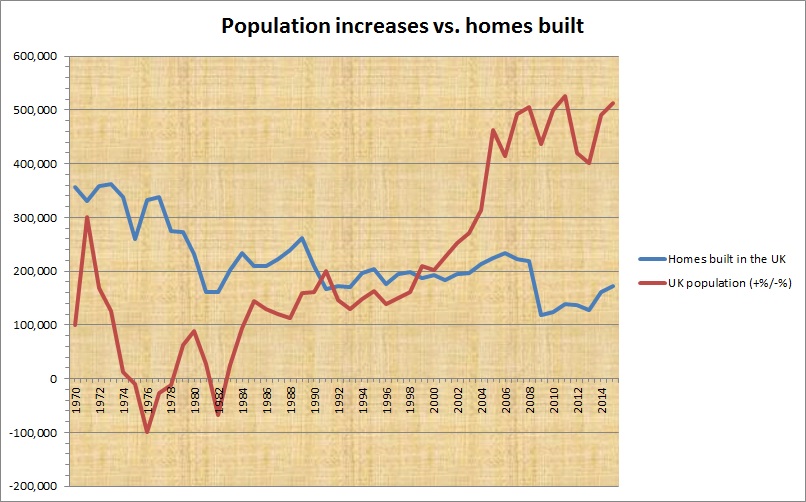 Source: ONS.gov.uk.  (Graph created by the writer)
The number of homes built has steadily declined while the annual increase in UK population is up by half million from the 62,000 during the 70s.
For the above chart to be meaningful, you got to know how many people will occupy these new homes then compare to UK population increase.
Therefore, you required the average household size per home data, as shown below:

Unlock this article instantly by logging into your account
Don't have an account? Register for free and we'll get out your way
Disclaimer:
By reading my articles and newsletters, you agree to use the research of Walbrockresearch.com at your risk. The purpose of this site is to educate and entertain readers. In no way, we are giving investment advice though the information provided is to my knowledge accurate at the time of the report. You should do your research, or seek advice from qualified professional investment advisors.
---
---

The Berkeley Group Holdings plc is a holding company. The Company, along with its subsidiaries, is engaged in residential-led, mixed-use property development. Its segments include Residential-led mixed-use development and Other activities. Its brands include Berkeley, which creates medium to large-scale developments in towns, cities and the countryside, encompassing executive homes, mixed use schemes, riverside apartments, refurbished historic buildings and urban loft spaces; St George, which is involved in mixed use sustainable regeneration in London; St James, which handles projects that embrace private residential development, commercial property, recreational and community facilities; St Edward, which offers residentially led developments, and St William. Berkeley First is a division of the Company specializing in student accommodation and mixed use residential development within London and the South East. Berkeley Commercial is its commercial property developer and investor. more »

LSE Price

Taylor Wimpey plc is a residential developer. The Company operates at a local level from 24 regional businesses across the United Kingdom, and it has operations in Spain. Its segments include Housing United Kingdom and Housing Spain. The Housing United Kingdom segment includes North, Central and South West, and London and South East (including Central London) divisions. The North division covers its East and West Scotland, North East, North Yorkshire, Yorkshire, North West, Manchester, North Midlands, Midlands and West Midlands regional businesses. The Central and South West Division covers its East Midlands, South Midlands, East Anglia, Oxfordshire, South Wales, Bristol, Southern Counties and Exeter regional businesses. The London and South East Division includes Central London and covers its East London, North Thames, South East, South Thames and West London regional businesses. It builds homes in various locations of Costa Blanca, Costa del Sol and the island of Mallorca. more »

LSE Price

Barratt Developments PLC is a holding company. The Company is principally engaged in acquiring and developing land, planning, designing and constructing residential property developments and selling the homes, which it builds throughout Britain. The Company operates in two segments: Housebuilding and Commercial developments. Its housebuilding segment operates through approximately six regions and approximately 30 operating divisions delivering over 17,319 homes. Its Commercial developments are delivered by Wilson Bowden developments. It purchases land in targeted locations and designs homes for its customers using standard house designs. Its brands include Barratt Homes, David Wilson Homes and Barratt London. Its Barratt Homes brand focuses on making homes. Its Barratt London brand portfolio offers apartments and penthouses in Westminster to riverside communities in Fulham. Its David Wilson Homes brand offers home design and specification, and focuses on developing family homes. more »

LSE Price