High Costs of Talent harming 1 Spatial Shareholders' Value
Introduction
(P.S. I'm not an I.T. person. But I'm here to review their financials!)
1Spatial plc is a leading software and solutions companies trading under the brands 1Spatial and EnablesIT.
What it does is they manage to interpret data for clients. To do this, they partner up with some of the leading technology vendors including, Esri, Oracle, and SAP.
Looking at 1Spatial over a four-year period, the business looks great (meaning I like the financials). It is growing in tech status, but what is bothering investors is the falling cash balance.   
So, what is going on at this technology firm?
To make sense of this, you need to break down their financial step-by-step.
1 Spatial Profit and Loss
You can see it is making good progress on its sales generation.  Here's the breakdown for every six months.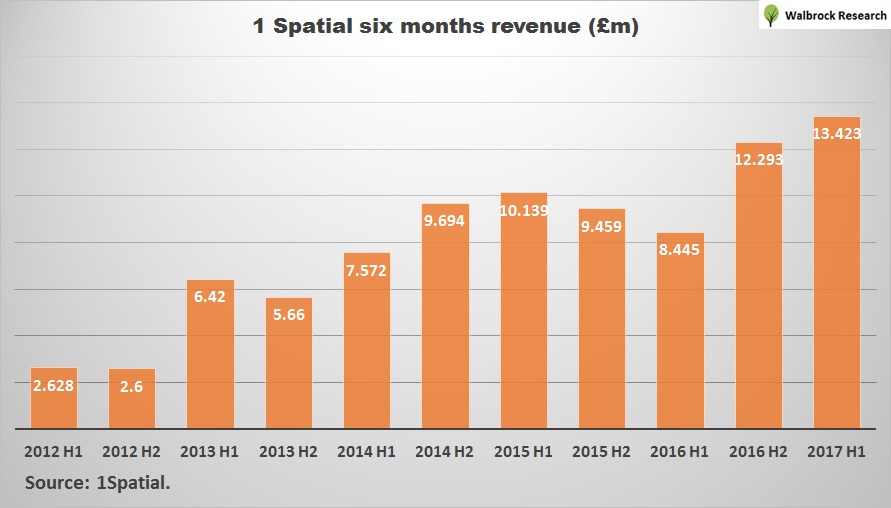 Clearly, the business is growing their client base, as revenue jumped 300-plus percent in four and a half years. But, the downside is the accumulative operating loss of £12.3m!
So, what is the cause? Well, it isn't coming from faster trade receivables growth.
The culprit goes to higher admin costs.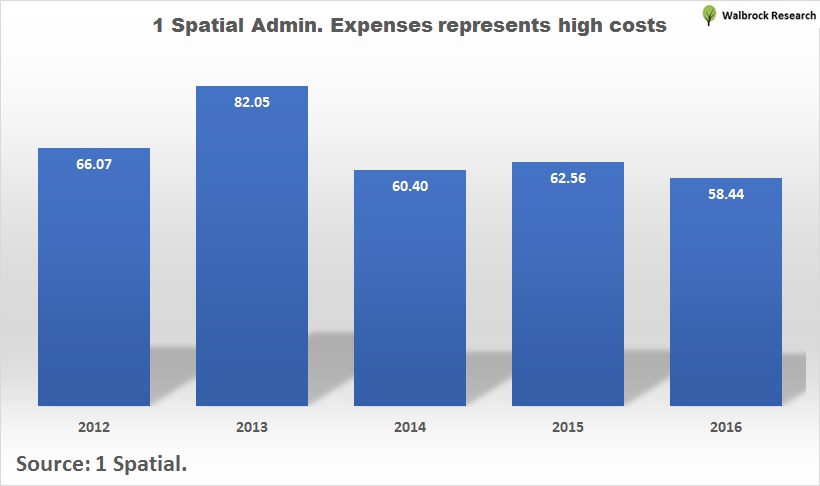 1 Spatial admin costs accounted for between 58% and 82% of total revenue, which is really high. Let's see why.  
Employee costs too high
Here is 1 Spatial wage cost per worker: -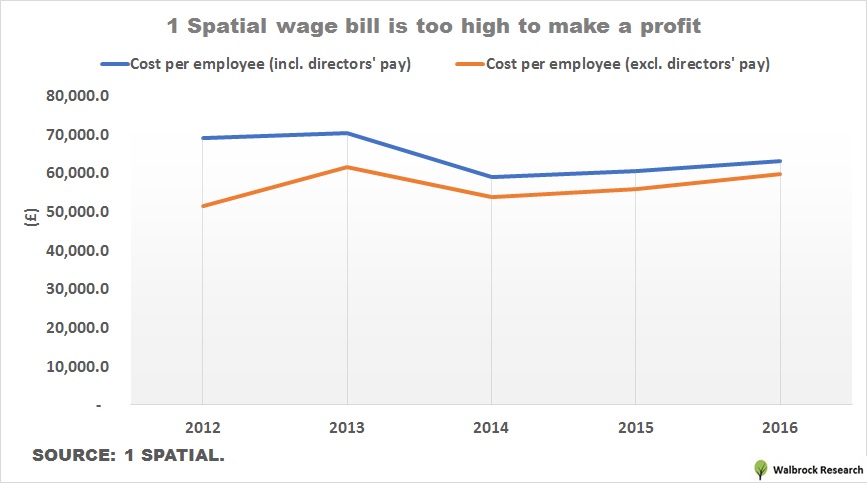 Given it is a small company, I include and exclude directors' pay in two separate graphs to suss out if the directors were being overpaid. That isn't the case! But, 1 Spatial is paying their staff a high salary.
There is a reason.
Business Insider has made a list on how much each tech firms in the UK pay their workers. Take Facebook from that list. They pay their employees an average of £70k, which incl. free food, business travels, gym allowance, etc.
So, for 1Spatial to recruit talent, it must offer a similar level of pay, despite being a minnow.
Has the high salary helped 1 Spatial to generate extra revenue per worker?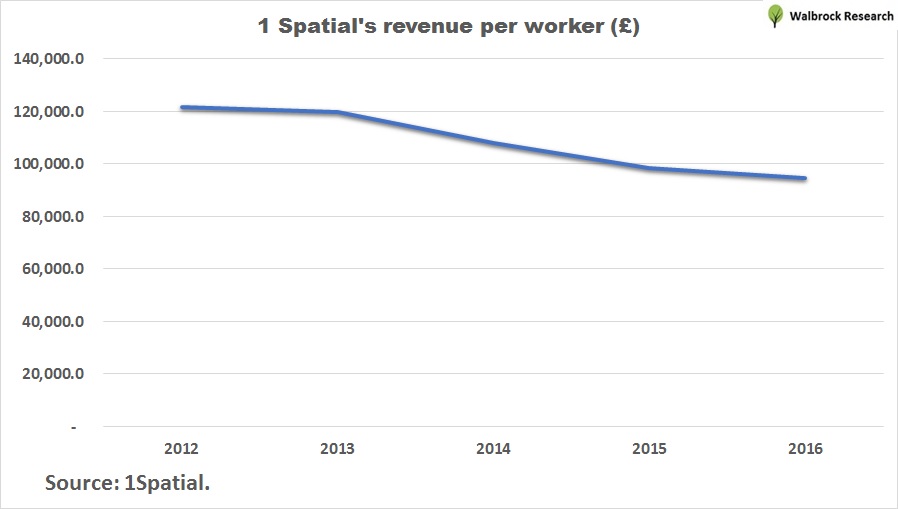 Sadly, not! In fact, the company's productivity has declined from £120k in 2012 to under £100k.
1 Spatial Balance Sheet
One…

Unlock this article instantly by logging into your account
Don't have an account? Register for free and we'll get out your way
Disclaimer:
By reading my articles and newsletters, you agree to use the research of Walbrockresearch.com at your risk. The purpose of this site is to educate and entertain readers. In no way, we are giving investment advice though the information provided is to my knowledge accurate at the time of the report. You should do your research, or seek advice from qualified professional investment advisors.
---
---

1Spatial plc is a holding company. The Company's principal activity is the development and sale of information technology software along with related consultancy and support. It operates through three segments: Geospatial, Cloud Services and Central costs. The Geospatial segment includes the core 1Spatial Group, including France and Belgium, and Laser Scan Inc. The Cloud Services segment is represented by Enables IT and its two smaller businesses: Avisen and Storage Fusion Limited, and its associate, Sitemap Limited. Its geospatial technology enables organizations to manage, validate, integrate and interpret spatial data from different sources. Its products and services include 1Integrate for ArcGIS, 1Spatial Cloud, 1Spatial Management Suite, Elyx Suite, FME, Geocortex, G-Cloud Services, consultancy, support and training. Its clients include national mapping and cadastral agencies, utility and telecommunications companies, and government departments, including census bureaus. more »

LSE Price