HNDL: Innovative Income Strategies for Challenging Yield Environments
By every measure, the U.S. stock market is in the midst of an impressive run.  On a year-to-date basis, the S&P 500 has risen by 17.39%. We are not yet halfway through 2019, and this performance is already well above historical averages.  Since the benchmark started trading as a composite of 90 companies in 1926, the S&P 500 has produced average annual returns of only 9.8%.  Further complicating matters is the low-interest rate environment visible in most global economies.  At 2.5%, interest rates in the U.S. are the highest they've been in over a decade. But this is still low by historical standards and this scenario is unlikely to change any time soon.  
Traditionally, these types of low-interest rate environments create obstacles for anyone searching for reliable sources of income.  In many cases, investors will set up annuities to receive a steady income stream. But this approach has its disadvantages, as annuities are largely illiquid and they are only as dependable as the institution (for example, the insurance company) that provides them.  

As a stable alternative to annuities, the Strategy Shares Nasdaq 7HANDL Index ETF (NASDAQ: HNDL) is a new exchange-traded fund that offers real solutions to these problems.  HNDL is the first fund specifically designed to provide investors with consistent monthly payouts, generating an elevated 7% annual distribution designed to sustain itself through uncertain market environments.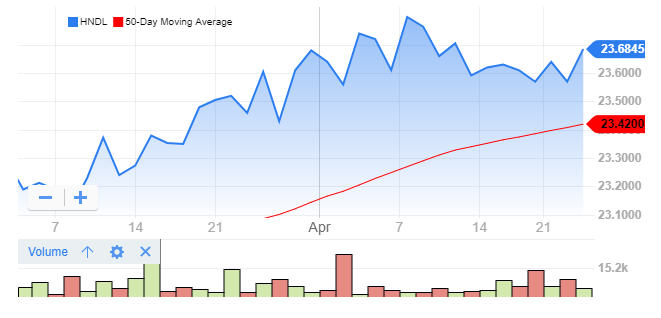 What ultimately sets the Strategy Shares Nasdaq 7HANDL Index ETF apart from its peers is its unique target distribution.  This is particularly true in low-yield environments where investors have trouble finding steady sources of income. CDs and savings accounts typically pay 1% (or less) and investments in U.S. Treasuries don't pay much better (generally 2% to 3%).  Rather than simply owning a traditional stock portfolio, investors can avoid selling portions of their holdings in order to produce income levels that are equal to the fund's distribution. It's an innovative approach to help investors navigate overbought stock markets as they trade at record highs.  

HNDL: Fund Strategy and Design
The Strategy Shares Nasdaq 7HANDL Index Fund's portfolio achieves long-term growth and stability, through a blended approach comprised of nineteen components and roughly 20,000 individual underlying securities.  This impressive collection of assets is evenly divided into two diversified portfolios: its Dorsey Wright Explore…

Finish reading with a 14 day trial
Already have an account?
Login here