How To Navigate Another Winter of Discontent
I had a fascinating conversation with one of our subscribers back in March 2020. We speculated whether the economic climate of the 2020s would resemble the 1970s. Unfortunately, the comparison has become something of a cliche. Newspapers say the coming months will be like the Winter of Discontent (1978-79), when widespread strikes and industrial action resulted in rubbish piling up in the streets. Stagflation (inflation and low economic growth) is a trending buzzword and the economic historian, Niall Ferguson, recently said, 'Why shouldn't it be as bad as the 1970s?' In a similar vein, the former Governor of the Bank of England, Mervyn King, suggested that we could be in for a 'very unpleasant period'. King did add a sanguine caveat. We're not there yet and we just don't know what will happen next. We don't have a crystal ball and the economic models could be wrong, but some noteworthy comparisons with the 1970s can already be made…
Could the FTSE 100 sink towards 2500?
Readers may remember the three-day week introduced back in 1973 by the Prime Minister, Edward Heath. The state limited the commercial consumption of electricity to three days a week. Perhaps the lockdowns of 2020-21 can be compared to the three-day week in the sense that in 1973, and again in 2020, the government of the time imposed severe restrictions on economic activity. It would be 'good' if the comparison ended there, but unfortunately there are more similarities…
In March 1978, Aldo Moro, the former Prime Minister of Italy, was found dead, assassinated, in the back of a truck. 44 years later, in July 2022, the former Prime Minister of Japan, Shinzo Abe was assassinated with a homemade firearm. These tragic and sad events may signal that we have returned to an era where people have very little faith in the ability of the political class to 'control' –for want of a better word– events and resolve crises. Political commentators argued that Britain was 'ungovernable' in the 1970s. In more recent years, successive UK governments have tried and failed to provide 'strong and stable leadership'.
The 1970s and the early 2020s were marked by a comparable set of economic trends. Let's take a look at these trends and consider what they mean for the stock market…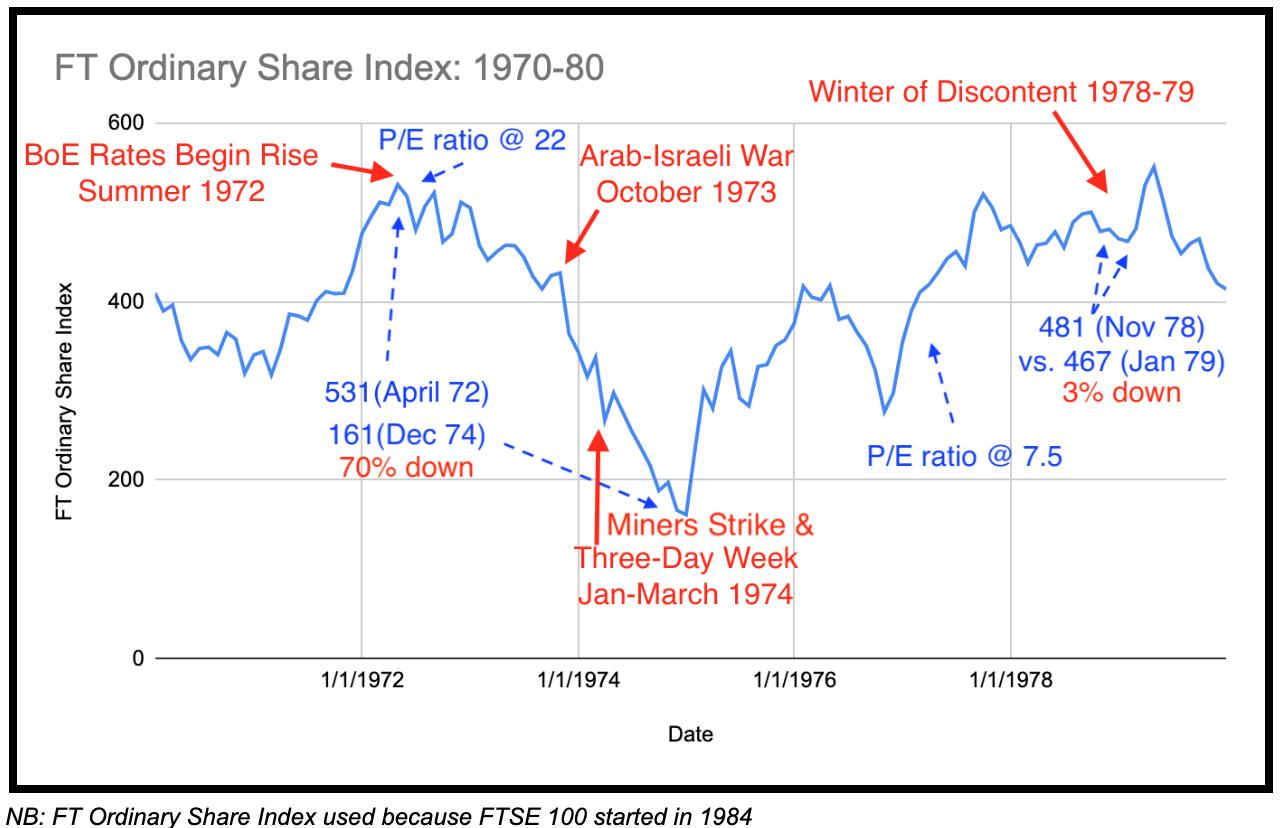 Trade union strikes –alongside afros, disco music and flared trousers– defined…

Unlock the rest of this article with a 14 day trial
Already have an account?
Login here