Howden Joinery (HWDN): Getting some credit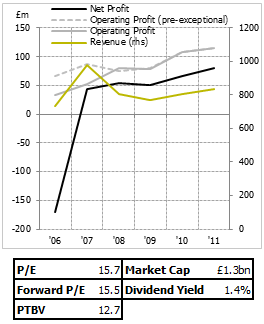 Howden Joinery (LON:HWDN) have been one of the strongest performers in my portfolio and are one of its formative members, but I mustn't let nostalgia and the fact I like the company get in the way of making an informed judgement. Eliminating our biases is easier said than done, particularly as Howden is a company that feels like it follows my journey as an investor. My buying reasoning back in mid-2011, as I was just getting to grips with investing and different techniques, was basic and a little quirky. I'd identified that I liked the company, but couldn't particularly articulate why, beyond it being stable and reasonably cheap. Unlike some of my early choices, though, Howden never struck me as an amateur mistake - an oversight of something, or a fundamental misunderstanding. The opposite, in fact - the more companies I looked at and had to compare them to, the more I liked Howden's way of doing things. For a far better explanation of Howden's business model than I've ever been able to put on paper, look here.
The price is up about 110% in the time I've held it, though, and that should give anyone pause for thought about the continuing value. It is essentially the same business, too, with everything basically identical except for a few more depots (and the improved revenue and profits that come with that). Such a large price appreciation with a relatively small change in profits and (though this is a subjective metric) prospective profitability means the market has dramatically changed its opinion on Howden. What was a definitively 'value' company, selling at a small multiple of profits even with obvious growth prospects, is now priced more like the maturing, yet still growing established business that it is.
Prospects
I don't hold many companies like Howden Joinery. My lot, in my experience so far, has mostly been with cheap companies. They might be cheap for a reason, of course, perhaps having a price that overdoes the pessimissm, but you're unlikely to find diamonds by looking only in the bottom x%. In short, there's a quality spectrum, and I've tended to focus on the lower end of it. That's a consequence of the way I've screened for shares - using loose proxies for…

Unlock the rest of this Article in 15 seconds
Already have an account?
Login here