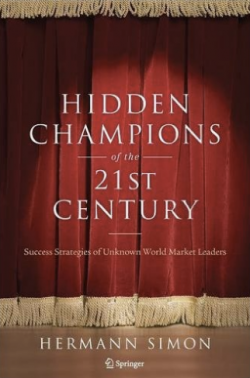 In his book, "Hidden Champions of the 21st Century", the business consultant Hermann Simon discusses the idea that small to mid-sized firms, which operate in niche markets and are market leaders in their industries, tend to become very successful. In this article, we will use his findings to identify the top ranking Hidden Champions in the market, analyse how they have performed, and randomly select a few Hidden Champions for particular focus.
What makes these companies "Hidden"?
A key element of "hidden" companies is that the range of products they make often go unnoticed by consumers, as they often form part of the supply chain. It may be that the company supplies the equipment, components, or systems that contribute towards the end product, reducing their own "distinctiveness".
These types of companies include some of the following: Jungbunzlauer, the Austrian-Swiss company that provides the citric acid for every Coca-Cola produced and sold in the world, Mumbai based Essel Propack, one of the global market leaders for laminated tubes for toothpastes and other similar products, and Switzerland's Lantal, a global leader in customised cabin interiors for passenger aircraft, whose customers include the likes of Boeing and Airbus.
Additionally, there is a desire for these Hidden Champions to remain hidden and maintain a low profile, so that they may continue to focus on what counts - their business. The book credits Jim Collins for making a telling distinction between "show horses" and "plough horses". He explained that "The plough horses do not put much time or effort into grooming their public image, so they save time and energy to concentrate on their true purpose: conducting good business".
However, a trend has started to take swing, which shows that more and more Hidden Champions are beginning to unveil themselves. At the time of writing, in 2009, Hermann Simon had found that the number of hidden champions listed on the stock exchange had risen sixfold in the last decade.
Finding the Hidden Champions
The initial step in modelling Hermann Simon's strategy is to filter for the top 20% of stocks in the market with the strongest blend of Quality, Value and Momentum. That was done by using Stockopedia's StockRanks.
In his book, he specified that the companies he was looking for must also generate revenues below $4 billion, drawing focus on only smaller to mid-sized companies.
He also found that the highest proportion of…

Unlock this article instantly by logging into your account
Don't have an account? Register for free and we'll get out your way
Disclaimer:
As per our Terms of Use, Stockopedia is a financial news & data site, discussion forum and content aggregator. Our site should be used for educational & informational purposes only. We do not provide investment advice, recommendations or views as to whether an investment or strategy is suited to the investment needs of a specific individual. You should make your own decisions and seek independent professional advice before doing so. The author may own shares in any companies discussed, all opinions are his/her own & are general/impersonal. Remember: Shares can go down as well as up. Past performance is not a guide to future performance & investors may not get back the amount invested.
---
---

Valmet Oyj is a Finland-based company, which is engaged in the development and provision of services and technologies for the pulp, paper and energy industries. The Company's services cover whole cycle from maintenance outsourcing to mill and plant improvements and spare parts. It operates in four business lines: Services, Pulp and Energy, and Paper, which comprise development of products and services and global customer projects in the areas of paper, pulp, tissues, paper and board, as well as bio-energy; and Automation, comprising process automation systems business. The Company operates domestically and abroad, including South, Central and North Americas, China, Asia and Europe. more »

HEX Price

Bergman & Beving AB, formerly B&B Tools AB, is a Sweden-based supplier of industrial consumables, industrial components and related services for the industrial and construction sectors in the Nordic region. The Company's activities are divided into five business areas, namely: Tools and Machinery, Personal Protective Equipment, Fastening Elements, Industrial and Construction Consumables and Workplace Equipment. Its range of products includes hand tools, metal and woodworking machinery, cutting tools, compressed air technology, personal protective equipment, work clothes, first aid equipment, fastening elements, screws, adhesives, kitchen fixtures, electrical devices and lighting, workplace equipment, environmental assurance and lifting devices, among others. The Company's customers comprise mainly of companies operational within the industrial and construction sectors. more »

STO Price

WashTec AG is a Germany-based company engaged in the provision of vehicle washing solutions. The Company and its subsidiaries focus on developing, manufacturing, selling and servicing car wash products. The Company operates through three geographical segments: Core Europe, North America, and Asia/Pacific. Its product portfolio comprises, among others, roll-over wash equipment, self-service wash equipment, commercial car wash equipment, wash tunnels,water reclaim systems and the spare parts. It also provides repair and maintenance services, including full service and call-out services, markets related products, such as detergents and care products, and provides sales financing services. The Company distributes its products in approximately 70 countries. WashTec AG is the parent company of the WashTech Group. more »

GER Price