I Read The News Today Oh Boy! 29-Aug-2017
Morning all!
Hope those of you that had a Bank Holiday yesterday enjoyed it.
I was, according to my sources, expecting news on CYAN, OPG and TEG this morning. With no news I could see, I have included my notes anyway – They may be of interest to some.
Other than that it's just that shocker from Real Good Food, less than a month after the previous statement!
Also added a comment on IG Design which I previously missed!
Cyanconnode Holdings (CYAN) – NO NEWS - This company is "engaged in the design and development of narrowband radio frequency (RF) mesh networks that enable Omni Internet of Things (IoT) communications" – Sounds good eh! However, this is a Loss making AIM Technology company (which is not forecast to make a Profit in the foreseeable future) with a Spread of 7% or so.  With Cash of about £4m it also looks like it might need more soon. Not for me or for Stockopedia either which classes this as a Highly Speculative Sucker Stock!
IG Design (IGR) – Trading Update – 1st Quarter To End June 2017 – This leading designer, innovator and manufacturer of celebration, gifting, stationery and creative play products has issued a nice update this morning.  The first quarter is inline and the pipeline is strong in all regions.  I quite like this…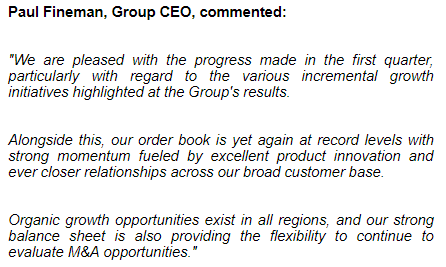 I like the growth here, Revenue, Profit and EPS. A nice ROCE of 15% and a small well covered Dividend. The PER of 18 seems about right to me.
OPG Power Ventures (OPG) –NO NEWS - This company is primarily engaged in the development, owning, operation and maintenance of private sector power projects in India. I really like this company, in fact I was a holder at 60p but got out around 50p. I was disappointed to say the least – Not just because I had lost money but because I still really liked it when I sold out (and still do) - Rules are rules! Anyway, look at it - Nicely rising Revenues, Profits and EPS (CAGR 20%+), ROCE 10%+, it even starting paying a Dividend! Sure it's got huge Debt (more than double it's Mkt Cap) but that's to fund current power projects, which are expensive of course. With such good figures and a ROCE of 10%+ this…

Finish reading with a 14 day trial
Already have an account?
Login here