I Read The News Today Oh Boy! 31-Aug-2017
Morning all!
Huge rush this morning, loads to get through (although it maybe doesn't look like it) – Apologies now, for the late report and potential early morning rushed errors.
Do feel free to correct and comment…
Churchill China (CHH) – 6 Months Results To End June 2017 - Seems to grow Revenues slowly but on the other hand Profits rise quite nicely (CAGR 20%+) – Although this looks forecast to change…

Margins may have been improved now (almost doubled in 5 years to 12.5%) to their operating maximum – Perhaps! Nothing to excite me here (on a PER of 17) or to suggest this will do little more than range (could be a decent range trade spread bet 800p/1150p, perhaps!). There is a small Dividend of just over 2% (which is well covered) and also adequate cash (10% of current Mkt Cap) so for those seeking some income with the potential for (maybe) some growth - Could be worth a look.

This positive update confirms Revenues up just 8% and PBT up 30%...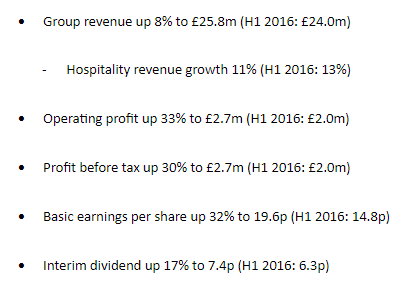 And confidence to up the Interim Dividend 17%, impressive if it can be maintained!

FIH (FIH) – AGM Statement - A strange one this – A holdings company involved in what appears to be a mixed bag; "general trading in the Falkland Islands, the operation of a passenger ferry service across Portsmouth Harbor in the United Kingdom, and the provision of international arts logistics and storage services.". Revenue growth is slow, Profits are falling, ROCE below 5% is poor. This has doubled this year – Perhaps I am missing something, perhaps not! Anyway, one for my "It's complicated" bucket.
Note, this AGM confirms a new Chairman and seems to be trying to put positive spin on revenues and numbers which are down - Not as much as they were the previous year (if you know what I mean. Anyway, as I mentioned, for me – It's complicated.
McColl's Retail (MCLS) – 3rd Quarter Trading Update To 27-Aug-2017 - This "neighborhood retailer" was on one of my watch lists for ages around the 200p mark. I liked the numbers but just couldn't see the potential for growth. Since then of course it's done a deal with Co-Op (298…

Finish reading with a 14 day trial
Already have an account?
Login here