I Read The News Today Oh Boy! 4-Sep-2017
Morning all!
Blancco Technology (BLTG) – Update On Revenue And Management – This "provider of mobile device diagnostics and secure data erasure solutions" is Loss making and has Debt AND I don't like the look of this…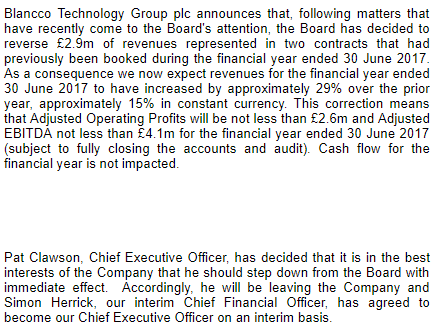 Bioventix plc (BVXP) – Trading Update, Notice Of Results And AGM – This is a company "specialising in the development and commercial supply of high-affinity monoclonal antibodies for application in clinical diagnostics, announces a trading update". This brief update is encouraging…


Current Revenue estimates seem to be around the £6.3m level so this news may well provide this share with even more tailwind – It's up 100% YTD. Kicking myself for not getting in here when it was below 2000p admittedly put off by the, at the time, PER of 25! Hats off to those in on the ride.

Concurrent Technologies (CNC) – EXPECTED NEWS BUT FOUND NONE - HERE'S MY NOTES ANYWAY – I like a company with Cash and this "manufacture of embedded computer products for applications in the defense, aerospace, transportation, telecommunications, scientific and industrial markets" has 15% of Mkt Cap in reserves. Figures look OK too, even if they are not really growing much. ROCE is 15% and the modest (2.8%) Dividend is well covered. However on a PER of 16 I consider Revenue, Profit and EPS CAGRs <=3.5% to be rather poor.
EVR Holdings (EVRH) – EXPECTED NEWS BUT FOUND NONE - HERE'S MY NOTES ANYWAY – A company that provides customers with "audiovisual and interactive material intended for use with virtual reality devices".  Never made a profit and with a StockRank of 4 – I will leave this Highly Speculative Sucker Stock to the speculators and suckers.
Kainos Group (KNOS) – Trading Update For The Period April To August 2017 – This "leading provider of Digital Services and Platforms" expects results to be in-line with current market expectations. This is a new company to me and it looks OK – Even having doubled in the past 12 months. The PER of 26 seems about right based on the current growth – It's on my "possible market correction buy list".
Tax Systems (TAX) – Interim Results For The 6 Months Ended June 2017…

Unlock the rest of this Article in 15 seconds
Already have an account?
Login here