I Read The News Today Oh Boy! 5-Sep-2017
Morning All!
Sorry about the delay - So much to get through today - Covered 9 shares!
A & J Mucklow PLC (MKLW) – Preliminary Results For The Year Ended June 2017 – I'm not sure these results are as good as they should be!  They seem to reflect an across the board growth of about 10%. On a PER of 20, I would suggest the market was expecting more here.  Could be one for those seeking income without any great expectations of growth.
Alpha FX (AFX) – Interim Results 6 Months To End June 2017 – Lots to like here…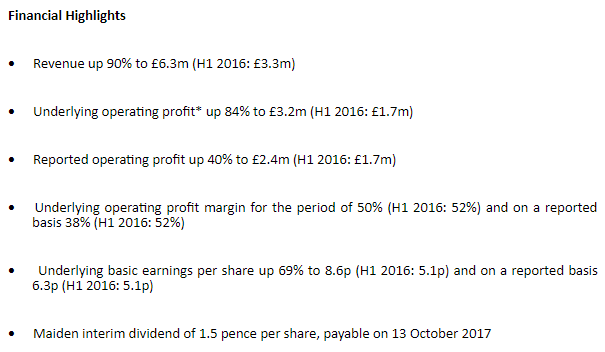 This has doubled since floating in April this year – Seems justified based on these results but is it now due a breather on a PER of 32?

Alumasc (ALU) – Final Results – Full Year To End June 2017 – Results one can expect from this rather consistent "building products, systems and solutions company".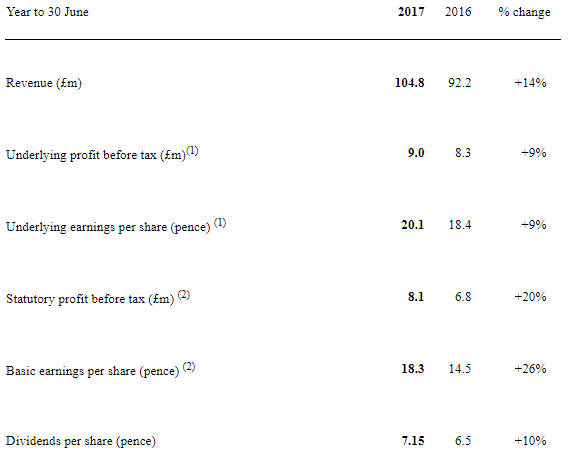 This statement by the Chief Executive is encouraging "Our order books and the level of specifications and enquiries in the pre-order pipeline remain strong across the group. Therefore, the Board believes Alumasc can continue to grow like-for-like revenues in its 2017/18 financial year".

Has Cash (about 10% of Mkt Cap), pays a nicely covered Dividend of 4%+, has an ROCE of almost 20% and it has healthy Revenue and Profit growth (since 2014). On a PER of 7.75, this looks decent value, for the sector, at this level.
Craneware (CRW) – Results For Year Ending June 2017 – Double digit Revenue and Profit growth reported here (PBT and EPS up 20%).
I like the steady increases in Revenue, Profits and EPS here, 5%, 10% and 10% (CAGR) or thereabouts, respectively.  The ROCE is also impressive, consistently around 25% or so. There's a small (1.5%) Dividend that's well covered and it's also got Cash (more than 10% of Mkt Cap).  So, there's lots to like here – The issue for me is the PER of 30! This seems in-line with the Stockopedia Value rating of 11. At this price it just seems a bit overvalued to me.
Lighthouse (LGT) – Interim Results 6 Months To End June 2017…

Unlock the rest of this Article in 15 seconds