IAG Plc building up some blue sky price pressure?
IAG Plc another of THE STOP HUNTER's favourites, and a stock that always somehow gets on the weekly Traders Club trade ideas report list. It's a great fundamental stock :- An adventurous, super stock, with a 97 StockRank, trading in a currently strong sector:

Technically, IAG's price has been trending strongly for a while now, but like the FTSE100 has started to feel a bit 'toppy' and unsure of its future direction. The last two trading days have been quite interesting though. Both days have got off to a bad start, but by the close of play, price had reverted almost back to where it started creating a typical 'hammer' candle pattern. On top of this, both days used the 50 period moving average to bounce off and use as support around the 600 zone.

Another interesting recent bit of price action was the early May gap in prices around the late 580's. The gap has been tested since but never really threatened and in turn creating a base for price to develop at these new higher levels.
If IAG can break up then in the longer term, the next Fibonacci level potential target area is the early 800's and into blue sky territory. If it fails from here a break below 600 then into the may gap may prove significant for a further southerly correction. Easy Jet (LON:EZJ)Q3 results out tomorrow morning may have a bearing on the short term play of IAG and add some spice to the price.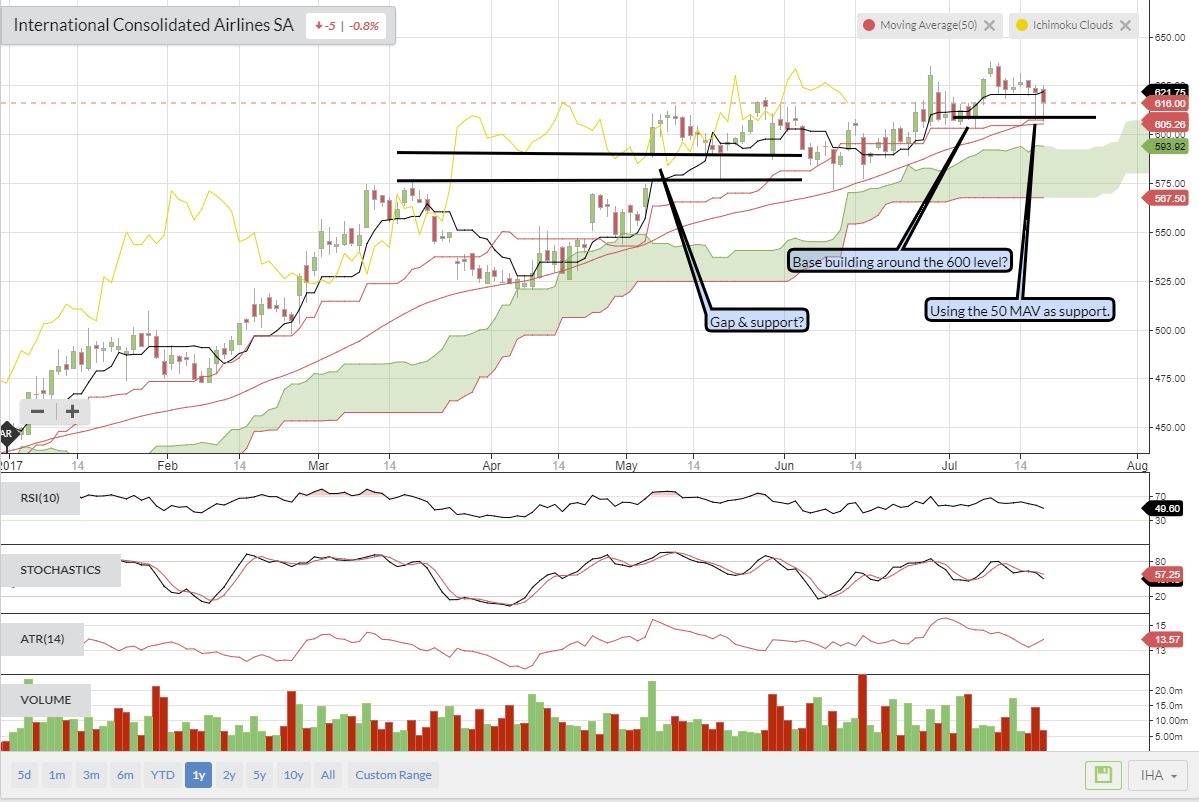 Disclaimer: 


Commentaries, information, courses, content on this site or provided on any other form of social media by Stephen Hoad or THE STOP HUNTER Ltd and any other materials or services provided by Stephen Hoad or THE STOP HUNTER Ltd ARE NOT and DO NOT amount to financial or investment or trading advice upon which reliance should be placed and DO NOT fall under any matter regulated by the Financial Conduct Authority (FCA).


Finish reading with a 14 day trial
Already have an account?
Login here