IG Group: Is its share price still cheap even after recent gains?
IG Group is a world leader in online foreign exchange (forex) trading, spread betting and CFDs (contracts for difference) and it's a stock I've owned for about two years.
I bought into the company at 603p in 2014 and since then the shares have risen by almost 60% to 940p today. That's a healthy gain by any reasonable standard, but despite this increase I still think the shares are attractively priced.
However, if the shares keep going up at 30% a year I don't think they're going to stay attractively priced for much longer, so I thought I'd write a review before they vanish outside of my "defensive value" criteria.
Leveraging its world #1 status to produce consistently good results
The IG in IG Group stands for Investors Gold and the company started out in 1974 as the UK's first spread betting firm. It did this by allowing traders to place "bets" on movements in the price of a gold index, rather than having to deal in the underlying commodity.
IG's position as a pioneer continued with further innovations during the 1990s such as spread betting on equity indices and individual shares, as well enabling trades to be placed on the then newfangled World Wide Web.
This leadership position has led to rapid growth over a long period of time, including the last few years.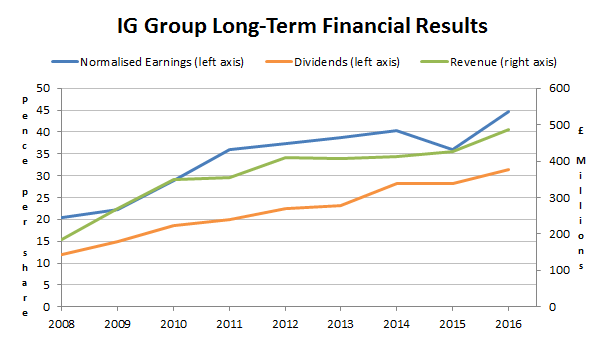 Here are some of the key stats that I use, comparing IG Group's fundamentals to the FTSE 100 (although IG Group is listed in the FTSE 250 I tend to compare everything to the FTSE 100 for the sake of consistency):
10-Yr Growth Rate = 9.8% (FTSE 100 = 1.7%)
10-Yr Growth Quality = 88% (FTSE 100 = 50%)
10-Yr Profitability = 26.1% (FTSE 100 = 10.9%)
In terms of output then, IG Group is far above average. But what about inputs?
I'm primarily interested in inputs that generate relatively fixed future obligations such as borrowed money, staff (specifically their pensions) and capital assets (buildings, machinery, etc.). A little of these inputs is often necessary, but too much can be dangerous.
For IG these inputs appear to be either non-existent or small, which is generally a good thing.
Little or no debt, pension and capex obligations reduce risk and increase cash returns to shareholders
Starting with interest-bearing debts or borrowings, IG Group simply doesn't have any. That certainly reduces risk but most companies are operationally…

Unlock the rest of this article with a 14 day trial
Already have an account?
Login here