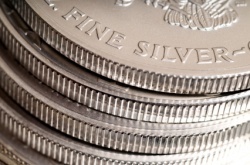 In this article about the silver price, Will Bancroft takes a look at what the last year has delivered for silver investors and what the future of silver investment might look like. Read on for more of what Professor Roy Jastram called 'The Restless Metal". Silver has been its normal restless self this last year, but holders of silver bullion might not feel adequately rewarded. The metal of the moon has witnessed soaring highs to within touching distance of $50/ounce, two vicious chops, but the silver price crucially sits only a few per cent higher than in February 2011. Volatility is part and parcel of silver investment, but silver investors have not been rewarded this last 12 months with the price appreciation they might have hoped for. The gold silver ratio now sits just below 52.
Why no gains in the silver price?
In early November 2011 we wrote an article about how silver might resemble a rocket ready for launch. So what happened to the Silver Rocketship? Was the ship not fuelled? Was the launch cancelled before the countdown?
We cannot know for sure, but silver investors are still waiting. And, while we wait silver is getting less air time and focus it seems. Maybe after achieving the headlines amongst the precious metals, silver is waiting for its golden big brother to lead the next leg higher in terms of price discovery.
Dr Stephen Leeb sees the precious metal complex just waiting for the right kick higher. When talking to King World News, Dr Leeb commented that "I think the world right now is extraordinary complacent and that complacent attitude could come to an end at any point in time. When it does, gold will begin to fly.  New highs will come very, very quickly and beyond that we will be in another leg of this bull market". Dr Leeb is watching for the right spark to ignite the gold price.
It is true that sometimes gold leads and silver follows more erratically behind. For large parts of 2010 and early 2011 silver led…

Unlock this article instantly by logging into your account
Don't have an account? Register for free and we'll get out your way
Disclaimer:
All articles and information published by executives of The Real Asset Company are to inform and aid your thinking and investment decisions, not lead them. Information or data included here within may already be out of date or touch, and must be verified by you elsewhere, should you choose to act on it. 
---
---