Insider Buy SuperStocks by Jesse C. Stine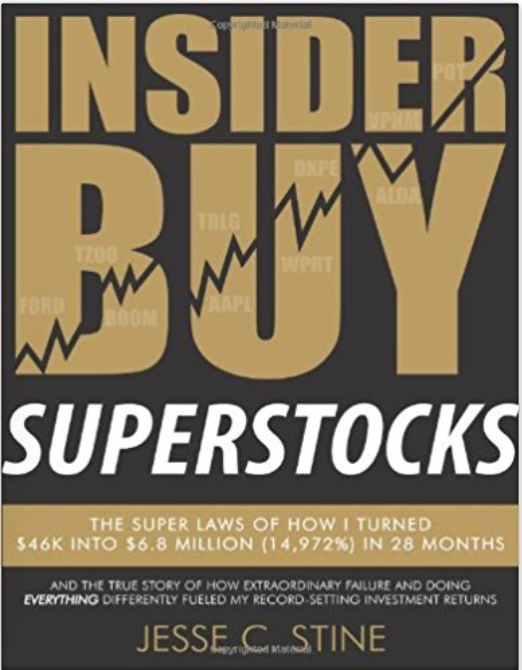 Insider Buy SuperStocks- The worst title ever, which can't have done the book any favours.
Yet another techno-fundamentalist approach, in the tradition of Darvas, O'Neill (CANSLIM), Minervini etc.. but, he credits others and does bring something new. The book starts with chronicling his journey, detailing his failures and what he did to address them; even includes diet advice. Second half is examples; but no food recipes.
He presents an alternative approach to buying on a base breakout, suggesting using any pullback to the breakout (also as an aside in CANSLIM) or a moving average/trendline that has previously shown support or support in an established base. Rational behind entries is a tight stop for risk management with a 100% price target, based on projected quarterly PE growth and expansion. He is happy to enter during the base formation on low volumes (signifying lack of interest), if he feels that he can see the pattern forming.
Promotes weekly charts as less noisy and position trades - the longest was 8 months.
Trades are mainly entered in $4+ stock with supporting fundamentals and exited at the price target or ~$25-30, from what I can work out that's £50m cap to about £300m cap. I'm not entirely sure and US authors talking about a $4 stock is confusing to me. However, this is a fairly important context.
Various technical selling rules also presented, clearly articulated.
Clear charts in the book.
Like O'Neil and Minervini suggest, he also mentions that the best time to play is after a bear market, when proper bases are established. He states that not many opportunities presented each year and keeping powder dry for when they turn up. 
Certainly the second half of the book is worth revisiting a few times. Interested in others 'takeaway'. For me this added a better rational for buying at support and like the Phil Oakley book I also looked at this week, stressed a fundamental based sell rule that I somehow lost along the way! It also re-emphasized that if you can't see something that meets your strategy, then that is OK.
My thanks to Nocobos for mentioning it here https://www.stockopedia.com/co...

Finish reading with a 14 day trial
Already have an account?
Login here