Investing in US Stocks rather than UK Stocks
Hi everyone,
I'm quite new to self investing, I've always invested in index funds until some recent research and reading of books from the likes of Joel Greenblatt have persuaded me that you can beat index funds by self investing in undervalued 'good' shares.
I'm loving Stockopedia, it makes the analysis and research of shares so much easier and quicker. I'm currently following a NAPS type stock picking system using top StockRanks. When I gain more knowledge of analysing a company I will start picking some of my own shares whilst still using the StockRanks as a guide. I really like reading the small cap report each day, it gives lots of ideas.
I currently invest in UK shares through my IG ISA account. I have a question about investing in UK shares instead of US shares. It seems most people here invest in UK shares and I would prefer to invest in the UK as I am from the UK and have a better understanding of UK companies, legislation, economic trends, etc. However, wouldn't we have more chance of making better returns by investing in US shares? I wonder how a US share NAPS based stock picking portfolio would perform (I recall reading somewhere it wouldn't have done very well).
The reason I say that is based on the returns on the respective indices. The chart below is an overlay of S&P 500, S&P 1500, FTSE 100 and FTSE All Share indices. Its clear to see that US shares have outperformed UK shares over the last 10 years and there isn't really any point in those 10 years where UK shares have outperformed US shares. So wouldn't we be better off investing in US shares, or at least a mixture of UK & US shares?
As I say, I am quite new to self investing so I am probably missing something here and I would be very happy to be put right.
Thanks,

Nigel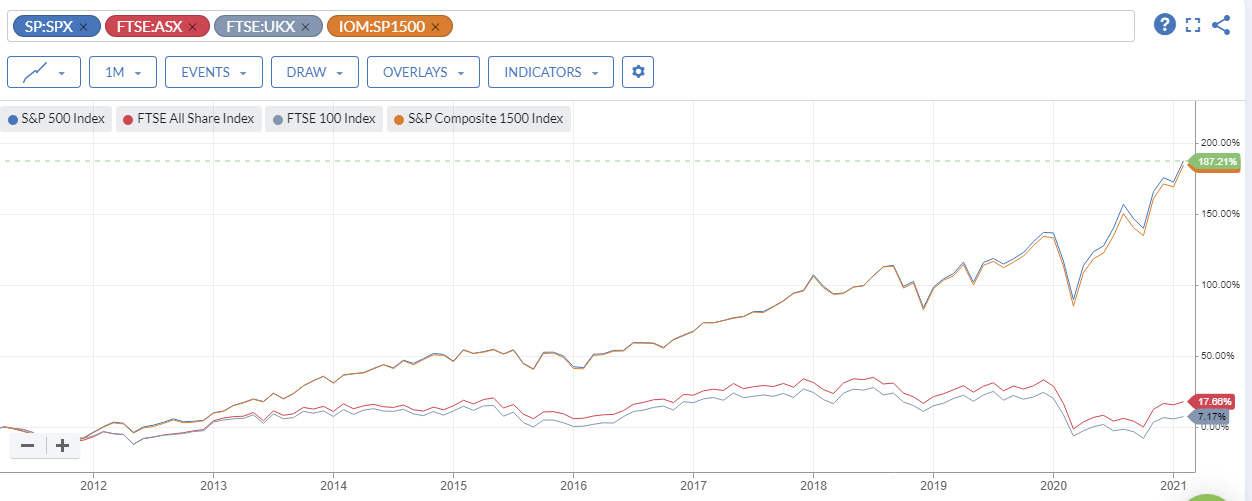 Unlock the rest of this article with a 14 day trial
Already have an account?
Login here