Is Morrison's recovery already in the share price?
Summary:
Morrisons is a supermarket and along with the other major UK supermarkets, it's had a tough few years competing against the German discounters Aldi and Lidl.
Revenues, earnings and dividends fell, but are now starting to recover and grow.
Morrisons' dividend yield is low, suggesting high future dividend growth, but I think the market is probably overoptimistic.
10-Year growth rate: Below average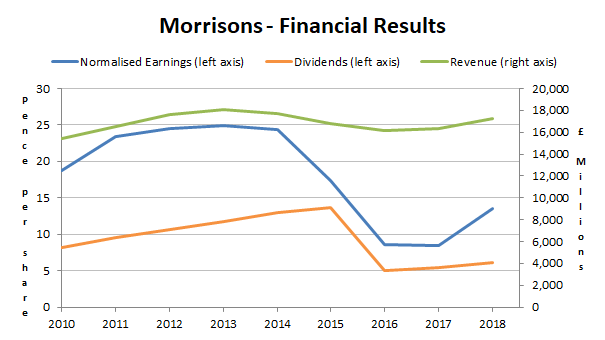 Morrisons is not a high growth company. Over the last decade its revenues, earnings and dividends have grown by an average of minus 7% per year, although that figure is slightly misleading.
It's misleading because the period it covers happens to start at a high point for supermarkets and end at a low point.
If you look at periods longer than ten years then there is an underlying growth trend. It's around a few percent per year and is likely driven by a combination of inflation and UK population growth.
Either way, Morrisons' growth is below average, where the average growth rate of consistent dividend-payers is currently about 6% per year.
To be honest, this isn't a massive surprise. Morrisons is a very mature business operating in an extremely competitive market. It's also currently geographically constrained to the UK.
Going forwards, I would expect Morrisons' growth to be no better than its long-term historic average of perhaps a few percent each year.
10-Year growth quality: Below average
Unsurprisingly, Morrisons' below average growth rate leaves it with below average growth quality as well (where growth quality is basically a measure of growth consistency).
Over the last decade it has grown revenues, earnings and dividends approximately 67% of the time, while the average for consistent dividend-paying stocks is 73%.
This highlights the difficult time Morrisons has had as it struggles to cope with super-low prices from Aldi and Lidl.
This 67% growth quality score is also slightly misleading as Morrisons longer track-record is more consistent, as you might reasonably expect from a supermarket.
After all, it does operate in the defensive Food & Drug Retailers sector, so it should be relatively immune to the ups and downs of the economy.
And it is, but it isn't immune to an attack from aggressive low-cost competitors whose business models perfectly fit the environment of post-crisis austerity Britain.
10-Year profitability: Below average
Here's one of the key reasons why Aldi and Lidl were able to send shock waves through the supermarket sector…

Unlock the rest of this article with a 14 day trial
Already have an account?
Login here