Is this "Make Your Mind Up" Time for Rolls-Royce's Share Price?
Rolls-Royce's shares are in the doldrums, but its technical charts are signalling big moves in one direction or the other, where will it go?
Looking at Rolls-Royce's stock chart, using technical indicators as overlays, there is a pattern emerging for a BIG MOVE.
Rolls saw its shares fall by 60% from their peak but has since recovered from some of its losses. Now, with the disclosure of its record statutory loss of £4.6bn (incl. a £4.4bn currency hedge write-down of £4.4bn and £671m in bribery charges, the latter to be paid in five-year instalments with the first-year being £293m), how does it the affect its share price movement?
P.S. I have not done a fundamental analysis.
Can the "technical chart patterns" draw out the path of Rolls-Royce's share price?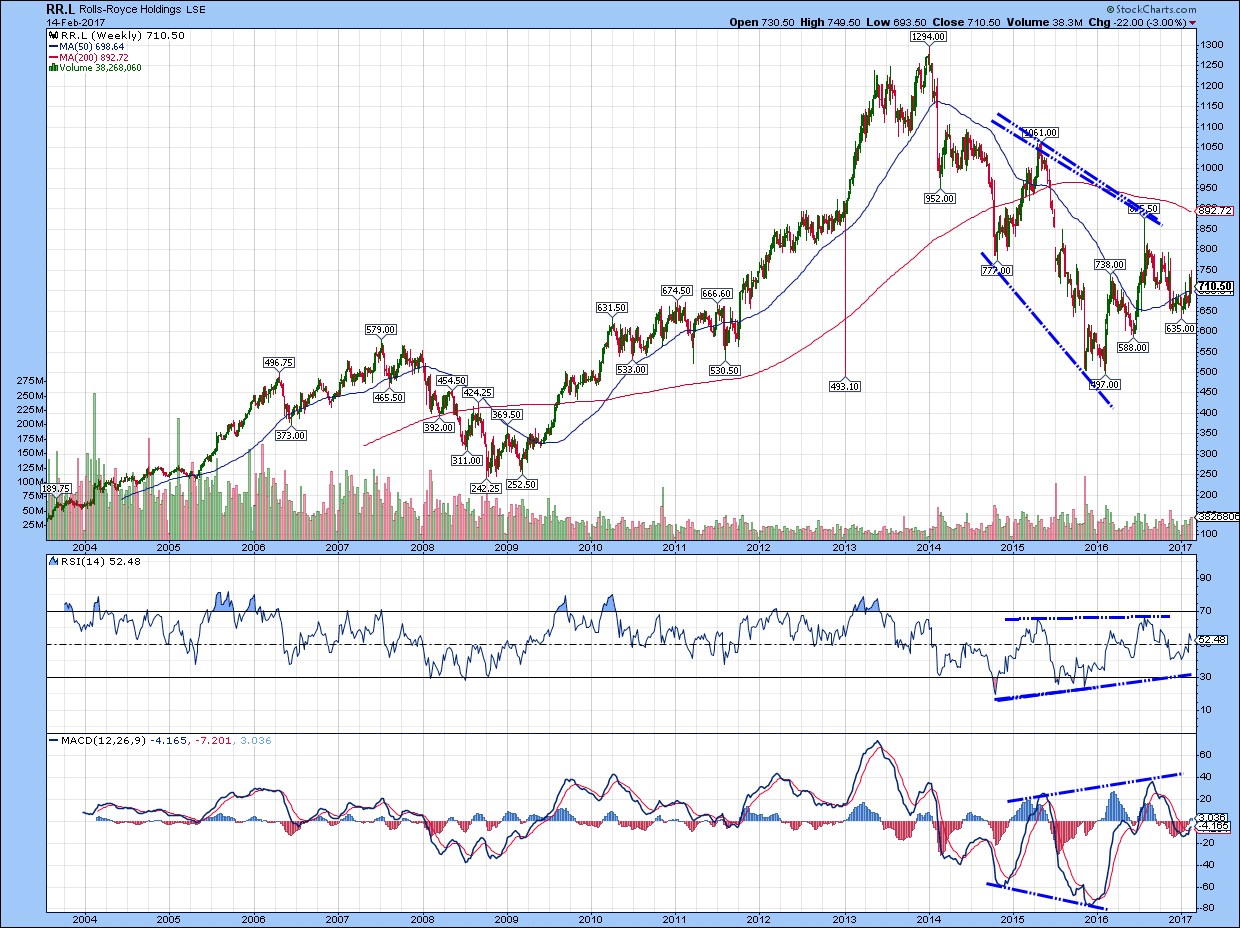 (Click Here for chart Enlargement) 
Notice the downwards trajectory of Rolls share price from £13/share to £5/share and recently recovered to £7.10/share.

Now, observe the momentum indicators in the MACD and RSI displaying a higher highs patterns, whereas Rolls's share price showed a higher low, a signal that usually lead to a fall in the share price. 

Now, for the monthly chart: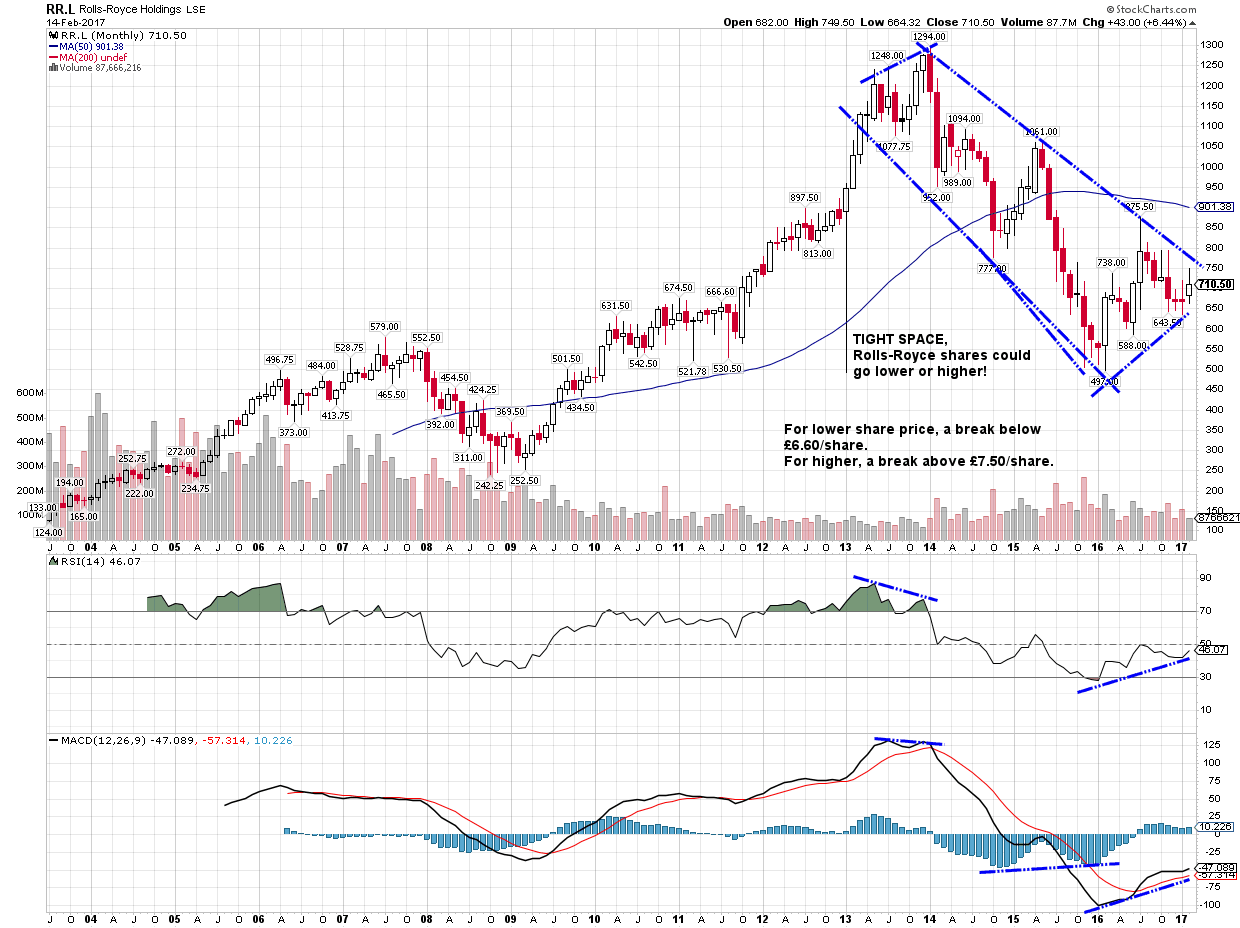 (Click Here for chart Enlargement) 

Looking at the "3-D Rectangle" pattern on Rolls's share price, it looks like a clear pattern has emerged. The direction of the share price can go higher or lower. All this depends on the fundamentals of their business cycle.

Where is Rolls-Royce shares heading?
The observations from the FT financial tearsheet of Rolls-Royces showed its total debt grew from £2bn in 2011 to £9bn by 2016, while earnings have deteriorated.
Gone are the heydeys of generating £1bn+ operating cash flow with negative cash outflow of £400m.

Looking at its forecast:
Analysts are split between 3 buys and 4 sells, although 9 analysts say Rolls-Royce will underperform. And the share price forecast range from £4.75/share to £9.35/share. The current share price is £7/share.
Earnings forecast for 2017 and 2018 will be half of 2013 at around £0.35/share.
All in all, if I was to choose "heads" for the share price to rise or "tails" to go down, then there is a 65% chance of it being "tails", and that's due to accounting changes, worsening leverage (debt increase) and stagnant EPS growth for 2017 and 2018.
By the way there won't be a forecast on Rolls-Royce share price because I need to do a thoroughly fundamental analysis.
CALL TO ACTION
Have I got this technical chart reading right? Have I missed something?
Or, do you have different opinions of Rolls-Royce?

Disclosure
The opinions are expressed independently by the writer for entertainment and research purposes and not taken as investment advice. Data is correct on available information at the time.
Finally, the writer does not own the company's stock, unless stated otherwise.

Disclaimer:
By reading my articles and newsletters, you agree to use the research of Walbrockresearch.com at your risk. The purpose of this site is to educate and entertain readers. In no way, we are giving investment advice though the information provided is to my knowledge accurate at the time of the report. You should do your research, or seek advice from qualified professional investment advisors.
---
---

Rolls-Royce Holdings plc is a United Kingdom-based engineering company. The Company is focused on power and propulsion systems. Its segments include Civil Aerospace, which is engaged in the development, manufacture, marketing and sales of commercial aero engines and aftermarket services; Defence Aerospace, which is engaged in the development, manufacture, marketing and sales of military aero engines and aftermarket services, and caters to sectors, including combat aircraft, trainer aircraft and helicopters; Power Systems, which is engaged in the development, manufacture, marketing and sales of reciprocating engines and power systems; Marine, which is engaged in the development, manufacture, marketing and sales of marine-power propulsion systems and aftermarket services, operating in offshore, merchant and naval markets, and Nuclear, which is engaged in the development, manufacture, marketing and sales of nuclear systems for civil power generation and naval propulsion systems. more »

LSE Price