Judges Scientific: the Berkshire Hathaway of AIM?
Judges Scientific (LON:JDG) is the owner of an expanding empire of scientific instrument companies. By its own admission, the group is 'obsessed' with creating shareholder value.
You might think this is how all listed companies operate but the truth is value destruction is rampant. Somewhere out there lies a vast graveyard of failed companies that had lots of fun splashing shareholders' cash.
Frequent equity placings, unwieldy debt burdens, ill-considered acquisitions and excessive compensation packages are just some of the ways in which listed companies can transfer wealth away from shareholders.
To know that a company bases its strategy and actions specifically on creating shareholder value is actually quite something. This is what Judges Scientific claims to do and, looking at this chart from the group's H1 19 presentation, it appears to be doing a good job.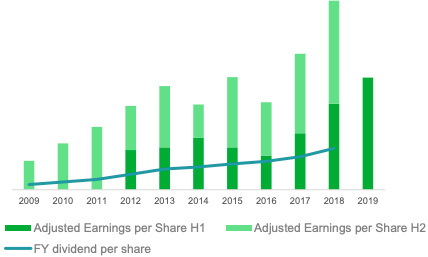 Unfortunately, the group does not give a scale for this graph. Going through the historic accounts, however, we can see that the group's share price has grown at a compound rate of around 31% (from 104p to 4,420p) since the end of Judges' financial year 2005 (the first year of its scientific instrumentation strategy), while earnings per share have grown at nearly 40% per year (from 1.7p to 180.6p).
In FY 06 a 3p dividend was introduced. By FY 18, Judges was paying out a 40p dividend, making for a CAGR of 24% over 12 years. Management hopes to increase dividends by at least 10% per year, and more when possible.
It is nice to note that management draws attention to its Dividend Reinvestment Plan (DRIP). This mechanism enables owners to automatically reinvest their dividends into additional Judges shares, which promotes long term ownership and allows holdings to compound.
Digging through the accounts, what we appear to have in Judges is a team of experienced acquirers that purchases companies with favourable economic characteristics, led by honest and competent management, purchased at attractive prices that can generate excellent returns, in an industry whose long term business characteristics they feel competent to judge.
Warren Buffett would be proud.
High QM stocks: in search of compounders
Of course, such a company does not often come cheap. There is no doubt that upon first glance, trading at 4,420p and on a forecast PE ratio of 21.9, the Judges Scientific share price looks expensive. Stockopedia classifies it…

Unlock this Article with a 14 day free trial
Already have an account?
Login here