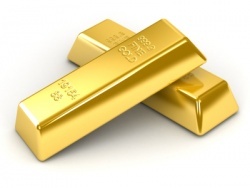 Kalimantan Gold (LON:KLG) the junior exploration company primarily focused on Indonesian gold and copper is about to enter a very interesting phase, as its key gold and copper projects are set to become active with the drill bit.  With two very reputable JV partners working alongside Kalimantan Gold, Faldi Ismail the CEO believes that the two joint ventures 'give the company breadth and a foundation with enormous potential', which if the projects yield successful drill results will aid Kalimantan Gold in expanding further as they are also 'currently seeking new exploration projects' to develop.
Having recently announced that the Minister of Forestry has granted a "borrow to use" exploration permit for its Jelai Gold project in north eastern Kalimantan, coupled with the strong market value for gold, it's probably as god a time as any to be exploring and proving up a gold resource alongside a partner committed to funding the project.  This is a very important milestone for Kalimantan Gold, as it has now fulfilled its conditions under the Company's Joint Venture agreement with Tigers Realm Minerals, an Australian based privately owned resources company. [1]
The Jelai Gold project, which is 100% owned by Kalimantan Gold consists of 12 prospects, and has been the subject of considerable work, especially in tracking the results of the previous owner Indochina Goldfields. One of the prospects, the Mewet, is at an advanced exploration stage and has the potential to yield a major epithermal gold deposit, which the company compares in scale to the Vera Nancy mine in Australia, which has produced 2.3 million ounces to date. The permit recently issued, has given the Company authorisation to conduct exploration activities over the Mewet and 10 other of the 12 Jelai gold prospects and is valid for two years.  Tigers Realm Minerals, who in return for meeting certain project expenditure obligations and completing a bankable feasibility study, may earn up to 70% interest in Kalimantan Gold's Jelai Gold Project located in East Kalimantan.  Tigers Realm's proposed drill program expenditure over the first 18 months is US$2m with approximately 8,000m of drilling at the Mewet prospect planned. [2]
With the eagerly awaited forestry permitting process now complete, the Jelai gold project is set to become active with a drill contactor in place and exploration mapping and sampling set to start in…

Unlock this article instantly by logging into your account
Don't have an account? Register for free and we'll get out your way
Disclaimer:
This content has been created for information purposes only, and is NOT, in any way, a recommendation to invest.  This communication is a snapshot of a certain aspect of a discussed business at a moment in time, and is merely a basic starting point for research.  The article/thread has been created with honesty and integrity in mind and is based on publically available information sourced in relation to the title, such as from, RNS announcements, published reports, management comments, analyst reports, media coverage etc.  To this extent the author who has written the piece in good faith accepts no liability for the accuracy of the information and urges all readers to verify the content independently.  Please note that the value of investments may fall or rise and you may not get back the amount originally invested, or in some cases your investment may be wiped off altogether.  When investing, bear in mind that past performance is not a guide to future performance and that qualified independent financial advice should be sought before buying or selling shares.  The Author of this article may hold shares in the companies discussed.
---
---

Asiamet Resources Limited, formerly Kalimantan Gold Corporation Limited, is a Canada-based exploration-stage company. The Company's principal business activities include the acquisition, exploration and development of mineral properties in Indonesia. The Company operates through mineral exploration and development segment. The Company has over three principal areas of interest, which include the KSK Contract of Work (KSK CoW) in Central Kalimantan with multiple copper and gold prospects, including the BKM Deposit that has mineral resources; the Beutong Izin Usaha Pertambangan (Beutong IUP) on the island of Sumatra, Indonesia, which covers approximately two porphyry copper-gold-molybdenum prospects (West and East Porphyries) and the Beutong Skarn (copper-gold) prospect, and the Jelai Izin Usaha Pertambangan (Jelai IUP) epithermal gold prospect in North Eastern Kalimantan, Indonesia. The Company's subsidiaries include Indokal Limited and PT Pancaran Cahaya Kahaya, among others. more »

LSE Price

Churchill Mining Plc is a United Kingdom-based company, which is engaged in the progress of the claim in international arbitration against the Republic of Indonesia (ROI) for breaches of Indonesia's obligations under the Bilateral Investment Treaty between the United Kingdom and the Republic of Indonesia and the Australia-Indonesia Bilateral Investment Treaty. The Company's principal activity and focus is arbitration claim. Its segments include the Indonesian and Australian corporate offices, which are administrative cost centers. Its East Kutai Coal Project is a thermal coal deposit with a Joint Ore Reserves Committee (JORC) resource of approximately 2.73 billion tons (comprising measured resource of approximately 693.3 metric tons, an indicated resource of over 825.1 metric tons and an inferred resource of approximately 1,211.8 metric tons). Its subsidiaries include Planet Mining Pty Ltd, PT Indonesia Coal Development, PT Techno Coal Utama Prima and PT Ridlatama Tambang Mineral. more »

LSE Price

BHP Billiton Plc is a global resources company. The Company is a producer of various commodities, including iron ore, metallurgical coal, copper and uranium. Its segments include Petroleum, Copper, Iron Ore and Coal. The Petroleum segment is engaged in the exploration, development and production of oil and gas. The Copper segment is engaged in mining of copper, silver, lead, zinc, molybdenum, uranium and gold. The Iron Ore segment is engaged in mining of iron ore. The Coal segment is engaged in mining of metallurgical coal and thermal (energy) coal. Its businesses include Minerals Australia, Minerals Americas, Petroleum and Marketing. It extracts and processes minerals, oil and gas from its production operations located primarily in Australia and the Americas. It manages product distribution through its global logistics chain, including freight and pipeline transportation. It sells its products through direct supply agreements with its customers and on global commodity exchanges. more »

LSE Price