Kalimantan Gold: Indonesian Drilling Progressing Well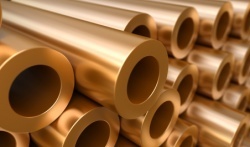 Kalimantan Gold (LON:KLG) the junior exploration company primarily focused on Indonesian gold and copper is currently involved with the largest drilling and exploration programme in its history alongside two experienced JV partners in, Tigers Realm Metals on the Jelai gold project in East Kalimantan and a wholly owned subsidiary of Freeport-McMoRan Exploration Corporation on its KSK CoW copper project located in Central Kalimantan. 
The Jelai Gold project, which is 100% owned by Kalimantan Gold consists of 12 prospects, and has been the subject of considerable work, especially in tracking the results of the previous owner Indochina Goldfields. One of the prospects, the Mewet, is at an advanced exploration stage and has the potential to yield a major epithermal gold deposit, which the company compares in scale to the Vera Nancy mine in Australia, which has produced 2.3 million ounces to date.  Tigers Realm Minerals, who in return for meeting certain project expenditure obligations and completing a bankable feasibility study, may earn up to 70% interest in Kalimantan Gold's Jelai Gold Project.
The KSK CoW comprises of 38 mineral prospects, several of which are touted as potentially world class copper-gold porphyry deposits.  Prior to the joint venture agreement with a wholly owned subsidiary of Freeport-McMoRan, Kalimantan Gold had spent a total of $16.4 million on 36,000 metres of drilling with the results analysed as a part of the JV due diligence process.  The current programme is testing the deeper section and aiming to define a near-surface deposit which will, with various funding and percentage terms ratchet allow Freeport to earn up to 75% ownership by sole funding the operations up to the completion of a feasibility study.  Faldi Ismail, the Kalimantan Gold CEO in a recent interview with Proactive Investors estimated that KSK the CoW will have a defined near-surface resource in 12 to 18 months' time, going on to add "Things can change along the way. If we get some very good results on these deep holes, things will change very quickly.  If we get 100 million tonnes at 0.8 or 0.9 per cent copper that's worth quite a bit on the balance sheet." [1]
Back in May, Gerald Cheyne, the Kalimantan Gold Director of Corporate Development participated in the Kalimantan Gold Director Interview Q2 FY12 and has now taken time out to provide an update on…

Unlock this article instantly by logging into your account
Don't have an account? Register for free and we'll get out your way
Disclaimer:
This content has been created for information purposes only, and is NOT, in any way, a recommendation to invest.  This communication is a snapshot of a certain aspect of a discussed business at a moment in time, and is merely a basic starting point for research.  The article/thread has been created with honesty and integrity in mind and is based on publically available information sourced in relation to the title, such as from, RNS announcements, published reports, management comments, analyst reports, media coverage etc.  To this extent the author who has written the piece in good faith accepts no liability for the accuracy of the information and urges all readers to verify the content independently.  Please note that the value of investments may fall or rise and you may not get back the amount originally invested, or in some cases your investment may be wiped off altogether.  When investing, bear in mind that past performance is not a guide to future performance and that qualified independent financial advice should be sought before buying or selling shares.  The Author of this article may hold shares in the companies discussed.
---
---

Asiamet Resources Limited, formerly Kalimantan Gold Corporation Limited, is a Canada-based exploration-stage company. The Company's principal business activities include the acquisition, exploration and development of mineral properties in Indonesia. The Company operates through mineral exploration and development segment. The Company has over three principal areas of interest, which include the KSK Contract of Work (KSK CoW) in Central Kalimantan with multiple copper and gold prospects, including the BKM Deposit that has mineral resources; the Beutong Izin Usaha Pertambangan (Beutong IUP) on the island of Sumatra, Indonesia, which covers approximately two porphyry copper-gold-molybdenum prospects (West and East Porphyries) and the Beutong Skarn (copper-gold) prospect, and the Jelai Izin Usaha Pertambangan (Jelai IUP) epithermal gold prospect in North Eastern Kalimantan, Indonesia. The Company's subsidiaries include Indokal Limited and PT Pancaran Cahaya Kahaya, among others. more »

LSE Price

VSA Capital Group Plc (VSA) is a United kingdom-based holding company. It is engaged in international investment banking and institutional broking business. The Company operates principally in the corporate and institutional sectors. VSA, through its subsidiary, VSA Capital Limited, provides corporate finance, broking, research, sales and capital-raising capabilities to companies in the natural resources sectors; oil and gas, mining, agriculture and timber. VSA Capital Limited also provides financial advice on restructuring, financing options, corporate strategy and other issues faced by its clients in the course of their operations. The Company has a 100% holding in VSA Capital Limited. more »

Price