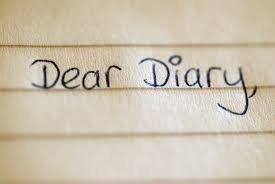 My Weekend Diary

Many years ago,  I made that rare trip to the big city.  My sole purpose was to visit my stockbroker's office to get some advice on stocks. In the reception area was the receptionist and a client seating area. The receptionist had the simple task of informing staff that particular clients to their offices had arrived and were waiting down in reception for them.
On the receptionist's desk, visitors could view the latest morning stock price movements on single A4 sheets. Making polite conversation, I asked the receptionist why XYZ Ltd stock was rising so much on the market.   Her response was because more people were buying than selling.   Obviously, a lady of few words, with no knowledge of stocks.  I reckoned her job description was to greet clients and answer the phone only.  I decided to give her one last chance to redeem herself and asked why another company MNOP Ltd was falling so much. She replied, it was because more people were selling than buying.  Hmm...., I thought to myself.  I hope that stockbroker arrives soon!
The stockbroker duly arrived down with a few analyst reports under his arm. He spoke confidently in business jargon about what particular stocks he would recommend at the moment?  I asked him about the rising XYZ Ltd share price.  The same stockbroker's considered opinion was that the stock was now overbought and that some profit taking was in order.  Among the stocks, he recommended buying was the falling MNOP Ltd shares. He considered the company's fundamentals to be sound.  Buying now represented even better value after the recent drop.  
Needless to say, the  value MNOP Ltd share price kept on falling and the relatively expensive share XYZ Ltd that was rising, kept on rising.  Some time later, I began to wonder whether the receptionist was very much underpaid given her insight into the stock market .
All investors by their nature are bargain hunters.  We are often attracted to buy cheap stocks that have good fundamentals with a falling share price.  Surely, we should consider that insiders, such as management, institutions and other large shareholders would be in a far better position to make a judgement call on an individual company's prospects.  As seasoned or novice investors, we tend to overvalue our initial analysis of the company against a market trend.
Reality Check!
These days investors can do their own research.  Investors can read company accounts, see broker forecasts, or watch positive company presentations on-line.  
Frequently, the stocks that tempt investors the most are those stocks that look even better value the lower the price goes. There will be lots of positive broker reports published, plenty of PR spin supported by various magazines' coverage. 
Also don't forget the bullish on-line comments by investors to other investors, encouraging each other to catch these bargains.  The turnaround in the share price is just around the corner is the mantra!
Our confirmation bias dissuade our normal doubts. If we have not bought yet, we rush to buy now before the share gets away from us.  Because we are smarter than the average bear, we buy even more stock often doubling up and re-doubling while our favoured share of the moment continues to evaporate downwards in price..
The "Show" continues for new investors to wade into the stock, until the deafening silence at the end, when all discussion evaporates.  At this point the share price is just a poor shadow of its former high price.  From now on, very little company news is issued and the media coverage dries up.  The "Show" alas has moved onto another share!
Investors finally wake up and ask themselves where it all had gone wrong?  Their failure perhaps was not to have questioned much earlier, why the existing shareholders were bailing out faster than new investors were buying in?
The Receptionist's Quiz (No Purchase Necessary!)
Ignoring the names over the stocks below, where would you decide to exit the stock on a 12 month graph? Start from left to right on each graph, taking three months at a time.  Do you need to see the entire 12 months or could you have got out earlier and why? 
Future Trading Decisions

I have come to a similar conclusion that rising shares should rarely be sold, even if we think they are somewhat overvalued.  The chances are that we are selling at the wrong time and we may miss out on the gains that come from staying with the trend.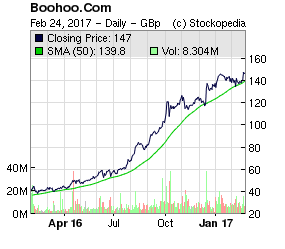 The time to sell is when the business model for the company is challenged or the share price begins to underperform its sector, and the 50-day moving average is broken.

Action Taken
Yesterday, I followed my own advice and sold Genus plc.  The price action says that I am at the wrong side of the trade. 
Genus plc Share Price Performance
The Last Word
This article is a self note to myself to be more disciplined.  I need to sell stocks sooner rather than later when moving averages decline.  A few sample stock graphs does not prove a rule or provide a system. This strategy will not provide protection from the unexpected profit warnings, but could still save investors some money from timely exits from stocks.

Most investors are mostly content with themselves at the moment. Why should they not be?  Aren't their stock portfolios reaching ever higher valuations?  The game is too easy!  The challenge is how to hold onto most of the capital gains earned.  We need an excuse to sell. Any tool that gives an additional reason reason to sell may prove useful. Following the green line might not be the worst approach.
Regards

Dearg Doom

PS (General reading material for amusement purposes only)
Disclaimer:
All articles and comments are for general information only. No investment advice intended.
---
---

Genus plc is an animal genetics company, which provides farmers with genetics that enable them to produce animal protein, in the form of meat and milk. The Company's segments include Genus PIC, Genus ABS, Genus Asia, and Research and Development. The Genus PIC segment is engaged in porcine sales business, excluding Asia, and serves porcine customers in North America, Latin America and Europe. The Genus ABS segment is engaged in bovine sales business, excluding Asia, and serves dairy and beef customers in North America, Latin America and Europe. The Genus Asia segment is engaged in porcine and bovine business in Asia, and serves porcine, dairy and beef customers in Asian markets. In the porcine market, it sells boars and sows. In the dairy and beef markets, its primary product is bull semen. The Company offers embryos through its subsidiary, In Vitro Brasil S.A. Its porcine business has a network of over 600 breeding herds in approximately 40 countries. more »

LSE Price

Fairpoint Group plc is a United Kingdom-based company, which provides consumer professional services, including legal services, claims management services and debt solutions. The Company has four segments: claims management, legal services, individual voluntary arrangements (IVA) and debt management plans (DMP). The IVA segment consists of the subsidiary company, Debt Free Direct Limited, which is an IVA that consists of a managed payment plan providing both interest and capital forgiveness. DMP services segment consists of the Company's subsidiary, Lawrence Charlton Limited, which provides DMP for consumers. Claims management segment provides a range of claims management services, including reclaiming payment protection insurance (PPI). The legal services segment provides a range of consumer-focused legal services with lines, such as family law, complex personal injury, personal legal services, and a legal processing center focused on both personal injury and conveyancing work. more »

LSE Price

Gattaca plc, formerly Matchtech Group plc, is a human capital resources business dealing with contract and permanent recruitment in the private and public sectors. The Company operates through two segments: Engineering and Technology. The Engineering segment comprises Barclay Meade and Alderwood recruitment consultancy brands. The Technology segment includes the Connectus recruitment consultancy brand. The Company is a provider of specialist recruitment services to the engineering and technology industries, both in the United Kingdom and internationally. The Company offers three core solutions: Contingent Workforce Solutions, Permanent Recruitment Process Outsourcing (RPO) and Total Workforce Solutions. more »

LSE Price