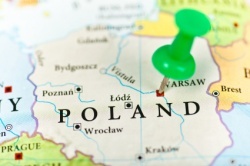 The overwhelming majority of the Oil and Gas companies discussed on Stockopedia are listed in the UK and, to a lesser extent, Canada. As noted by several posters, there are plenty of other markets, and other companies, which might be worth a look. This post covers one of them, Warsaw-listed Kulcyzk Oil Ventures, KOV.PW
Why on earth am I bothering about a company on the Warsaw Exchange? For historical reasons. KOV is one of two companies spun out of Loon Energy, which formerly listed, as LEY.V, on the Toronto Venture exchange. I bought a small stake in Loon because of its interests in Syria and Brunei. It also had a very small operation in Colombia. Its largest shareholder, Dr. Jan Kulczyk, a widely-diversified millionaire once said to be the richest man in Poland, prompted its division into two separate companies, KOV, which eventually listed, after a considerable delay, in Warsaw in May this year, and a new Loon Energy Corporation in Toronto, with the symbol LNE.V.
After the division, LNE.V took the Colombian interests, and Kulczyk Oil Ventures the Syria and Brunei interests. I chose not to accept a miserly offer from Dr. Kulczyk for my shares in LEY.V, leaving me with legacy holdings (way under water) in both KOV.PW and LNE.V, to wait and see what would happen. The main attraction remained the Brunei interests (though LNE.V has done okay over the last few months).
For updates on LNE.V, see the
website
 or the
S'pedia Colombia board
. KOV has subsequently acquired acreage, and a small amount of production in Ukraine, to provide it with some cash flow. 
You can read the latest news from KOV
here
. There are plans for testing of its Lempuyang-1 and Lukut-1 wells in Brunei, " following encouraging indications during the drilling and from the interpretation of wireline logs from both wells". An aero-gravity survey over Block L and a 3D seismic survey over the Belait North structure in Block M,  both completed and interpretation under way. The latest presentation is
here
.
Here's a quick summary of the assets:
BRUNEI
Four wells drilled this year, two on each block.
Block L: (KOV: 40 per cent)
Lukut-1: Ten zones of interest identified during drilling, with up to three to be tested early next year. Aggregate…

Unlock this article instantly by logging into your account
Don't have an account? Register for free and we'll get out your way
Disclaimer:
The author may hold shares in this company. All opinions are his own. You should check any statements that appear factual and seek independent professional advice before making any investment decision.
---
---