"The yield curve has predicted every recession since the 1970s"
This was a claim I heard earlier in the week in efforts to explain the share fall in the US markets.
That immediately reminded me of the quip from Paul Samuelson , that Wall Street Indexes predicted nine out of the last five recessions.
However various sources seem to regard inversion of the yield curve as a very strong indicator, so I thought I would have a look myself.
Firstly a bit of explanation for those who haven't looked closely here before.

What is the Bond Yield Curve?
Essentially Government Bonds with different maturity dates will show different yields (on their current market value, rather than the original yield at issue). Under normal circumstances, bonds which will mature later than those maturing sooner.  I won't expand here on why that is the case; there is a lot of information out there if one wishes to look and I don't want to get sidetracked on why I think some of it is a little too superficial.
So what is flattening or inversion of the yield curve?
Simply, flattening of the yield curve is when the yield on long dated bonds moves closer to that of short dated bonds and inversion is when long dated bonds actually yield more than short dated.
The latter circumstance is indicative of market uncertainty and is said to be highly predictive.
December 2006
This is cited as a good example of the predictive power of yield curve inversion.
At the beginning of December 2006 all was fine with the world, US GDP was up around 5% year on year (albeit down from the 7% level seen a year before) and the S&P 500 stood around 1,400 up around 12% over  the year.
But, the yield curve looked like this :

You could get a higher yield on short term bonds than on long term; the yield curve was inverted.
For the next few months all continued as it was, the  S&P continued upwards to exceed 1,500 in July 2007 and GDP growth remained fairly stable at around 5% and even the yield curve was largely flat rather than inverted.
I won't drone on about what happen next, but suffice to say that from around October 2007 , both the S&P and GDP growth headed South and by March 2009 the S&P was less than half it's peak value and GDP was in decline by about 3%.
Pretty powerful stuff,  but of course people would not be talking about inversion of the yield curve if it were never predictive. The more important question is perhaps whether it is always predictive.
Progression of the yield curve.
Unfortunately I could not immediately put my hand on yield curve data back to the 70s, but I have it back to 1990 and it is worth a look.
I have taken data comparing the 10 year, 5 year , 3 year yields each compared with the 3 month yield.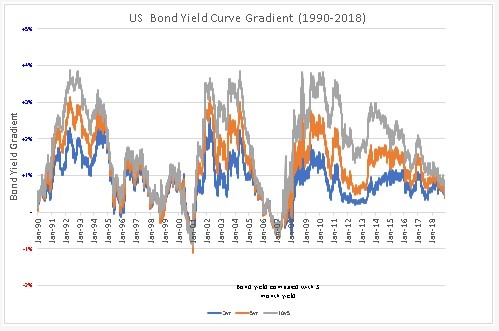 So there is certainly a large degree of fluctuation of the last nearly three decades and we can see low points in January 1990 (if there was actual inversion there it would have been in late 89), December 95, October 98, January 01 and December 06. But were they predictive?
As the shapes of the three lines on the chart are broadly similar, I will just use the 10year vs 3 month measure in the following charts, for ease on the eye.
Yield Gradient vs GDP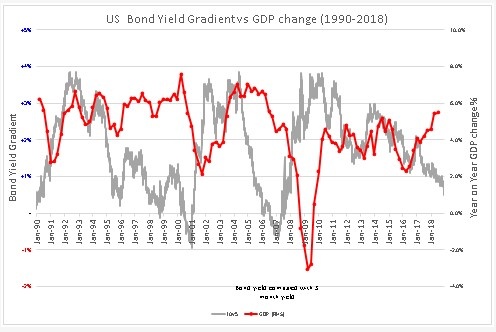 The low in Jan-90 (possibly late 89) was perhaps predictive of the fall in GDP growth from 6% to 2% a year later.
The lows of December 95, which actually wasn't fully inverted based on the 3year-3month measure, does not appear to be particularly predictive.
The low of October 98 was perhaps predictive of the fall of GDP growth to 2%(from above 6) two years later).
January 2001 looks to be much more immediately predictive, at the time GDP growth had only fallen to 4.7% 9 months later it bottomed at 2.1%.
2006 we have discussed above.

Yield curve and the market
Predicting GDP growth is a fine ambition if one is an economist, but I suspect most readers are more interested in predicting "the market".
So let us look at a similar chart for the S&P500.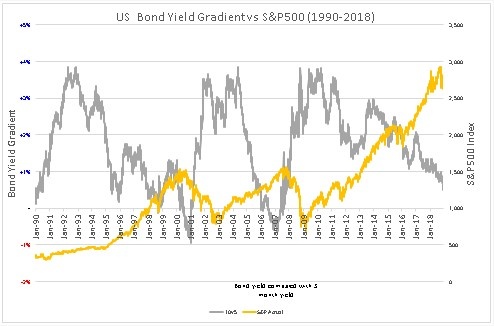 Jan-90 : S&P year on year had been increasing strongly (up 30% year on year) but fell 18% by October 1990 and over the year to Jan-91 was down  11%
Dec-95 :  The S&P traded sideways for a while and then continued upwards to be 21% over the following year. (I should just repeat that on the 10year/3month measure there was no inversion, only flattening.)
Oct-98 : Over the following year  the S&P meandered between -10% and +22% but finished broadly flat over 12 months. Broadly the market  continued upwards for c. 18 months before hitting the dot com peak.
Jan-01 : Over the course of the following year the S&P dipped at one stage to -25% and ended the year on -10%. This was perhaps rather a late signal however given that in Jan-01 was already down 16% from peak and in a strong down-trend.
Dec-06 :  Over the next 12 months the market was actually up by c. 5% although that represented pretty much the high point before the crash.

Conclusions
It's all a bit patchy really isn't it?
There is enough there to be able to argue qualitatively that the yield curve is somewhat predictive, but not really enough that I can see to suggest that it is usefully predictive.
Certainly the two substantive inversions (Jan-01 & Dec-06) can be said to have predicted the dot-com-bust and the credit crunch.
Unfortunately in the former case it was nearly six months late and signalled midway through the crash and in the latter case it was about 12 months early.
Also I would not that on the first chart I put up above, the curve does not look to have inverted (yet) in any case.
The strongest conclusion I can draw here is that the market is nervous, but I think we knew that anyway.
Sorry, I can see no silver bullet here and if you have read this far that's goodness knows how many minutes of you life you won't get back (but console yourself with the fact I spent more!).
Unless anyone can see anything useful and actionable in the data that In may have missed?
---
Sources :
Yield curve : https://www.treasury.gov/resou...
US GDP : https://fred.stlouisfed.org/series/GDP
S&P 500 : https://finance.yahoo.com/quot...
Disclaimer:
As per our Terms of Use, Stockopedia is a financial news & data site, discussion forum and content aggregator. Our site should be used for educational & informational purposes only. We do not provide investment advice, recommendations or views as to whether an investment or strategy is suited to the investment needs of a specific individual. You should make your own decisions and seek independent professional advice before doing so. The author may own shares in any companies discussed, all opinions are his/her own & are general/impersonal. Remember: Shares can go down as well as up. Past performance is not a guide to future performance & investors may not get back the amount invested.
---
---