List of Gold and Silver Miners
Hi All,

Currently composing a list of gold/silver miners and ETFs listed in the UK.

Below is the list that put together from collected from blog posts on the site etc.

I could not find any easy was to filter for all gold and silver stocks on the platform - please let me know if you do know of a way ?

Hope that others find it useful - let me know if there are others that I could/should add to list .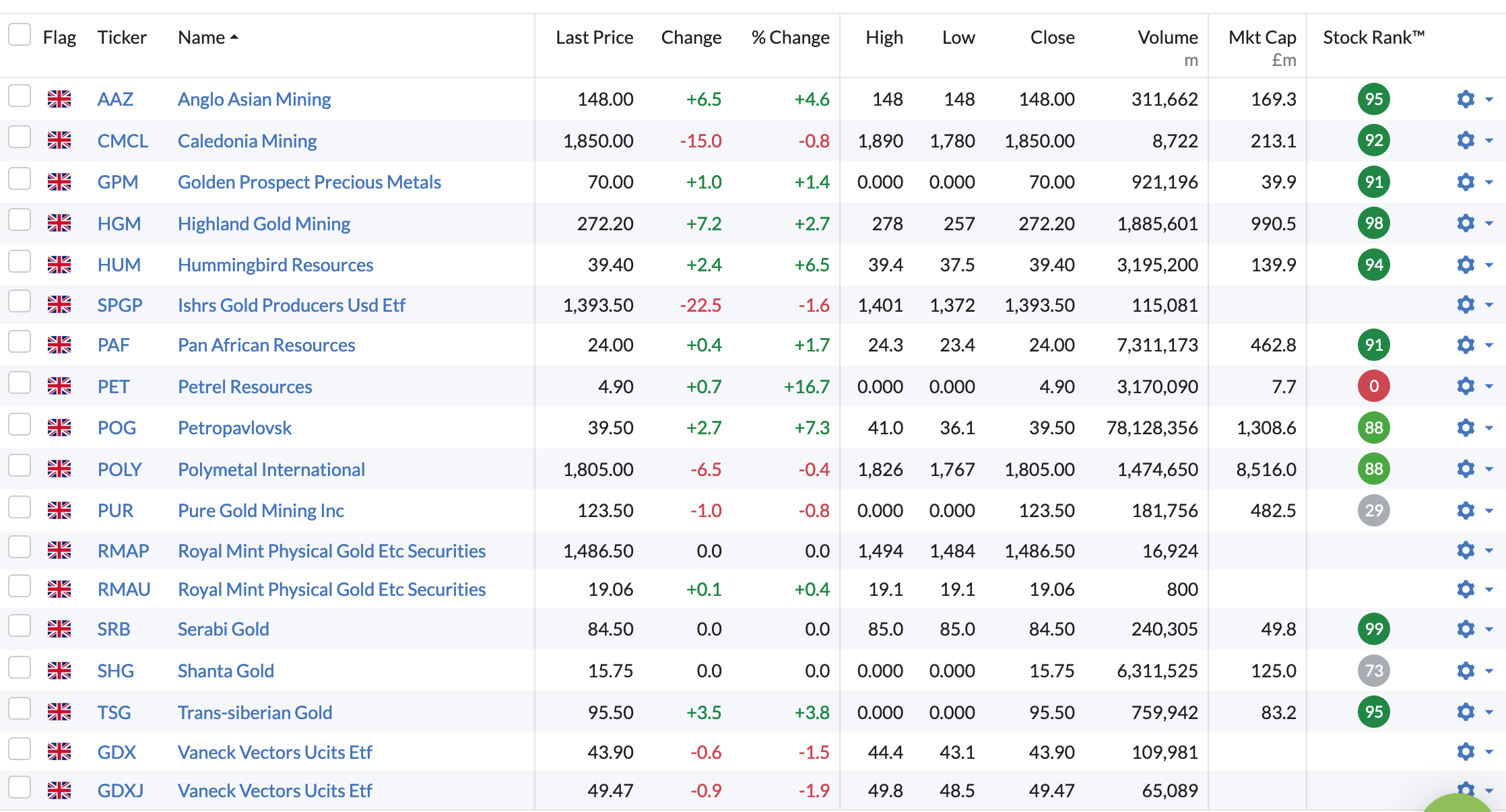 EDIT: here is the combined list that made with Marco assistance below . Thanks Marco i
I'll add to it as I get suggestions.

| | |
| --- | --- |
| SRB | Serabi Gold |
| HGM | Highland Gold Mining |
| SLP | Sylvania Platinum |
| GDP | Goldplat |
| AAZ | Anglo Asian Mining |
| TSG | Trans-siberian Gold |
| CEY | Centamin |
| HUM | Hummingbird Resources |
| CMCL | Caledonia Mining |
| PAF | Pan African Resources |
| GPM | Golden Prospect Precious Metals |
| POLY | Polymetal International |
| POG | Petropavlovsk |
| OMI | Orosur Mining Inc |
| HOC | Hochschild Mining |
| SHG | Shanta Gold |
| FRES | Fresnillo |
| AAU | Ariana Resources |
| CNR | Condor Gold |
| CORA | Cora Gold |
| SGZ | Scotgold Resources |
| OVB | Ovoca Bio |
| ORM | Ormonde Mining |
| GGP | Greatland Gold |
| PUR | Pure Gold Mining Inc |
| ORR | Oriole Resources |
| SOLG | Solgold |
| EUA | Eurasia Mining |
| GRL | Goldstone Resources |
| KEFI | Kefi Minerals |
| SAV | Savannah Resources |
| HMI | Harvest Minerals |
| CGH | Chaarat Gold Holdings |
| WBI | Woodbois |
| ALTN | Altyn |
| EEE | Empire Metals |
| GAL | Galantas Gold |
| CNG | China Nonferrous Gold |
| VAST | Vast Resources |
| BZT | Bezant Resources |
| KAT | Katoro Gold |
| KIBO | Kibo Energy |
| CLON | Clontarf Energy |
| ARCM | Arc Minerals |

Unlock the rest of this article with a 14 day trial
Already have an account?
Login here

>