Lok n Store - Preliminary results
Lok n Store Group
Share price: £3.75 (up 3.4%); Market Cap.: £109m.
This self-storage company saw revenue increased by 3.7% to £16.65m, as LFL is up by 5.6%.
Profit after tax rose to £3.17m, up from £2.46m last year, an increase of 28.8%. Looking at it in detail, we see operating profit fell to £4.26m from £6.228m. That's because last year it was helped by net settlement proceeds of £1.94m.
So, excluding for net settlement proceeds, operating profit remains unchanged.
Unsurprisingly, the rise in property valuation fell from £17.7m to £7.7m, reflecting a slower price appreciation.
Some would ask this question:
Is this a change in wind direction or a minor correction in property value?  
The chart below shows this is the first time Lok n Store has reported a smaller increase in property gains.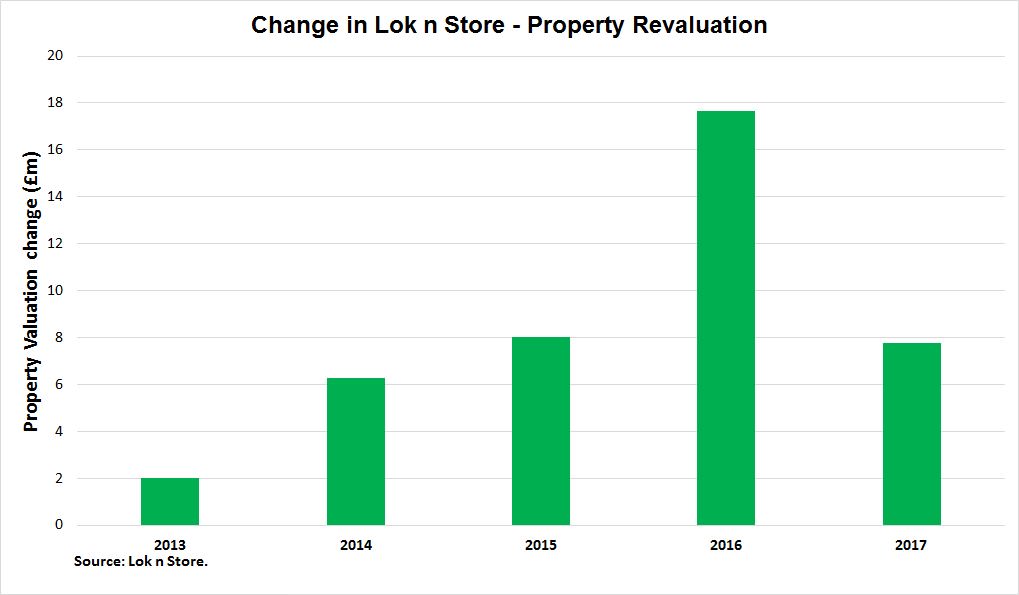 See "Market Valuation" for the effects of lower property gains.
Divisional Breakdown
The majority of Lok n Store revenue income comes from self-storage and the rest is a mixture of document archive, retail sales (boxes and duct tape) and insurance. The breakdown is below: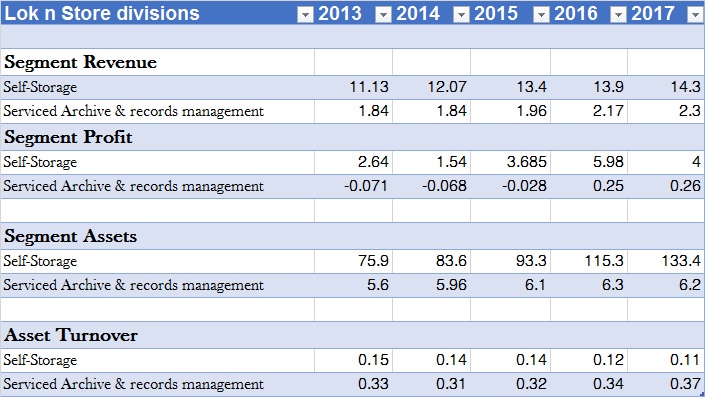 Ignoring profits, the revaluation of property is a better business than renting out self-storage units. That's because asset turnover decreased from 0.15 to 0.11, a falling ratio means revenue generated grew slower than the rise in property value.  
For more proof, UK property prices rose by 5% last year, compared to unit price rise of 0.8% down from 2.2%. But the occupancy rate rose by 6.5% to normalised occupancy rate to 69.8%(Stripping out stores which have opened or moved in the last 3 years) up from 64.5% in 2013.
Other Financials
Net cash profit rose to £5m from £2.8m, thanks to lower receivables cash outflow of £2m and no one-off item. If we look at 2014 and 2015, it made £5.2m and £5.6m. It puts the improvement into perspective.
Net debt saw an improvement of £17.4m from £23.5m helped by proceeds from treasury shares of £9.9m. Also, this helps cash balance to £11.4m as it brings down the loan to value to 14% from 20%.
They made a profit…

Unlock the rest of this article with a 14 day trial
Already have an account?
Login here