Lost out with Woodford? Here's why DIY investing makes sense...
Neil Woodford is one of Britain's best known fund managers. But after a striking run of poor performance, the gravity of which is hard to overstate, these days he's making headlines for all the wrong reasons.

This week Mr Woodford slammed down the shutters on his Woodford Equity Income fund, almost five years to the day after launching it in 2014. After months of outflows and seemingly endless bad news from the portfolio, Woodford's played one of the few cards that any fund manager would choose. By gating the fund he's stopped the redemptions for now, but a lot of damage has already been done - and the future is unclear.
For some, the warning signs around the Woodford Equity Income fund have been in plain sight for some time (more on that shortly). But there are going to be many others - including owners of it - who'll be left wondering how on earth this has happened...
After all, Woodford is one of the biggest names in UK money management. He's got a huge profile in the financial press and major support from fund platforms like Hargreaves Lansdown. In fact, Hargreaves only dropped the fund from its top Wealth 50 after it was suspended this week.
Moreover, his fund was supposed to be a solid, value-focused 'equity income' strategy - nothing exotic there, you might think. Woodford had a long track-record of decent returns (largely at Invesco Perpetual) pursuing just that approach. He made his name as a contrarian over more than a decade, holding high yielding blue chip stocks while everyone else was buying (glamorous) dot-coms. So what changed?
Back in June 2017 the size of the Woodford Equity Income fund hit a high of £10.2 billion, but has since fallen to £3.7 billion.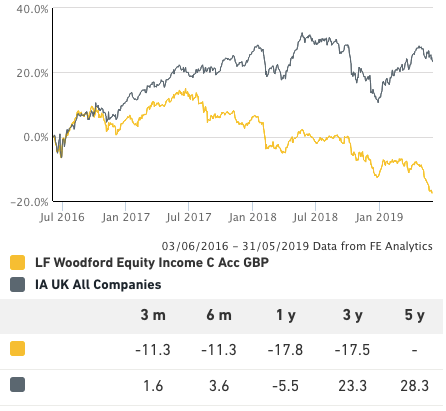 Unsurprisingly, the financial press has gone to town on picking over the causes and consequences of this, but here are a few reasons:

One issue is that while he's been running this fund, Woodford's value-focused philosophy has been at odds with what's been working in stocks. Over the past five years equity income has generally been out of favour, while growth and momentum have led the market. Back in the early 2000s, he made a mint when conditions were completely the opposite. And while it's likely that value investing will come back into…

Unlock this Article with a 14 day free trial
Already have an account?
Login here