Macfarlane - The Long Story
Stockopedia give an excellent summary of Macfarlane (LON:MACF) on their share page:

"Macfarlane Group PLC is a United Kingdom-based company, which is engaged in designing, manufacturing and distribution of packaging products.

The Company's segments include Packaging Distribution, which is engaged in distribution of packaging materials and supply of storage and warehousing services in the United Kingdom, and Manufacturing Operations, which is engaged in designing, manufacturing and supplying of self-adhesive labels to a range of fast moving consumer goods (FMCG) customers in the United Kingdom, Europe and the United States.

The Company's business operates approximately 18 Regional Distribution Centers (RDCs) supplying customers with a range of packaging materials and services. The Company's Macfarlane Packaging Distribution serves in various sectors, such as Internet retail, third party logistics (3PL) and aerospace. Its Macfarlane Labels serves in various sectors, such as health and beauty, food and household goods".

Packaging Distribution

The Packaging Distribution division is by far the largest, generating 87% of 2018 revenues. It is also the most successful, having been consistently profitable for many years.
It is boringly predictable, which makes forecasting relatively easy. The brown line in the chart below shows half-yearly revenues from 2011-2018, along with my projections for 2019-2020. Note that the historical data has been 'as if' adjusted to include acquisitions (of which more later), so will not tie back exactly to the data in the published results.

The green line shows a seasonally-adjusted fitted trend line. The fit is remarkably good, although it can be seen that there are actually two trend periods in the data: 2011-2013, when there was very little growth, and 2014 onwards where there has been a consistent growth trend. The transition is likely driven by the advent of internet shopping, with all the packaging that requires.
Manufacturing Operations
The much smaller Manufacturing Operations division has been more problematic for Macfarlane (LON:MACF) management. That business actually shrunk over the period 2011-2017, and struggled to make money throughout those years.
Management efforts to turn this around appear to have been successful in recent periods, however, as shown in the chart below.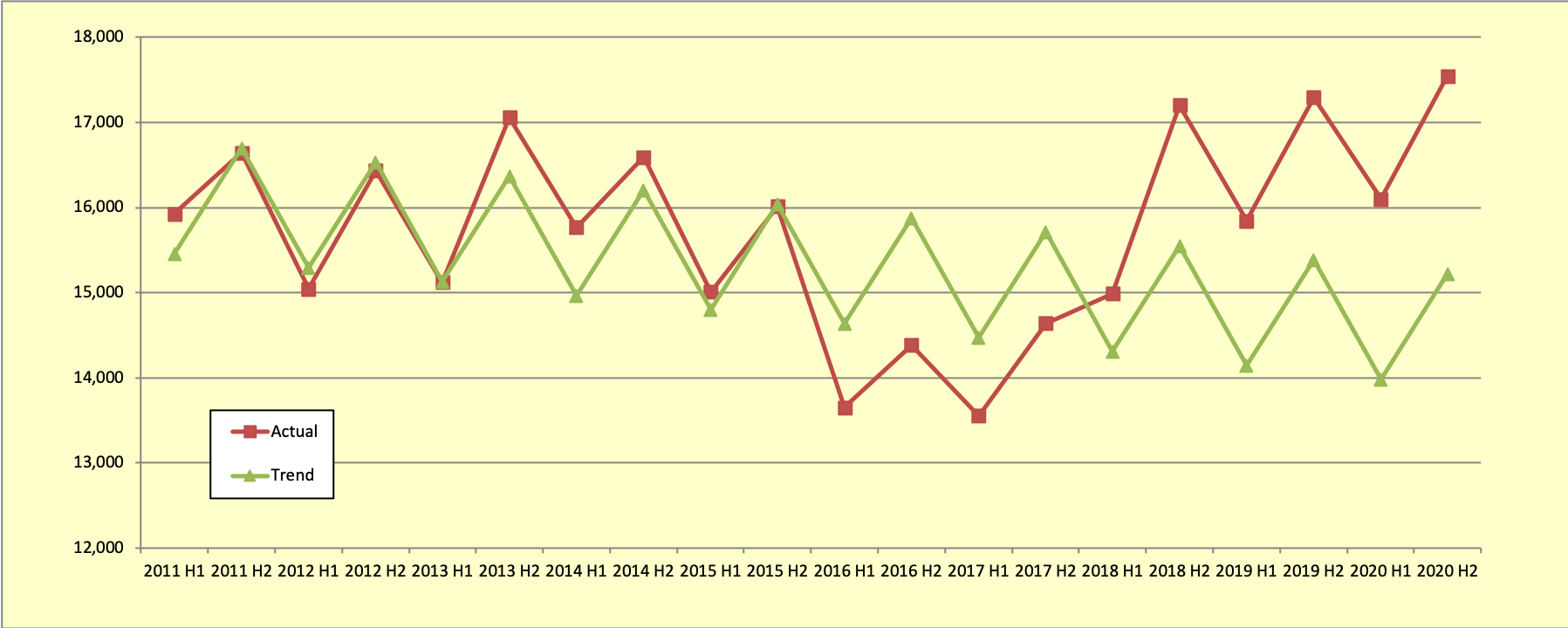 The last three periods have shown a dramatic reversal in the trend of reducing revenue and the…

Unlock this Article with a 14 day free trial
Already have an account?
Login here