Market Musings 05/06/21: Hunting down value in Banks, Emerging Markets
Hunting down value in Banks, Emerging Markets
Summary:
Podcast: Pet Power
Value in European Banks
Value in Emerging Markets: Russia, Brazil
Podcast: Pet Power


Why has COVID-19 boosted pet ownership?
What are the psychological and physical health benefits of having pets?
How pets are a driving a new consumption trend – treating our pets
How can you invest in this growth trend?

Hunting for Value: EU Banks
Last week I pointed out that the Euro STOXX index of Eurozone stocks was approaching its historic peak hit in early 2000 and again in mid-2007.
If we focus in on the Euro STOXX 50 index of just the largest 50 stocks in Euroland, the chart looks a little different.
In the case of the SX5E Euro STOXX 50, at the current 4089 level we remain far from the 2007 peak of over 4500, and even further from the March 2000 peak of close to 5500.
Just returning to the 2007 mark would deliver a 10% price return, to which we can then add a 3%+ dividend yield.
Euro STOXX index 50 has broken out, heading back to 2007 peak?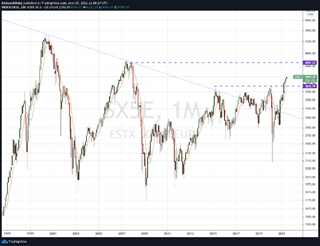 Source: tradingview.com
But for this to occur, one has to ask what are is going to be the driving force which are going to be the leading sectors, driving the Euro stocks back to a new all-time high.
Well let's look at the cyclical nature of the Euro STOXX index, which reflects to a large extent the cyclical nature of the Eurozone economy, geared towards manufacturing and exports.
I think the two driving groups of sectors in the Euro stocks index in Europe are indeed industrial stocks, which is unsurprising because, again, countries like Germany are strong in manufacturing, historically. And secondly, financials, and more specifically banks.
The Industrial goods sector, led by brand names such as Siemens and Schneider Electric, has already led the Eurozone stock market higher with stellar performance since 2009.
European Industrial Goods sector has already performed very well since 2009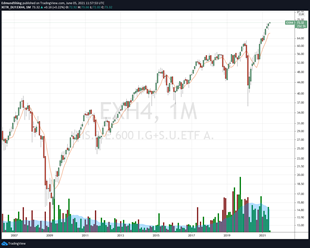 Source: tradingview.com
Banks have lagged the European stock market since 2009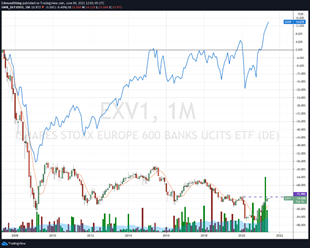 Source: tradingview.com
In contrast, the Banks sector has been a continual drag on the overall…

Unlock the rest of this article with a 14 day trial
Already have an account?
Login here