Market Musings 10/10/20: Presidential Posturing
Presidential Posturing
Last week I was asked to take a look at the November 4 US Presidential Election, and its potential impact on the stock market.
I have to say, I am somewhat loathe to tackle this topic, as I find in general that stock market observers tend to place too much emphasis on the outcome of elections in the short-term, while the longer-term impact is generally less significant for the direction of financial assets.
But here goes...
Policy differences: Are they really all that great?
Classically, one would look first to the published manifestos of each candidate, to see where the policy differences lie between the various choices.
In the UK, for example, one has been typically faced with a choice between "tax and spend" and greater income redistribution (left-wing, Labour) on the one hand, and "smaller government, fiscally responsible, business-friendly" policies (right-wing, Conservative) on the other.
But while this may have been true during the 1970s through to the 1990s, it does not ring true today in the UK. After all, the current Conservative government seems very busy under Chancellor of the Exchequer Rishi Sunak spending money to support the economy, all the while racking up greater and greater national debt.
In the US, once again, the policy differences do not seem all that great when looking at fiscal policy. Both President Trump and Democratic candidate Joe Biden are offering expansionary fiscal policy stances; both are looking to spend a lot of money to kickstart US economic growth post the COVID shock.
Renewable energy: a winner under Biden
Yes, if anything Joe Biden is proposing to spend even more money than President Trump on huge investment in areas such as renewable energy generation and infrastructure. Part of the phenomenal performance in solar and wind energy stocks this year (see the ICLN iShares Global Clean Energy ETF below) can be put down to the expectation of huge US spending in this area in 2021.
Clean Energy ETF blows the doors off this year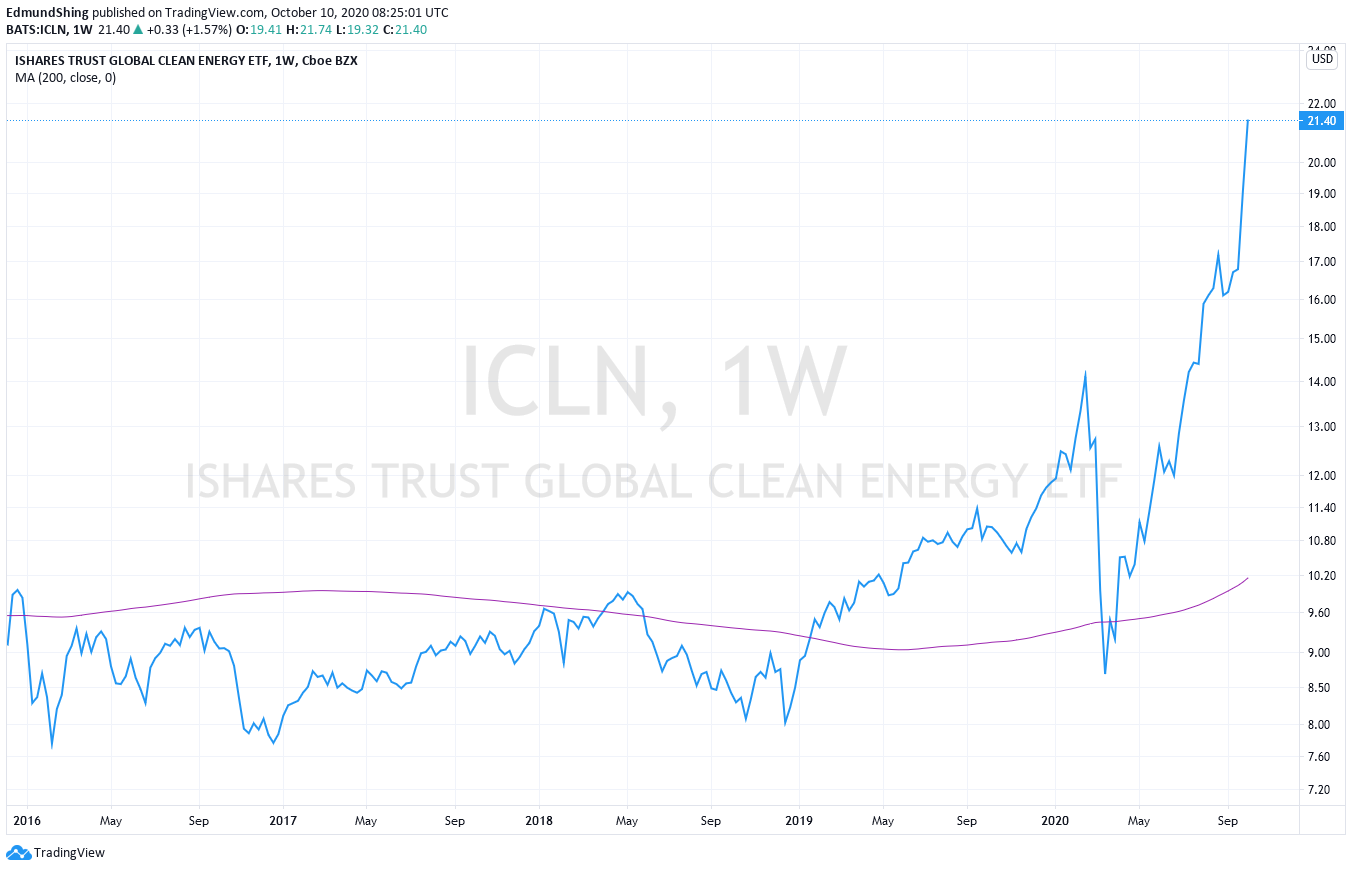 Higher US corporate taxes under Biden
Joe Biden is proposing to pay for some of this extra fiscal spending via higher corporate taxes, partially reversing the huge corporate tax cut enacted in 2017 by Trump (taking effect in 2018), cutting the headline US corporate tax rate from 35% (back then,…

Unlock the rest of this article with a 14 day trial
Already have an account?
Login here