Market Musings 12/.06/21: Is Inflation just a flash in the pan?
Summary:
Podcast: Why Buy Banks?
The big question: Inflation – is the bogeyman back?
The argument for buying Value and Small-Cap stocks
What to keep an eye on this week...
Podcast: Why Buy Banks?


1) Are we moving towards a cashless society and the disappearance of bank branches?
2) What is the risk of bankers and analysts being replaced by machines and robots?
3) Are new online competitors threatening established financial institutions?
4) What are the dangers of investing via online trading platforms?
5) Why are bank stocks back in vogue today?
You can also listen to our podcasts on Apple Podcasts, Podcast Addict (Android) and Spotify, Just search for "BNP Paribas Wealth Management"
Is the inflation bogeyman back?
This has been a strange week. One thing I have found unusual has been the reaction of the bond market, to the recent run of strong US inflation data.
In fact, not only have inflation numbers risen, but they have hit high levels not only in the US but even in Europe. You've seen headline inflation hit 2% for the month of May in the Eurozone for the first time in a very long time.
Eurozone headline inflation back at 2%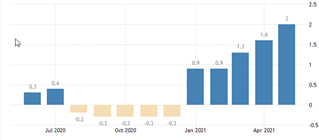 Source: tradingeconomics.com
But the US is what grabbed the real inflation headlines, with a huge May print that outstripped consensus forecasts at 5% in May.
US headline inflation hits a huge 5%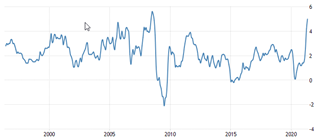 Source: tradingeconomics.com
Of course, this was largely driven by a few key factors such as:
gasoline (56.2% year-on-year),
used cars and trucks (29.7%),
utility gas service (13.5%),
transportation services (11.2%) and
apparel (5.6%).
US gasoline has recovered massively since May 2020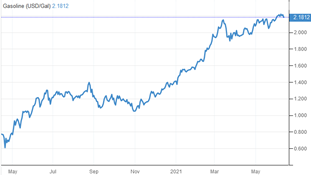 Source: tradingeconomics.com
For the first time in many years we can start to talk about whether inflation could become a serious problem in the months and years ahead.
In other words, has there been a change in the inflation regime from disinflation, which has been in place, really since the great financial crisis of 2008 and 2009? Has this now churned into an inflationary regime of the sort seen perhaps in the 1970s and early 1980s?
Certainly, if we look at some of the headline inflation…

Unlock the rest of this article with a 14 day trial
Already have an account?
Login here