Market Musings 23/05/21: Give your portfolio a clean bill of Health
Give your portfolio a clean bill of health
Summary:
Podcast: Sell in May and go away?
Focus on Healthcare
Podcast: Sell in May and go away?
· Sell in May and go away? Seasonality explained.
· Upgrades, downgrades, economic recovery in the pipe …. Buy, sell or hold? That is the question.
· How can prudent investors rebalance their stock portfolio to be more defensive?
What about other asset classes or "alternative assets"?
Focus on the Healthcare sector
There are several reasons to buy into the healthcare sector.
The first is the long-term structural growth inherent in sector. This comes from a combination of factors, including aging demographics in the Western world.
Secondly, the fact that even in the, even in emerging markets, rising wealth implies greater spending on healthcare.
And thirdly, the continued advances in medical technology and new drug discovery, being helped notably by new techniques including artificial intelligence.
Seasonality: Note to that over the summer months defensive sectors tend to outperform the broader stock market, remember the summer months are not particularly kind of stock markets, defensive sectors do better. Prime amongst which is the healthcare sector. From a seasonality perspective, the next few months should be relatively propitious for healthcare, as opposed to other sectors.
Healthcare spending: has grown to be 18% of the US economy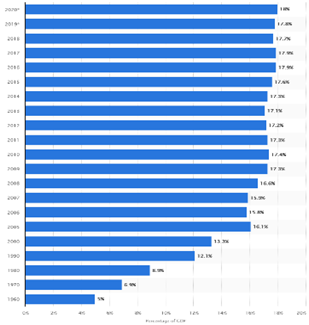 Source: Statista
In addition to that, we can see a very simple point which is that health is wealth at the end of the day. There is no good being rich, if you don't have your health. I think people understand this more and more.
New Focus on Wellness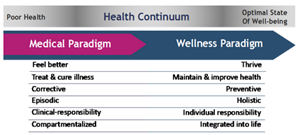 Demographics a key structural driver
Today, the ageing demographic in rich countries worldwide is a huge structural driver for healthcare spending, thanks in large part to increased life expectancy.
Increase in average age expectancy 2011-2018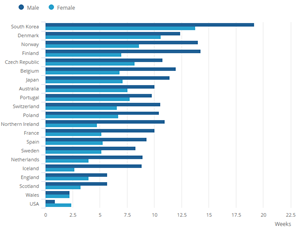 Source: World Bank
Note that above 65 years old, healthcare spending tends to rise exponentially, driven by cancer, dementia/Alzheimer's, type 2 diabetes and auto-immune diseases such as arthritis.
Healthcare spending explodes > 65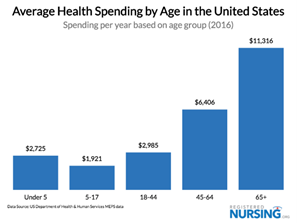 Source: registererdnursing.org
Outperformance on high quality
Historically, if we look over the last 20 plus years, the health care…

Unlock the rest of this article with a 14 day trial
Already have an account?
Login here