Market Musings 25/04:21: Buy Clean Energy on the Dip?
Summary:
Seasonality favours Low Volatility, Defensive equity investing over summer
Low volatility, quality dividend strategies make a come-back
Clean Energy: Buy on the dip?
New Podcast: How to Buy Low, Sell High
Perhaps an over-ambitious podcast title! But in this podcast, we discuss market timing and some proven investment strategies that have worked well over time.
In the event of an economic recession or a negative exogenous shock, could investors lose all their money on the stock market?

Is it possible to reliably capture most of the upside and avoid some of the downside?


What are some smart strategies for improving return vs. risk?


Active vs. Buy-and-Hold investing? What is the best approach?

Does technical analysis help to predict market trends?
Seasonality favours Low Volatility, Defensive equity investing over summer
As I have previously pointed out, the old stock market idiom "Sell in May and Go Away" (until October) is indeed good advice in general, particularly when applied to investing in Continental European or UK stocks.
But there are some strategies that still deliver positive returns on average over the summer months. These are Low Volatility and Defensive equity strategies in Europe.
Low Volatility Factor is better over Summer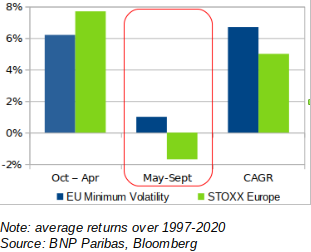 Low and minimum volatility factor indices (which one can buy via ETFs) have generated small but positive returns (1.0%) on average over the May-September (inclusive) period, while the benchmark STOXX Europe index has typically declined by 1.7% on average over this same period.
Looking at defensive stocks (companies that are not economically sensitive in general, including sectors such as Health care, Utilities and Food & Beverages), we can see a similar pattern emerging. Since 2005, European defensive stocks have gained 2.4% over the summer months, while cyclical stocks have delivered only a flat return on average over the same period.
Defensive stocks better over Summer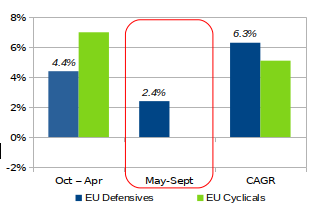 Note: average returns over 2005-2020
Source: BNP Paribas, STOXX
Low volatility, quality dividend strategies make a come-back
In keeping with this emphasis on more defensive equity investing over the summer, low volatility and quality dividend strategies are starting to perform well once again, after a long period of…

Unlock the rest of this article with a 14 day trial
Already have an account?
Login here