Market Musings 7/11/2020: the Sinking Greenback
The US Dollar Breaks Down
Well at last the US Presidential election saga seems to be over, barring a number of desperate legal challenges from the Republicans. Watching regular vote count updates live on 24-hour news channels was about as riveting as watching paint dry - which incidentally, is as interesting as long-term investing is meant to be. As has been oft repeated, if you want excitement, go to a casino!
I, like many, have been surprised by the positive reaction of stock markets to the increasing likelihood of a Democrat President hamstrung with respect to domestic policy by a Republican majority Senate. After all, we are now unlikely to see anything like the amount of US government spending on areas like renewable energy as was expected under a "Blue Wave", i.e. a Democrat President plus a Democrat majority Senate, to add to the majority that the Democrats already possess in the House of representatives.

But we should remind ourselves that what stock markets tend to hate most of all is uncertainty. The election uncertainty has been (largely) removed finally, setting off a predictable reaction in volatility markets as the VIX volatility index fell sharply once it became clear that Joe Biden was on course to get more than the 270 electoral college votes to win the Presidential election. at just under 25, the VIX has now returned to its lowest level since late August.

One of the clearest trends in financial markets over the last week as the US election drama unfolded has been the breakdown in the US dollar against its major pairs, such as the euro, yen and Chinese renminbi. The USDU Wisdomtree US dollar bullish fund has dropped 12% from its March 23 high to Friday's closing level, but has some way to go before reaching the obvious support level around the Feb 2018 low, nearly 4% lower still.
USDU US Dollar ETF hits a new 2-year low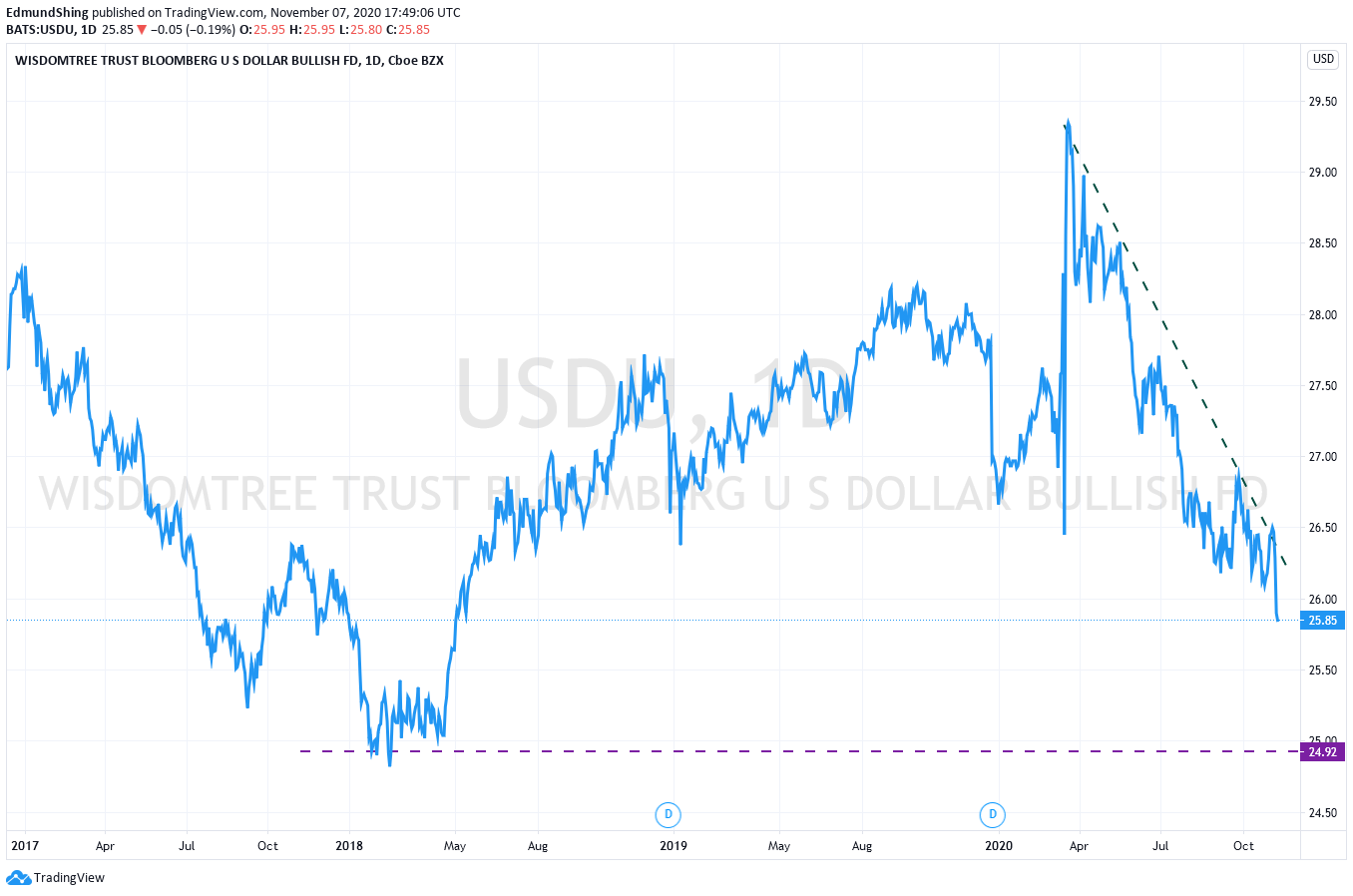 Sectors that are perhaps not primed to do so well under a Biden presidency include Health care, as drug pricing may once again come under intense scrutiny from a Democrat administration. Note that the chart of the European Health Care sector (EXV4) is not looking great now, having rolled over from a positive to a negative trend in the last few months.

European Health…

Unlock the rest of this article with a 14 day trial
Already have an account?
Login here